COVID-19 has changed just about everything about daily life in the U.S., including how people train and learn in the workplace. Pre-coronavirus, many companies conducted training in-person, or partially online and partially in-person. eLearning Industry said that before COVID-19, "...70% of the course was offline and the rest was virtual. Now the scenario has been reversed, and online learning is taking up to more than 70% of the course and the rest is offline."1
As a result, companies are quickly getting their employees up to speed on how to train remotely and investing more money into training technologies like a learning experience platform (LXP) that delivers remote training. But changing the format of employee training is only one of several ways COVID-19 is altering learning in the workplace.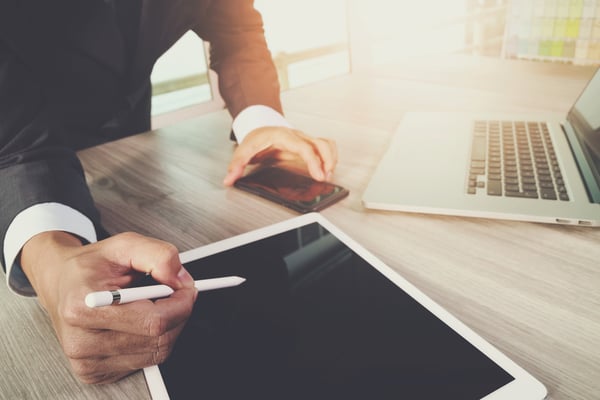 How COVID-19 is changing training and
learning for companies as well as employees
Here are a few ways of the many ways the coronavirus is changing the face of learning at work:
1. COVID-19 is making it necessary for companies to rapidly create new training content
One of the challenges the coronavirus pandemic has created for L&D teams is the need to create and distribute new training content to workers quickly. Policies, procedures, and regulatory rules are changing rapidly, and so must training content. For example, many companies are experiencing government mandates to require that all employees wear face masks. Employees will want answers about why they must wear a mask, whether or not they must purchase their own mask, how they will talk to customers and coworkers through a mask, etc.
Instead of sending out an email to their staff base, which will probably result in a greater number of questions, it would be helpful for companies to create a quick COVID-19 compliance course on the proper usage of face masks in the workplace. Using content management tools in conjunction with an LXP, employers can create new training in record time, as well as deliver, track, and report on it.
Related Reading: Four LXP Trends to Look for in 2020

2.COVID-19 is forcing some organizations to assemble a coronavirus learning response team
Another change COVID-19 has made in the arena of workplace learning is the number of people it takes to create training for employees. Before the coronavirus, L&D teams created training. But now, some companies are creating COVID-19 learning response teams that consist of HR business partners, learning-delivery personnel, IT and platform technologists, and vendors, per McKinsey research. McKinsey encouraged these teams to "Conduct a rapid triage of the entire portfolio of learning offerings, and set priorities for what will be necessary to adapt to a virtual or digital-only format…you can't create digital versions of everything, and you need to be strategic about the allocation of scarce design resources."2
This would be best accomplished by working in tandem with the pre-existing L&D team and is a considerable change for companies as well as employees, the recipients of the training.


3. COVID-19 increasing employee engagement
Did you know that the coronavirus pandemic is actually improving employee engagement? According to HR industry analyst Josh Bersin, this is the case. He wrote, "In the middle of a pandemic, our research now shows that companies are treating their employees better than ever. And employee engagement, a problem that plagues more than two-thirds of companies year after year, is actually going up."3

It stands to reason that when employees are better engaged with their employers, they are more likely to be receptive to and engaged with the training their employer offers. This means companies have a golden opportunity to further solidify their employees' loyalty by making learning a top priority and not easing up on training simply because it can't take place in person for now. Just of the ways organizations can invest in online employee training is by deploying an intuitive, user-friendly online learning platform, such as a learning experience platform (LXP) or LMS.
Related Reading: How to Support Remote Training as Working from Home Becomes the New Normal
Find an online learning platform that will see your company through the coronavirus pandemic
Employees are becoming more engaged with their employers as a result of the COVID-19 response they've seen. They are counting on you to provide the best possible training for them during this challenging time. Show workers their professional development is at the top of your list of priorities by implementing a learning experience platform. TOPYX LXP features:
Social learning through chat, forums, and online communities
Badging and gamification
Personalized and standardized learning paths, certification, and mobile learning
Check out our Quick Start Program to learn how to quickly launch an LXP that will help your employees to thrive no matter where they are located.
---
Sources:
1. https://elearningindustry.com/adjust-to-new-normal-learning-habits
2.https://www.mckinsey.com/~/media/McKinsey/Business%20Functions/McKinsey%20Accelerate/Our%20Insights/Adapting%20workplace%20learning%20in%20the%20time%20of%20coronavirus/Adapting-workplace-learning-in-the-time-of-coronavirus-vF.ashx
3. https://joshbersin.com/2020/04/covid-19-may-be-the-best-thing-that-ever-happened-to-employee-engagement/