How to Implement Blended Learning as Employees Return to Work
Remote work has been at a record high since early 2020. Almost 42 percent of the U.S. workforce currently works remotely, reported FlexJobs.1 "Although an estimated 26.7% will still be working from home through 2021, 36.2 million Americans (22% of the workforce) will be working remotely by 2025," the source stated. A contributor explained that this means 87 percent more people are working from home now than they were prior to the pandemic.
While many employees work remotely, not all do. Some work from the office full-time. Others mix it up, working from both the office and from home. Also, it's worth noting that the individuals who work remotely at this time will not all remain remote throughout 2021. Many workers will be switched to a hybrid/blended work model as worries about COVID-19 variants become more widespread.
45% of Companies Will Use a Hybrid Workforce Model in 2021
Right now, company leaders are questioning when and if they should bring employees back to the office. Many are concerned about variants of the coronavirus, but also see the drawbacks of allowing workers to be completely remote. We will probably see a lot of employers implementing a hybrid model for work and training this fall as a solution for their dilemma. This could look like having employees come into the office twice a week and work from home three days a week, or something similar to that.
How many U.S. employees will be adhering to a blended work model late this summer and into the winter? "Under half (45%) of companies expect to lead with a hybrid workforce model in the second half of 2021, versus roughly one-third (32%) that indicated an 'in-person first' employment model will be the situation," explained CNBC.2
Companies that implement a hybrid workforce model will likely use a blended learning format for employee training. This is in contrast to the remote training format many companies are using and will continue to use for employees who work from home.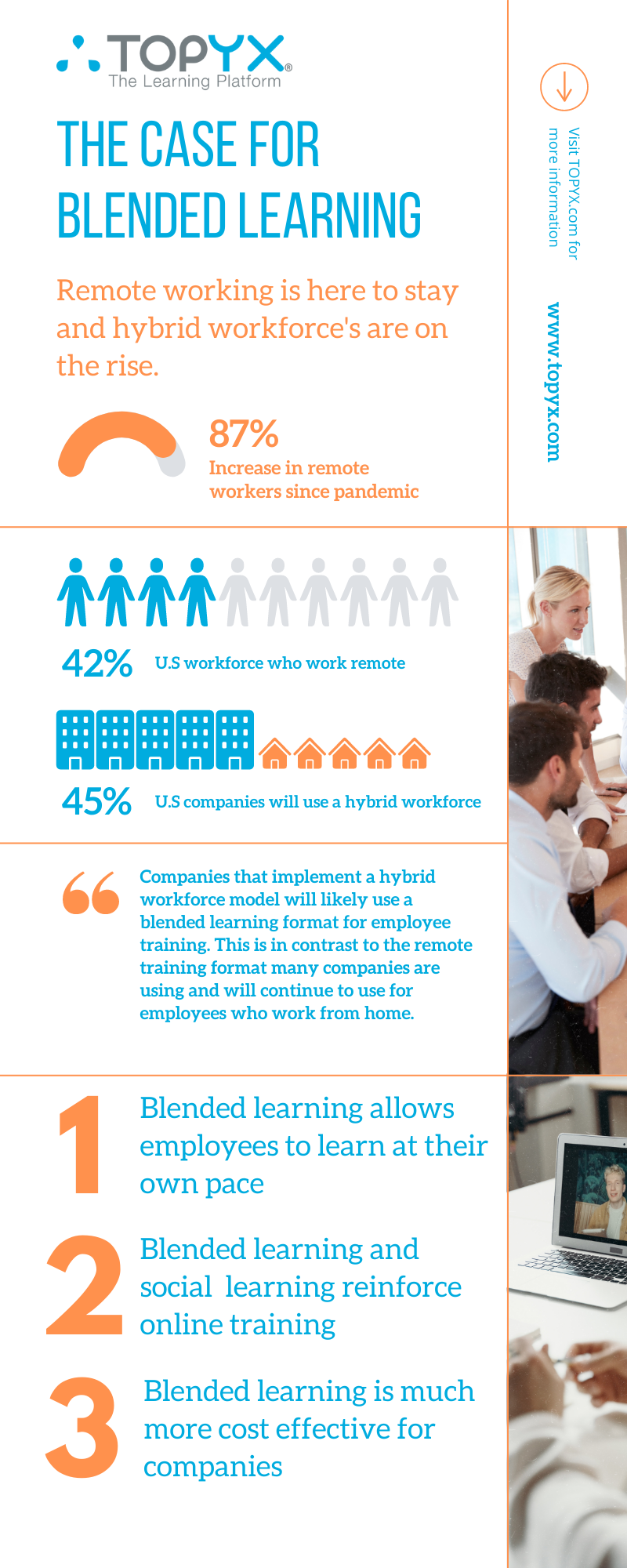 Benefits of Using Blended Learning for Corporate Training
Just as remote training has unique benefits, so does blended learning. Blended learning is beneficial to companies and employees because it offers the best of both worlds (remote training and in-person training). It can also help keep employees safe by cutting down on their exposure to others.
Here are some other key benefits of blended learning:
It allows employees to learn at their own pace

- A sizable amount of the training that takes place in a blended learning context happens online. This explains why blended learning is a favored training format by many learners - it enables them to learn at their own pace.
Online training that doesn't happen in real-time is on-demand and can be accessed 24/7 via any device, including personal mobile devices. This gives learners a certain amount of control over their training experience. Most of the time, learners prefer that over a strict training schedule.
In-person learning reinforces online training

- Online learning and in-person learning make a great team. After a learner participates in online training, they will then attend some type of in-person training session. The training session will cover what they learned online and give them a chance to ask a live instructor questions about the material. As a result, what they learned online gets reinforced, which can result in better knowledge retention.
For workers, this is beneficial because it helps them recall the knowledge and skills they need to succeed in their job. This benefits executives because it helps ensure the company receives a good ROI for its investment in training.
It saves companies money

- Employee training is expensive. In 2020, Guide Research stated,

"Large companies spent an average of $1.5 million in outsourced training services compared to $70,908 spent by small companies and $67,209 spent by midsize companies on outsourcing training services."

3
Most organizational leaders would jump at the chance to save a considerable amount of money on corporate training. Blended learning benefits companies because it promotes cost savings. Training Industry explained that this is because blended learning requires the aid of instructors, but does not require their full-time services like traditional training does.4 This cuts down on training materials, costs related to travel, and whatever expenses individual instructors have. "Your learners also gain real-time access to training, so they can review it whenever they need it, which helps your organization retain productivity," a contributor wrote.
Other benefits of blended learning include promotion of soft skills and training feedback, as well as simplification of the employee training process.
Implement Blended Learning in 3 Steps
If your employees are returning to the office in any capacity, it's time to arrange for effective employee training that will protect their health and benefit them and your organization. Blended learning is the answer. You can implement blended learning in a few easy steps:
Define your learning objectives

- Sometimes, organizational leaders choose learning technology for their corporate training program before defining their learning objectives. This is a mistake because knowing what your learning objectives are will help you choose the best

learning management system

to meet your company's goals. eLearning Industry said,
"...the learning technology tools should serve the training goals, rather than the goals being modified to show off the learning technology tools. Ideally, the learning technology you choose should fit seamlessly into your training plan and offer employees interactive scenarios, simulations, and other exercises that enhance the training experience. If you are using a learning technology tool just for the sake of showcasing modern advancements in the field, then you may want to rethink your blended learning strategy in order to focus on the organization's objectives."4
Learning objectives should reflect the needs of employees. They should ensure learners receive skills that will enable them to perform their job role effectively.
Choose an LMS

- The next step is to choose a learning management system or some other type of social learning platform. It should meet the training needs of your organization and workforce and have built-in features such as:
Micro learning

Certifications

Social learning

Unlimited groups

LMS integrations

Gamification

Blended learning

Personalization

Learning paths
Wondering why social learning is important in an LMS? Because, it accelerates content curation and knowledge sharing/peer-to-peer learning, enhances productivity for remote (or partially remote) teams, and helps administrators create sustainable online learning communities where learners can connect.
Also, it is especially important that an LMS feature learning paths, virtual classrooms, and LMS reporting. Here's why these features are crucial to successful blended learning.
Create an implementation strategy

- Every company needs a roadmap for implementation of any mode of learning. This is especially true of blended learning. Blended learning requires careful planning since in-person instruction usually takes place after online instruction. With the added complication of working around the challenges brought on by the pandemic, creating an implementation strategy for your blended learning program is more important than ever.
A great first step to creating an implementation strategy is to have a small number of employees test your new LMS and hybrid learning program. Allow them to participate in one full online course, as well as whatever in-person training you have in mind. Afterward, find out what worked and didn't by issuing surveys and getting direct feedback. Using this information, your L&D team can craft a strategy for implementing your blended learning program using the LMS.
TOPYX LMS Helps Companies Deliver Effective Blended Learning
Finding a solution for training during a pandemic isn't easy, and there is no one-size-fits-all answer that works for every organization. However, "When it comes to delivering a cost-effective, results-driven program, blended learning is the answer in almost any situation," stated Training Industry.5
A case study done by the U.S. Department of Education discovered that blended learning programs improved learning outcomes more effectively than classroom training or online training alone.6 Improve the learning outcomes of your company's employee training program with TOPYX LMS. TOPYX features social learning, mobile learning, LMS reporting, and every other feature your organization needs to deliver a successful blended learning program.
TOPYX can help you train your workforce during the pandemic using either a fully remote or blended learning format. Request a free LMS demo of TOPYX to learn more.
References: