A social learning platform that increases content engagement and learning collaboration.
The TOPYX® LMS provides a social learning platform that gives learners a voice by encouraging learners to engage in open discussions with content creators, facilitator, experts, and co-learners. Organizations of all sizes and industries consistently see increased engagement rates and better knowledge retention.
The TOPYX LMS provides organizations the opportunity to grow and create consistency across their business. Our user-centric learning platform allows for instant access to learning paths through mobile and social learning and the opportunity for companies to scale up without being penalized with exorbitant per-user fees.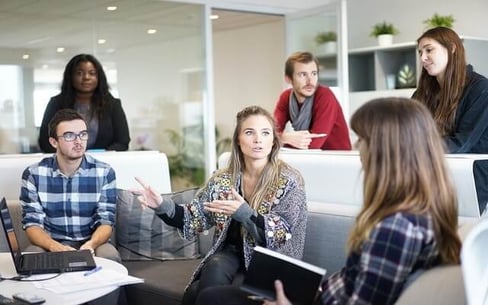 An overview of our most popular Social Learning Platform features:
Live Chat - Allow learners to gain clarity on difficult subjects and engage with co-learners in real time.

Forums - Create threads with popular topics and Frequently Asked Questions.

Social learning communities - Intuitive tools for interaction and collaboration through shareable content and group communities.

Social Network plug-ins - Software that doesn't require any experience in coding or IT. Access and share relevant content with social networks.

User Profiles - Individual profiles to track personal schedules, personal blogs, and community enrollment.

Calendar & Announcements - Social calendars and site-wide announcements of upcoming events.
The TOPYX LMS is an award-winning social learning platform that is intended to bring communities together and improve the learning experience for organizations of all sizes and industries.