---
Benefits of Learning Experience Platforms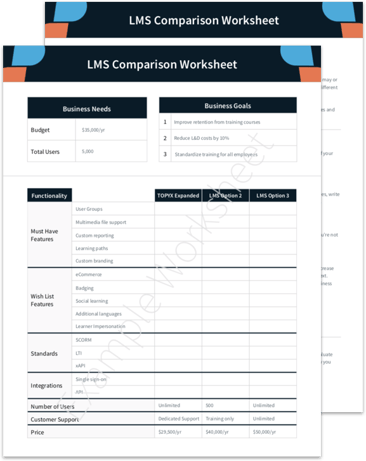 LXPs contribute to better learning experiences. And for many organizations, better learning translates into a stronger bottom line.
Employee Training: Well-developed customized training tracks can better onboard, train, and retain your best talent, especially remote employees.

Member Training: Nonprofits and trade associations offer eLearning opportunities to increase value for members and/or create new revenue streams.
On the administration side, LXPs give managers or teachers insight into individual and group usage. Set deadlines, view progress, create specialized learning tracks utilizing different types of modules, and much more.

Learn More: 3 Benefits of a Learning Experience Platform.

---
LMS vs. LXP: Which Should I Use?
LMS stands for learning management system. While the terms LMS and LXP are increasingly used interchangeably, there's sometimes a clear difference.
Typically, learning software designed with the administrator in mind qualifies as an LMS. These tools were made to support managerial tasks like content organization, lesson management, reporting, and evaluation.
LXP is a newer term and it refers to software focused on the learner. Since LXPs focus on engagement, they often include features like multimedia, increased interactivity, gamification, community support, and more.
86% of organizations use an LMS and may even use separate LXP systems to improve the learning experience. However, some eLearning platforms have both of these elements, which can streamline learner management and avoid the need for two platforms. TOPYX features support both the administrator and the learner, so it can be thought of as either an LMS or an LXP.
Related Article: 4 LXP Trends to Look for in 2020
---
Do LXPs Support Different Types of Learning?

Yes. Since LXPs support a variety of user-friendly features, they help allow greater flexibility, motivation, and support for different types of learners.
Surveys show that 79% of employees prefer web resources for learning and 87% of workers would choose a shared learning format. LXPs are well-equipped to drive engagement and increase learner satisfaction because they cater to different learning styles and preferences like these.
By introducing elements of fun, community, and interactivity, LXPs can also help increase the value and efficacy of training programs.
Related Reading: 3 Types of Learners Who Love LXPs
---
How Do I Compare Learning Experience Platform Vendors?
1. LXP Features
Features are one of the main learning platform differentiators. The best LXP is one that meets your learner's needs easily and efficiently, and in many cases this is a question of which features are supported.
2. Request an LXP demo
However, a feature comparison may not be enough to refine your decision. You may need to know the practical details, such as whether these features are easy to use, what it's actually like to use them, and how it all comes together. The best way to determine the answer to these questions is to get a demo.
Request a Demo of TOPYX: LMS Platform with LXP Capabilities
3. Compare LXP pricing options
In terms of cost, you'll want to consider if the features you need are included in the initial cost, or if an upcharge is necessary. Software solutions vary in price points and structures, so your cost comparison efforts will need to keep this in mind. Many LXPs have per-learner fees, which can drive costs up as your platform grows.
Compare TOPYX Pricing Options
---
How Much Does An LXP Cost?
Overall LXP cost depends on factors such as the number of users or groups, level of support, and extras such as multiple language support, white labeling, advanced branding, and customization. TOPYX offers flat-rate fees at multiple levels. View LXP pricing here.
---
For your reference, related links: