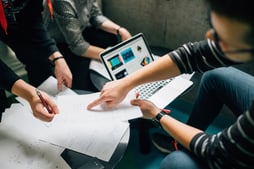 What's an LMS system? The term may be a little redundant, as the phrase spells out "learning management system system," but it's commonly heard in many circles.
What Is an LMS System?
An LMS, or learning management system, aims to make the sharing of knowledge simple, easy, and readily available. The rise of the Internet has led to a spike in working and learning remotely, allowing around-the-clock access to materials and tools so employees and students can learn on their own schedule.
Choosing the Right LMS System Provider
With the number of features and benefits available for each LMS, it can be overwhelming to select the right system. Here are some of the more important elements to consider:
Administration. It's tough to find the right combination of capability and usability. TOPYX® boasts an impressive array of features while also maintaining a user-friendly and easily navigable interface.
Collaboration. In order to facilitate a true learning environment, learners need to communicate with their peers. Social learning is a critical component of TOPYX's LMS, making it easier than ever to share information with others.
Price. It's not everything, but it means a lot to your bottom line. With TOPYX's transparent flat-rate pricing structure, you can forget about per-user fees and hidden implementation costs.
Get the high-caliber LMS your organization needs without breaking the bank. Fill out the form to the right to learn more about TOPYX's learning management system.