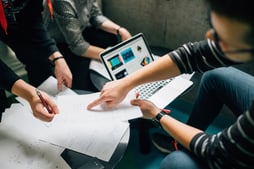 What's an LMS system? The term may be a little redundant, as LMS stands for "learning management system system," but it's commonly heard in many circles.
What Is an LMS System?
Businesses and organizations in every industry use LMS systems to create and share educational content with employees, contractors, customers, or volunteers. A cloud-based system such as TOPYX LMS allows administrators to easily upload training content and manage learning paths at scale.
LMS software has a number of benefits. These online platforms make it easy to provide consistent training and feedback to remote employees and multiple locations. LMS systems also streamline important training processes such as new employee onboarding, saving money for the organization and getting new employees to work faster. Studies have also shown that training programs and professional development opportunities can promote employee retention, improve performance, and boost morale.
Choosing the Right LMS System Provider
With the number of features and benefits available for each LMS, it can be overwhelming to select the right system. Here are some of the more important elements to consider:
Administration. It's tough to find the right combination of capability and usability. TOPYX® boasts an impressive array of features while also maintaining a user-friendly and easily navigable interface for both learners and administrators.
Collaboration. In order to facilitate a true learning environment, learners need to communicate with their peers. Social learning is a critical component of TOPYX's LMS, making it easier than ever to share information with others.
Price. TOPYX's transparent flat-rate LMS pricing structure supports scalability and quick growth. You don't need to worry about per-user fees and hidden implementation costs.
Get the high-caliber LMS your organization needs without breaking the bank. The team at TOPYX is happy to answer your questions about getting started. Please fill out the form to start the conversation.