Today's organizations are seeking intuitive learning solutions that offer exceptional user experience and quickly upskill employees. Many companies are finding that the learning experience platform (LXP) is just the ticket for delivering unique training that meets the learning needs of every staff member. The expanding LXP market, which is growing at a rate of at least 50 percent annually, is proof of this.1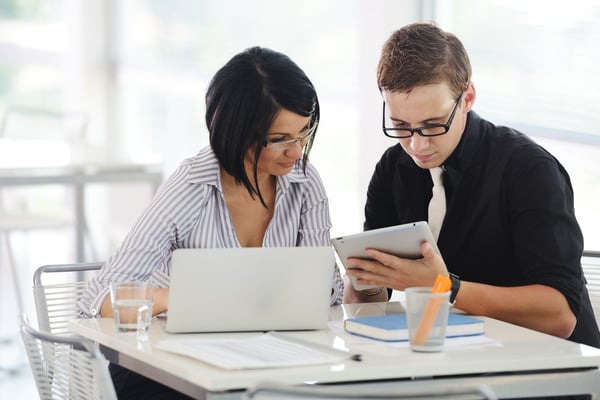 4 LXP-Related Trends 2020 Could Bring
The LXP is a relatively new learning solution, but it's here to stay. Because it allows learners to help direct their training path, an LXP ensures a user-friendly experience that supercharges employee productivity. Interested in learning what LXP-related trends might crop up in 2020? Here are a few to watch out for:
1. Digital transformation of learning
Digital transformation is changing every aspect of the workplace, including corporate training. The LXP is a reflection of digital transformation, and companies are benefiting from it and similar learning technologies.
In the coming year, look for an increase in the digital transformation of corporate learning. This will look like companies implementing learning solutions, such as the learning experience platform, that digitize paper-based processes into an online workflow. The LXP could be one of the top-chosen learning solutions for promoting digital transformation of workplace learning because it integrates well with most tools organizations are already using.
2. Skills-based learning
All employee training is designed to upskill employees, but not all training platforms feature tools such as skills-based tagging, skills assessments, skills inferences, and skills-based learning paths. eLearning expert Josh Bersin said all LXPs offer skills-based tagging and that top companies such as IBM and LinkedIn are building the other aforementioned tools into their LXPs.2 The emphasis on skills-based learning will expand along with the use of learning experience platforms in the future.
3. Using an LMS and an LXP in tandem
Eighty-six percent of organizations use a learning management system3. While interest in learning experience platforms is on the rise, companies probably won't be ditching their existing learning management system anytime soon. It's more likely that they will maintain their LMS while complementing it with an LXP.
"In most cases, the LXP is an enhancement, not a replacement: It works alongside the LMS and adds functionality," stated Learning Solutions.4 However, this trend may not apply to companies that use an LMS with LXP capabilities.
Related Reading: 3 Benefits of a Learning Experience Platform (LXP) for Employee Training
4. Increased adoption of the corporate digital learning mindset
The fact that the LXP market is currently worth about $300 million indicates that decision-makers are wide open to new learning solutions.5 It also suggests that they are beginning to take on a corporate digital learning mindset.
"Corporate digital learning is not an approach to training employees," stated the eLearning Guild.6 "It is an openness to adapting corporate skills acquisition and performance support to the needs, goals, and behaviors of modern learners. It is a recognition that some of the ways we've 'always done' corporate training may not work anymore—that they're giving way to self-service problem-solving using digital tools."
When company leaders are willing to give new approaches to training a try, they are adopting the corporate digital learning mindset. And as corporate implementation of learning experience platforms expands next year, so will this mindset.
Can an LMS Function as an LXP?
If your company is part of the 86 percent of organizations already using an LMS, you may be wondering if you need an LXP. If your eLearning system functions similarly to an LXP, you don't necessarily have to make a separate investment in a learning experience platform. A learning management system that is content-agnostic and can make training recommendations and integrate seamlessly with existing tools might not require the addition of an LXP. It all depends on your LMS's set of features.
Interested in finding an LMS that has the same functionality as an LXP? Learn more about Learning Experience Platforms and request a free personalized demo of TOPYX with one of our experts today.
---
References:
https://joshbersin.com/2019/03/learning-experience-platform-lxp-market-grows-up-now-too-big-to-ignore/
https://joshbersin.com/2019/03/learning-experience-platform-lxp-market-grows-up-now-too-big-to-ignore/
https://learningsolutionsmag.com/articles/4-reasons-to-use-a-learning-experience-platform
https://learningsolutionsmag.com/articles/4-reasons-to-use-a-learning-experience-platform
https://joshbersin.com/2019/03/learning-experience-platform-lxp-market-grows-up-now-too-big-to-ignore/
https://www.elearningguild.com/publications/121/what-is-corporate-digital-learning