During the U.S. lockdown caused by COVID-19, many employees were mandated to work from home for their safety as well as the safety of others. But now, lockdown rules are changing and the restrictions that kept workers at home are beginning to lift. As the economy reopens, many employees will return to working from the office, but not all.
"About 74 percent of CFOs surveyed by Gartner expect some of their employees who were forced to work from home because of the COVID-19 coronavirus pandemic to continue working remotely after the pandemic ends," stated CRN.1 According to the Wall Street Journal, "...employers are formulating plans to allow many of their staffers to keep working remotely when the crisis is over."2
Related Content: Working Remotely and Workplace Continuity CAN Coexist
As working from home becomes the new normal for some people, employers should continue to make online employee training a top priority. Training helps employees maintain a sense of normalcy during times of crisis and provides them with the skills they need to perform their job tasks well. Company leaders can prioritize online employee training by implementing eLearning, which can be accessed at any time, from any location.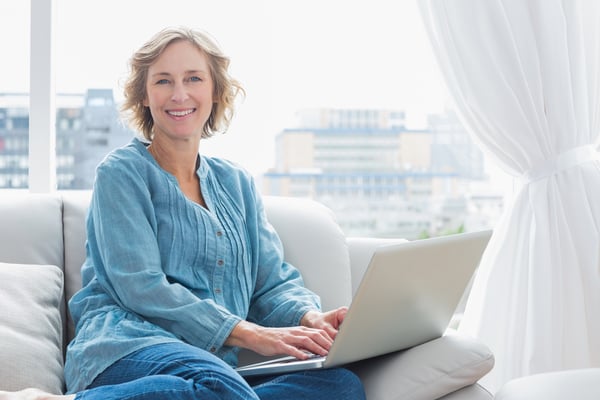 Create eLearning content that caters to all learners

One way your company can foster remote training is by creating online learning content that meets the individual learning styles of employees. Common learning styles include visual, auditory, and kinesthetic (hands-on). To ensure you are meeting the needs of each and every individual training from home, include different learning mediums in your eLearning content such as video, audio, games, simulations, and text, such as blog posts and articles. By creating content using a wide variety of mediums to cater to every employee, companies can keep remote learner interest and engagement up.
Another way to make eLearning more personalized is to use an online learning platform to create individualized online learning paths. eLearningIndustry.com explained that "a personal learning path is a learner-centered eLearning approach that emphasizes learner-specific goals and objectives, as well as preferences. It also refers to the path that a learner elects on their own, such as which eLearning activities and exercises they choose to participate in during the eLearning experience."3
Related Content: 4 Simple Ways to Increase Employee Engagement within a Remote Workforce
Create a supportive eLearning community for work-from-home parents

Many parents are now working and training from home. "Nearly 12 million U.S. households have children 0 to 2 years old, according to census data, and many of these now include parents who are trying to work from home without child-care help," stated the Washington Post.4 This is a huge change for parents, and employers should strive to be as understanding as possible.
Work-from-home parents need resources to help them navigate issues such as setting at-home office hours, maintaining productivity, sticking to a routine, etc. An online community of parents who work remotely, for example, can be an ideal resource for these employees. Companies could use an eLearning platform to create an online community just for work-from-home parents. The online community may include a forum where employees can share remote-work tips and resources with others in their shoes. Also, a company's L&D staff could create an eLearning course specifically designed to help parents thrive while working from home.
Related Content: 4 Tips to Make Online Employee Training More Effective for Remote Workers

Deploy an eLearning platform to make remote training easy for administrators and employees

Launching an online learning platform is a must for companies that want to ensure their employees receive the best remote training. It can help company leaders create engaging remote training for work-from-home employees, distribute it quickly, track it, and report employee progress. An online learning platform also simplifies remote learning for workers by putting all the train-from-home resources they need right at their fingertips in one secure, online location. For more information about how you can launch an eLearning platform in a matter of days, request a demo of TOPYX LMS.
---
Sources:
1. https://www.crn.com/news/running-your-business/some-may-work-from-home-permanently-after-covid-19-gartner
2. https://www.wsj.com/articles/as-coronavirus-lockdown-rules-ease-some-want-to-keep-working-from-home-11590584400
3. https://elearningindustry.com/7-tips-create-personal-learning-paths-elearning
4. https://www.washingtonpost.com/lifestyle/2020/04/28/working-home-with-baby-or-toddler-is-no-picnic-heres-how-make-it-more-tolerable