Efficient and customized learning paths that enable learners and administrators to be more agile and productive
The TOPYX® LMS works by implementing successful learning paths for organizations of all industries and sizes, regardless of their ultimate learning objective. TOPYX enables businesses to create customized learning paths, clear instructional objectives and robust reporting analytics. Our social features allow learners to engage through collaborative groups to increase knowledge retention and engagement rates.
The TOPYX LMS provides organizations the opportunity to grow and create consistency across their business. Our user-centric learning platform allows for instant access to learning paths through mobile and social learning and the opportunity for companies to scale up without being penalized with exorbitant per-user fees.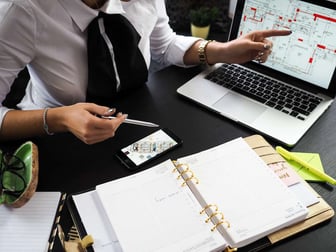 An overview of our most popular LMS features:
Content management

- Detailed creation and authoring capabilities enable your organization to hit any learning objective.

Reporting and analytics

- Track every aspect of your learning paths with easily exportable data for company stakeholders.

Social learning

- Intuitive tools for interaction and collaboration through shareable content and group communities.

Easy administration

- Software that doesn't require any experience in coding or IT. Access dashboards seamlessly to monitor learner and course progression.

Highly integratable

- TOPYX doesn't add an extra layer of work to your IT team's job. Easily implement and roll-out learning paths that work in tandem with other software and content providers.

Transparent pricing

- Our flat-rate annual subscription pricing is ideal for companies looking to expand without budget restrictions. There are no per-user fees and you can forecast learning expenditures and budget in advance.
The TOPYX LMS is an award-winning, intuitive, and accessible tool that is intended to bring communities together and improve the learning experience for organizations of all sizes and industries. We've prepared an LMS Overview to help determine if the TOPYX platform is a good fit for you.