Employee productivity is important across all industries, especially retail. Retail companies rely on the performance of their staff to generate sales and attract and retain customers. Without a productive workforce, a retail organization can't survive.
One of the most common barriers to retail employee productivity is the lack of training and continued education. When retail training is insufficient, employees are unable to perform their job roles effectively and their productivity declines.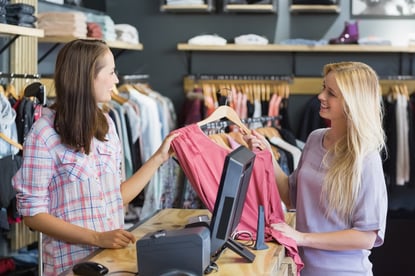 For example, most retail workers need targeted sales training. Without it, they won't have the skills needed to successfully close a sale when they inevitably encounter a situation in which making a sale is difficult.
The same is true for customer service training - without it, retail workers are unprepared to resolve customer conflicts and to keep customers happy. Employees need regular, effective training or else productivity will take a nosedive.
To improve the productivity of your retail workers, provide them with training that promotes fast up-skilling. A learning experience platform (LXP), which is an online learning platform created to deliver a personalized experience via social learning, badging and gamification, and personalized learning paths, can help you do this.
3 Ways an LXP Boosts the Productivity of Your Retail Team
1. An LXP allows workers to learn within their daily work routine
Employee training often takes retail workers away from their job roles. As a result, they are unproductive for the duration of the training segment. An LXP eliminates this problem with microlearning.
For example, during a slower day, a sales associate may find that they have several minutes between customers. During these breaks, they can access the company Learning Experience Platform to watch short sales tutorials, read blog posts about sales styles, or take an interactive quiz covering the sales skills they are learning directly from their supervisor.
With a Learning Experience Platform, they can seamlessly transition from participating in training to serving customers, remaining productive while gaining new skills that boost their productivity.
2. An LXP enables employees to gain skills quickly via social sharing
With traditional training, up-skilling happens as a result of employees participating in training assigned by instructors. While administrators can assign and upload training materials to an LXP, learning experience platforms are also built for social learning. They enable employees to share knowledge with their peers.
As a result, learners can gain productivity-boosting skills quickly as they are exposed to more knowledge. By encouraging all retail employees to share a nugget of knowledge with one another, such as a summary or tutorial of how they resolved a conflict with a customer earlier in their day, you can promote skills acquisition and increase productivity.
Related Reading: 7 Reasons Social Media Boosts Social Learning
3. An LXP allows admins to create eLearning to close retail skills gaps
According to Penn Foster, there is a widening skills gap in the retail industry.1 To close the retail skills gap, a contributor to ComputerWeekly suggested that retail company leaders focus on up-skilling employees, which is exactly what LXP-delivered training does. The contributor wrote, "The retail sector should offer up-skilling to both older employees and younger workers entering an organization…"2
Just as a Learning Experience Platform enables employees to share knowledge, it allows administrators, such as L&D professionals, to create and upload targeted content that aims to close any skills gaps the company is currently experiencing.
For example, if retail company leaders notice poor rates of customer retention, they could create an online customer service course for all retail staff members and deliver it through the LXP. As workers gain vital customer service skills, the skills gap will close and productivity will increase.
Is Your Company Reaping the Benefits of Effective Retail Training?

Employee training is a necessary investment for retail companies. eLearningIndustry.com cites better worker retention, increased sales and customer satisfaction, and less resource allocation as benefits to retail training.3 A learning experience platform can help your company provide effective retail training that upskills workers and drives employee productivity.
Interested in learning more about boosting retail employee productivity?
Check out Retail Training Tips That Improve Key Business Metrics or sign up for a personalized LXP demo.
---
References:
1. https://fosteredu.pennfoster.edu/taking-inventory-of-the-skills-gap-in-the-retail-industry
2. https://www.computerweekly.com/news/4500250309/Retail-should-invest-in-upskilling-to-close-employee-skills-gaps
3. https://elearningindustry.com/top-5-online-training-benefits-in-the-retail-sector