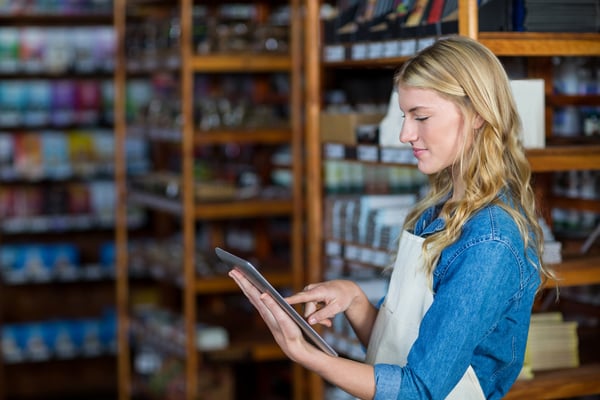 Every employee in a sales position needs training that equips them with essential sales skills. Although most retail companies offer staff training, not all training is effective. In a study conducted by Training Industry, 43.5 percent of participants who had received sales skills training said the training program needed improvement.1 Retail companies may see an increase in the effectiveness of a sales training program by implementing a learning experience platform (LXP).
3 Ways a Learning Experience Platform Can Increase the Effectiveness of Sales Training
An LXP provides employees with online learning experiences that are social and personalized while ensuring the receive continuous training. Here are a few ways an LXP can improve the quality of your retail sales training program:
1. An LXP helps administrators spot training gaps
One of the primary reasons any type of employee training program lacks effectiveness is because it doesn't address the training needs of individual workforces. This is why a one-size-fits-all sales training program may not have a lasting impact or deliver the business results retail companies need to see.
To create a sales training program that improves business metrics, L&D teams must know where skills gaps exist in their company's sales training program. They should also know what kind of skills gaps exist, and to what extent.
Data analysis tools that can be used in conjunction with an LXP, such as a learning record store (LRS), helps administrators identify skills gaps in the sales team. Once administrators have the insights needed to make changes to training, they can tweak the sales training program to up-skill workers so that every employee can meet their personal sales goals.
2. An LXP extends retail sales training opportunities
Many employees value learning and development and are not satisfied with the training opportunities they are being offered. According to LinkedIn's 2019 Workforce Learning Report, 94% of employees say they would stay at a company longer if it invested in their learning and development.1
By implementing a learning experience platform, retail companies can extend staff learning opportunities beyond what the regular sales training program provides. An LXP could give employees access to additional, curated sales training that they would otherwise not be exposed to.
This may result in a highly skilled workforce and better training experiences for employees. Managers can also track what other educational activities are engaging in.
Related Blog: How a Learning Experience Platform Improves Retail Staff Productivity
3. An LXP allows employees to direct their own training
Retail companies that want to improve their sales training program can benefit from a learning platform that allows for self-directed training, such as an LXP. Self-paced learning is engaging because it puts employees in the driver's seat of their own training experience and enables them to participate in sales-related training that excites them.
Training Journal stated, "The LXP offers many advantages over its predecessor, including smart recommendations embedded into a self-directed learning structure, employee-driven, and impact-focused learning experiences to name a few."2
Also, while training delivered through traditional online learning platforms are primarily assigned by administrators, training delivered via LXP is primarily chosen by learners, although administrators still have a say in an employee's learning path. Giving staff a measure of control over how, when, and what they learn is just one more way an LXP can improve sales training.
Learn more about the benefits of a Learning Experience Platform (LXP) for Employee Training
More Ways an LXP Can Improve the Sales Training Experience
An LXP can take sales training to the next level by giving L&D staff the insights needed to make helpful changes to employee training, workers access to additional training opportunities, and learners the chance to direct some of their own training experiences.
Additionally, a learning experience platform may improve the sales training experience by providing personalized training recommendations for employees, meeting the individual needs of learners, and enabling staff to learn in the flow of their workday.
---
References:
https://learning.linkedin.com/content/dam/me/business/en-us/amp/learning-solutions/images/workplace-learning-report-2019/pdf/workplace-learning-report-2019.pdf

https://www.trainingjournal.com/articles/features/three-reasons-why-lxp-future-organisational-learning