2020 has not been a good year for the retail industry. Many retail companies, such as JCPenny, J. Crew, Pier 1 Imports, Neiman Marcus, GNC, Lord & Taylor, and Century 21, as well as a slew of small family-owned businesses, were forced to file bankruptcy as a result of the COVID-19 pandemic.1 Other retail companies had to spend a lot of money to simply stay open. "Walmart Inc. and three other big retail chains have put more than $3 billion into higher salaries, benefits, and other Covid-19 measures…. Staying open during the pandemic wasn't cheap," stated the Wall Street Journal.2
Retail companies that have suffered financially this year should consider reskilling their staff members, although retail training for employees may not be a top priority in the minds of company leaders right now. But by reskilling employees, retail companies will save money by promoting from within and not onboarding as many new hires. Providing ample training opportunities can also help current retail employees feel more fulfilled in their job roles, which can help promote loyalty and discourage costly turnover. Retail companies can reskill employees who are interested in professional development by putting their learning management system (LMS) to good use.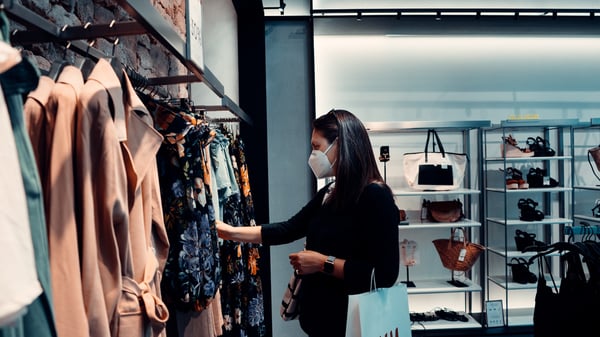 3 ways to reskill retail employees using a learning management system (LMS)
With the right LMS, reskilling retail employees can be simple. Here are a few ways you can quickly reskill your retail workers during the COVID-19 pandemic with a learning management system:
1. Introduce learning paths for specific job roles
A great way to reskill retail employees is to use your LMS to assemble learning paths to prepare workers for brand new roles. Example learning paths may include customer service reps, managers, sales associates, visual merchandisers, buyers, assistant managers, and inventory control specialists. After counseling retail employees concerning their career goals, those in management positions should decide what learning paths will be assigned to what employees. Once workers have completed a learning path, their new skills and competencies should be tested to ensure they are prepared for their new role. Retail companies would then be ready to promote from within.
2. Create and deliver accelerated training
Some retail companies are experiencing a lull in business due to the COVID-19 pandemic. While this has been lousy for their bottom line, it has given them a golden opportunity to reskill their retail staff at a quicker pace. That said, retail workers that have extra time on their hands should ideally be offered accelerated training opportunities.
When training is accelerated, retail staff members can rapidly build their skillset, which would benefit them as well as the company. You can create accelerated eLearning courses using LMS content management tools. Additionally, your LMS allows you to distribute, track, and report on training. Accelerated courses aren't for everyone, but they are ideal for retail workers who are hungry for new skills, willing to put the work in to learn those skills, have a little extra time on their hands, and possibly want to switch job roles.
3. Meet employees' individual learning needs
To effectively reskill retail employees, you must ensure their training needs are met. Often, training preferences and training needs go hand-in-hand. For example, some of your employees probably prefer learning via video, some would rather listen to podcasts, and some would prefer to read an article or blog post. These preferences point to individual learning styles (visual, auditory, kinesthetic, etc.).
Learning styles are not created equally, and retail training shouldn't be either. To determine what your workers' learning needs and preferences are, start by delivering a training needs assessment to them that asks targeted questions about how they learn best. Your L&D team can use the information they provide to tweak employees' individual LMS learning paths to better meet their training needs. As a result, workers will become reskilled more quickly and your company will get a better ROI for its training investment.
Find the perfect LMS for reskilling your retail workforce during COVID-19
Reskilling retail employees in the age of COVID-19 is most feasible with an online learning platform. This is because many workforces are now dispersed, and online learning gives everyone access to training. When choosing an LMS, be sure to seek an eLearning system that offers features such as learning paths, content management tools, and LMS reporting. TOPYX LMS is packed with features and is capable of giving your company everything it needs to quickly reskill retail employees. Best of all, you can launch TOPYX in a matter of days with our Quick Start Program.
Want to learn more about TOPYX learning management system and how it can benefit your retail company? Request a TOPYX LMS demo today.
---
References:
1. https://www.nbcnews.com/business/consumer/which-major-retail-companies-have-filed-bankruptcy-coronavirus-pandemic-hit-n1207866
2. https://www.wsj.com/articles/how-much-covid-19-cost-those-businesses-that-stayed-open-11592910575