Retail skills are critical to the success of both a retail worker and a company, but many people lack these skills. This has created a skills gap in the retail sector. The NRF Foundation acknowledged the retail skills gap and launched a training and credentialing initiative designed to provide individuals with the skills they need to obtain retail jobs.1
Company leaders can follow suit and begin to close the retail skills gap within their own organizations by delivering and managing retail training with an online learning platform.
3 Tips for Minimizing Your Company's Retail Skills Gap with an Online Learning Platform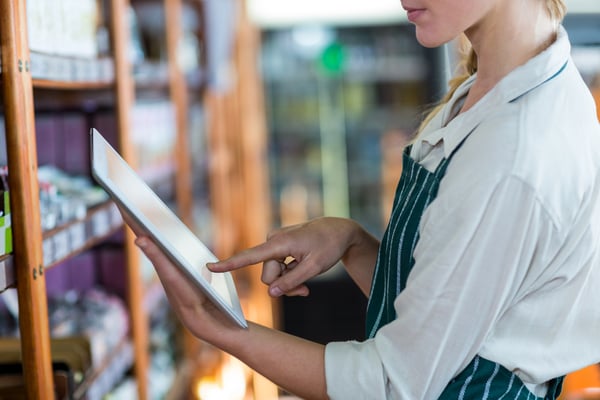 If a deficit in retail skills is affecting your business, online employee training can help. Here are a few ways to up-skill retail workers using an online learning platform:
1. Create an onboarding program that makes locating skills gaps easier
It's helpful for companies to pinpoint which skills retail workers are missing early on. However, skills deficiencies aren't always obvious, especially in large workforces. Using an online learning platform, you can design onboarding content that makes it easier to notice which specific skills retail workers are missing.
For example, consider creating online onboarding courses that include interactive assessments of a worker's current skill set, plenty of knowledge checks, and simulations in which learners must demonstrate their retail skills. The courses would test an employee's skill level in areas such as customer service, sales, merchandising, etc. Once knowledge gaps are found, administrators can create personalized training plans that upskill employees accordingly.
2. Offer a range of online courses and training that results in job advancement
Successfully up-skilling employees is difficult when they aren't invested in training. A lack of engagement with training can easily happen when retail workers don't have access to a range of eLearning courses. This makes it harder for them to find training that interests them. By expanding your retail course offerings, you can increase learner engagement with training and close your business' retail skills gap more effectively.
Another way to boost engagement with training and reduce skills deficiencies is by offering online courses for job advancement. After all, a promotion is perhaps the best reward a worker can receive from fully engaging in training.
If non-mandatory training results in not only a potential promotion, but also a certificate, you'll likely see an even more significant increase in retail skills. As an added bonus, promoting workers from within can save your company money.2
3. Choose a learning platform that intuitively meets employees' needs
The online learning platform you choose to create, deliver, track, and report on training with can be just as critical to closing a retail skills gap as the training content itself. To narrow your company's retail skills gap, consider switching to an online learning platform that automatically customizes training to best meet a learner's needs, such as a learning experience platform (LXP).
One of the reasons an LXP is an ideal choice for retail training is because it recommends training based on learner past completions. This gives the platform insight into a learner's interests, which can help businesses provide training that is more engaging and thus easier to retain. A learning experience platform also gives retail workers the opportunity to guide their training experiences, which could result in more effective up-skilling.
4. Mobile Learning Promotes Retail Skills
The city of Dallas, Texas is feeling the effects of the retail skills gap severely, according to the Dallas Business Journal.3 To equip workers with retail skills, The Dallas Workforce board implemented a mobile learning solution, funded by WalMart, that gives people access to soft and technical skills training through their mobile devices, the DBJ reported.
Similarly, you can make retail skills training mobile-friendly using your online learning platform's mobile learning feature to drive retail skills acquisition.
Want some additional ideas for improving your current retail training program with a learning platform? Read our blog post 3 LMS Hacks that Improve Retail Training or request a personalized demo of the industry-leading TOPYX learning management system to learn more.
---
References:
https://blog.mycorporation.com/2013/02/promoting-within/

https://fosteredu.pennfoster.edu/taking-inventory-of-the-skills-gap-in-the-retail-industry

https://www.bizjournals.com/dallas/news/2018/06/15/dallas-workforcesolutions-launches-boot-camp-to.html