High levels of employee engagement are critical to organizational success. Adequate employee engagement promotes staff retention and productivity, as well as fewer safety incidents. In the past, only an average of 33 percent of employees reported feeling engaged at work.1 More recently, that number has been trending upward.
According to Josh Bersin, industry analyst, educator, and thought leader in all aspects of HR, leadership, and HR technology, employee engagement is skyrocketing and has increased by 11 percent this year, which is an "all-time high." This is phenomenal when you consider that many employees have gone from working from an office environment to working from home due to COVID-19. Additionally, many workers have been under stress related to the coronavirus crisis. "...research by Towers Watson shows that employees are more stressed about health and financial security than ever," said Bersin.2 Nevertheless, employee engagement is soaring.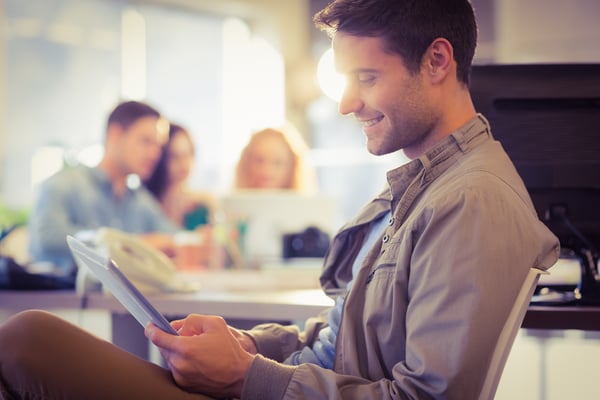 Increased Support From Employers = Higher Levels of Employee Engagement
There is no surefire formula for an engaged workforce, but you may find that your employees are most engaged when they feel supported by the company. Bersin continued, "...employers are lavishing support on their people. Two independent studies just found that Employee Engagement, the measure of an employee's satisfaction with their employer and their job, has reached the highest level ever." Research cited by Bersin indicated that the primary drivers of the increase in engagement were leadership support, communication, compensation, and benefits. Aside from feeling supported by employers, workers are also likely feeling more thankful simply to be employed, Bersin explained. "But the data shows a much deeper trend," he wrote. "Employers are treating people exceptionally well."3
Related Reading: Increase Employee Engagement with LMS Compliance Training


Why Employers Should Prioritize Employee Training During the COVID-19 Crisis

In addition to supporting employees via communication, compensation, benefits, etc., your company can show support by offering corporate training to employees at home or the office. Employee training may have taken a backseat as your company scrambled to deal with the effects of the COVID-19 pandemic. "...workplace learning is emerging as one of the earliest and hardest-hit business activities," stated McKinsey Accelerate.4 "However, businesses can't afford to put capability building on hold. Whether the effort is reskilling at the business-unit level or a company-wide aspirational transformation, companies can't simply push the pause button on critical workplace learning, even as they move rapidly to put employee safety first."
Employee training not only provides a sense of support to workers and ensures they have the skills they need, but also increases job satisfaction, employee motivation, financial gain, efficiencies in processes, capacity to adopt new technologies, and innovation, according to Management Help.5 To keep employees safe and meet the training needs of remote workers, it may be necessary for your company to offer online employee training. This is the route many workplaces have had to take as a result of the pandemic. With this in mind, the increase in employee engagement may be an indicator that eLearning promotes engagement.
Support Your Staff During the COVID-19 Crisis with Remote Training
Offering staff training opportunities is one way to help your workers feel more support from your organization. To help employees stay safe, consider remote training options delivered via an online learning platform. An online learning platform enables your company to create, distribute, track, and report on employee training, as well as to create a social learning experience using learning tools like forums, web conferencing, and personalized online learning paths.
Find out how to quickly launch an online learning platform by checking out our Quick Start Program.
---
Sources:
[1] https://www.socialchorus.com/blog/employee-experience/employee-engagement-key-to-company-success/
[2] https://joshbersin.com/2020/06/despite-the-pandemic-employee-engagement-is-skyrocketing/
[3] https://joshbersin.com/2020/06/despite-the-pandemic-employee-engagement-is-skyrocketing/
[4] https://www.mckinsey.com/business-functions/mckinsey-accelerate/our-insights/adapting-workplace-learning-in-the-time-of-coronavirus
[5] https://managementhelp.org/training/basics/reasons-for-training.htm