Leveraging eLearning gamification in an L&D program is one of the best moves companies can make. Gamification provides immediate rewards, boosts learner engagement, and increases knowledge retention.¹ It can be transformational for an eLearning program as well as for general business operations.
"About 40% of Global 1000 organizations use gamification as the primary mechanism to transform business operations." - Success of Gamification in the Workplace²
What is Gamification?
The term 'gamification' gets thrown around a lot in the workplace. It sounds complicated but is quite simple, and can be surprisingly easy to integrate into a corporate online learning program.
"Gamification in eLearning is the use of game theory and game mechanics in non-game contexts to engage users in solving problems. The main goal of gamification is to motivate your students – and those motivated students typically perform better," stated Digital Chalk.³
Leveraging gamification in your online L&D program doesn't have to be difficult. It can be accomplished by implementing a few ideas.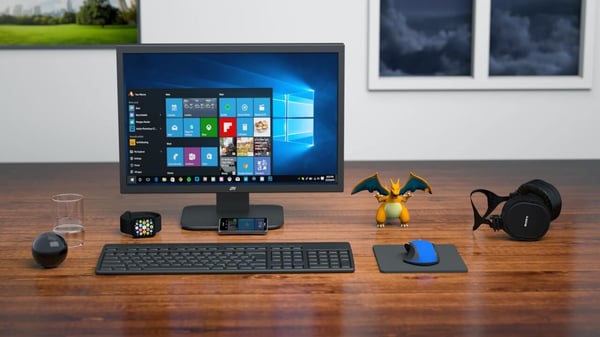 3 Ways to Use eLearning Gamification
in Your L&D Program
1. Web Conferencing
Use web conferencing as a collaborative platform on which learners solve problems as a team. In each scenario, give individual employees a piece of the solution. Since gamification in brainstorming groups can increase the volume of generated ideas by 58%, this exercise promotes innovation in addition to leveraging gamification.4
→ Learn More About Collaborative Learning
2. Trivia-Like Assessments
Create assessments that mirror trivia games. Be sure to reward learners for participation in these assessments. This will give your company valuable feedback and data from employees while simultaneously increasing employee engagement.
When adding trivia games to your L&D program, pack assessments with facts about your company's products and services. These succinct, fun games will provide a much-needed break from employees' regular work and increase their knowledge base of vital company information.
3. Point and Badge Systems
This type of gamified eLearning helps employees show off their skills with badges that their colleagues can see. Collecting badges helps employees feel proud of their accomplishments, uses rewards to incentivize workers to engage in training, and adds a competitive element to learning as workers compare their badges. Using rewards in gamified training cannot be emphasized enough.
"Over 60% of learners would be motivated by leaderboards and increased competition among students." -- 8 Surprising Gamification Statistics5
Is Your Company's eLearning
Program Powered by Gamification?
If your employees aren't engaged in training or motivated to participate in it, make plans to weave eLearning gamification into your company's L&D program. If your eLearning program is already thriving, gamification can make it even more effective.
eLearning gamification is also helpful when onboarding new hires. Learn more about this in 3 Ways to Optimize Onboarding with Your LMS Program. How does your company include gamification in its eLearning programs?
Gamification is just one of the impactful corporate eLearning trends of 2019. Read our white paper to discover the trends you will need to consider including in your corporate training programs.
---
References:
1. eLearning Industry. The science and the benefits of gamification in eLearning. https://elearningindustry.com/science-benefits-gamification-elearning/.
2. Business.com. Success in gamification of the workplace. https://www.business.com/articles/5-statistics-that-prove-gamification-is-the-future-of-the-workplace/.
3, 5. Digital Chalk. 8 surprising gamification statistics. https://www.digitalchalk.com/blog/8-surprising-gamification-statistics/.
4. St. Charles Consulting Group. 3 ways to leverage gamification in learning and development. https://stccg.com/3-ways-to-leverage-gamification-in-learning-and-development-without-hiring-game-developers/.