Onboarding new hires during a pandemic is no small feat. Not only is there mass stress over COVID-19, but many employees are working and training from home. Companies around the globe must adjust to the new normal if they want to continue to successfully onboard people as the health crisis plays out. Organizational leaders can solve onboarding challenges caused by the pandemic in a variety of ways.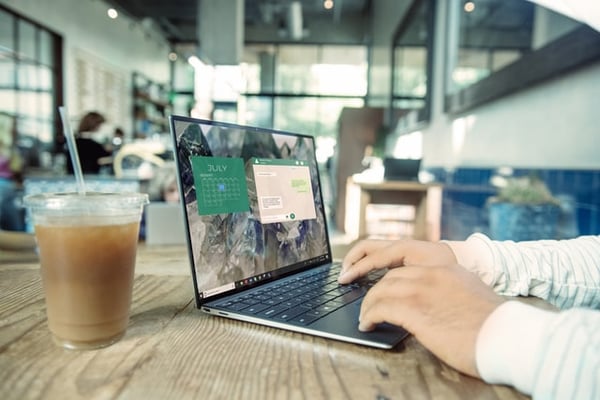 4 ways to tackle employee onboarding
challenges during COVID-19
Worried your company won't be able to get new hires onboarded well in the face of all the challenges COVID-19 has presented? Relax and give these remote onboarding tips a try:
1. Move your onboarding program online

This may seem obvious, but moving your entire onboarding program online can help you sidestep a lot of the problems that come with trying to train new hires during a pandemic. For many companies that are navigating COVID-19, onboarding individuals remotely is the right decision. This is simpler than it sounds. First, move your onboarding content to a learning management system (LMS) or another online learning platform. Then ensure your new employees have the software, hardware, and office supplies, such as a computer, that they need to participate in remote onboarding. Once the content is online and new hires have what they need to access it, your onboarding program can go live.
Related Reading: How to Transform In-Person Training Into Remote Training Content
2. Create online onboarding connection groups
When starting something new, such as a job, it is comforting to have contact with people who are in the same boat as you. That's where online onboarding connection groups come in. LMS social learning tools, such as forums and web conferencing, can facilitate these groups.
"In the absence of cube neighbors and office happy hours, consider creating cohorts of new employees who can experience onboarding together virtually," said a contributor at Fast Company.1 "A cohort of five to six people who regularly connect with each other can learn the culture of your organization together via videoconferencing and support each other in figuring out how things are done at your company."
Starting a new job can be intimidating. Throw a pandemic into the mix and you have what could be a very stressful situation for an employee. Offering connection groups can make the onboarding experience more comfortable for new hires.
Related Reading: What to Do When Employees Are Disengaged During Onboarding
3. Virtually connect new hires with seasoned employees
When onboarding people remotely, it is important to connect new employees with those who have been with your company for at least a couple of years. This will help new hires feel more included in your company's culture. Also, seasoned employees can offer new workers the extra guidance they will miss out on in an online environment. These connections may turn into mentor-mentee relationships. While that would be great, it shouldn't necessarily be a requirement. It may be better to allow mentorships to happen naturally. Anything you can do to foster social connections for your new hires will go a long way toward helping them adapt to their new workplace, work community, and job.
Related Reading: 3 Ways to Optimize Onboarding with Your LMS Program


4. Foster virtual face-to-face interactions
One of the biggest obstacles with onboarding in the age of COVID-19 is that new hires may not get to have many face-to-face interactions with others. It can be easy to forgo these interactions for emails or voice-only conference calls or phone calls. Don't let this happen to your new hires. It will make them feel disconnected. Improve your retention rates by seeing that new employees get a sufficient amount of personal interactions with their peers and supervisors.
"When onboarding a new hire, it is important to create a professional, comfortable environment that makes you (and the employee) feel as though you are interacting in an office setting, face to face," stated Business.com.2 "For example, schedule a Zoom lunch, make sure the new hire is introduced to everyone on the team, participate in virtual happy hours, etc."
The more (virtual) quality time new hires get with their team members, the more they will feel at home with your company.
An LMS can handle any onboarding challenge that surfaces during the pandemic. Request a personalized LMS demo of the TOPYX learning platform to find out more.
---
Sources:
[1] https://www.fastcompany.com/90531227/how-to-onboard-new-employees-virtually-during-the-pandemic
[2] https://www.business.com/articles/employee-onboarding-during-covid/