Seventy-six percent of human resource leaders say onboarding practices are underutilized in their organization, according to an onboarding study that involved over 350 companies.1 Another study conducted by CareerBuilder indicated that 36 percent of organizations don't offer employees a formal onboarding process.2
Ineffective or absent onboarding can wreak havoc on a company's performance, causing problems including low sales, poor customer service and satisfaction, and inefficient internal processes that cost your company time and money. This is especially true of financial services training for businesses that are in specialized, highly-regulated and high-stakes fields.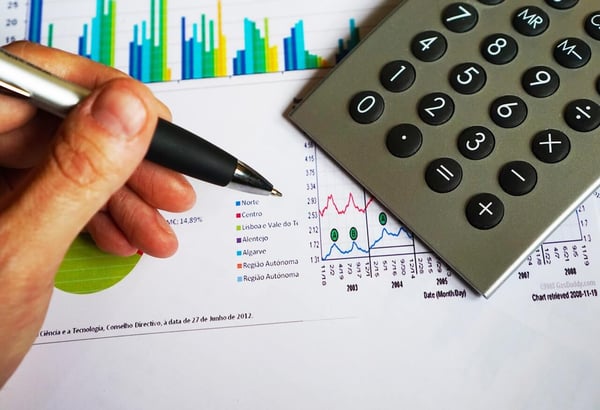 Consequences of Poor Onboarding in Financial Services Training
Finance companies often have multiple services, products, and processes that employees and agents must become familiar with during onboarding. They may also be specialized in certain industries, handling large amounts of money, and dealing with tight regulations - all of which affect employees and their performance. When initial financial services training is inadequate, new hires go without the skills and knowledge that are critical to their success.
According to Recruiting Daily,3 ineffective onboarding results in:
New hire disengagement that can cause high levels of turnover.
Poor work relationships.
Lack of clear career paths for workers, which can lower staff motivation.
For finance professionals, onboarding can be optimized with a learning management system.
Learning Management Systems Improves Onboarding for Financial Services Training
An LMS helps company leaders create more effective onboarding for finance professionals in the following ways:
1. Speeding up the onboarding process
One-on-one, in-person onboarding is often necessary in finance, but it's not realistic for teaching all the information employees need.
One-on-one training takes up a large amount of time and can focus on skills employees learn better on their own - such as software systems that require tutorials and active practice. Asking employees to learn everything in the presence of a mentor or trainer can be frustrating or cause employees to become disengaged. Organizations may even lose money on this type of training since it increases time to productivity and takes seasoned workers away from their duties.
An LMS software shortens the onboarding process by moving it online where new hires can find all the training resources they need to get up to speed with their peers. Online, on-demand financial services training is accessible 24/7 from any mobile device with a web browser and Internet access. This makes it not only more effective than other types of training, but also more convenient.
Employees can take online tutorials via video or read instructions, then practice skills and techniques as needed, without the more rigid structure of in-person training.
Related Blog: How to Create an Effective Video Training Course for Your Employees
2. Integrating employees into company culture and processes
During onboarding, employees should get a clear idea of their new supervisors' expectations and be trained to meet them. By setting expectations, integrating employees into company processes, and emphasizing company culture and structure, company leaders can improve a financial services employee onboarding program.
"Human Resources can gain tighter control over the message you deliver to recruits when each worker undergoes the same basic orientation. An LMS helps establish what you consider the essential characteristics of your company—to instill the organization's values and goals in each recruit," stated Training Magazine.4
Familiarizing new employees with company processes and providing education on company culture will increase their confidence and help them function more effectively in a financial services role. LMS software content creation and authoring tools can be used to design eLearning courses that instill organizational values and objectives in new hires right from the start.
3. Reporting on new hire progress
Failing to measure efficacy is one of the biggest mistakes companies make in onboarding new hires. The effectiveness of onboarding should always be measured and reporting on so you can identify skills gaps and areas of inefficiency for later improvement.
LMS reporting features provide features that help. LMS reporting and analytics gives administrators the information they need to measure the success of an onboarding program as well as to recognize employee strengths, weaknesses, and knowledge gaps.
LMS reports enable administrators to make helpful changes to current onboarding programs. Use progress reports and assessments to test knowledge and see how quickly new hires are moving through your training program. If new hires do poorly on software skills, you can update and add to training courses on your internal systems to help employees gain the skills they need to function effectively.
As an added bonus, LMS reports can also aid content developers in creating relevant ongoing training that ensures finance professionals are equipped to provide the best possible customer experiences, fulfill regulatory requirements, and stay updated on your company's changing needs.
Optimize Financial Services Training with an LMS Software
An LMS not only increases the effectiveness of onboarding for finance professionals - it also improves financial services training in general. Find out how to use an LMS to better staff training in 5 Elements of an Effective Employee Training Program.
---
References:
1, 3. Recruiting Daily. Study finds that a bad onboarding experience may disengage new hires. https://recruitingdaily.com/study-finds-bad-onboarding-experience-may-disengage-new-hires/.
2. Business News Daily. What does poor onboarding really do to your team? https://www.businessnewsdaily.com/9936-consequences-poor-onboarding.html.
4. Training Magazine. Effectively using an LMS for employee training and onboarding. https://trainingmag.com/effectively-using-lms-employee-training-and-onboarding/.