Failing to onboard new hires or offering an ineffective onboarding program can have serious consequences for your company. Not only does poor onboarding increase employee turnover and costs, it also decreases productivity.1,2
Delivering a quality onboarding program drastically increases employee retention and can also boost productivity.³ O.C. Tanner found that nearly 70 percent of employees have a greater likelihood of sticking with their employers for a minimum of three years after an exceptional onboarding experience.4
Including video-based training in your onboarding program is just one way to promote the benefits listed above.
Engagement is Key to a Great Onboarding Program
Engagement is vital to creating exceptional onboarding experiences for employees. An onboarding program might be organized and have helpful content, but if it doesn't capture the attention of your new hires, it won't help retain them long-term.
"Ensuring that the onboarding process is modern and engaging is an impactful way that employers can improve the long-term prospects for a new team member – from the perspective of both the employer and employee," stated HR Onboard.6
Including video-based training in your onboarding program is a cost-effective method to modernize, making employee onboarding more interesting and effective.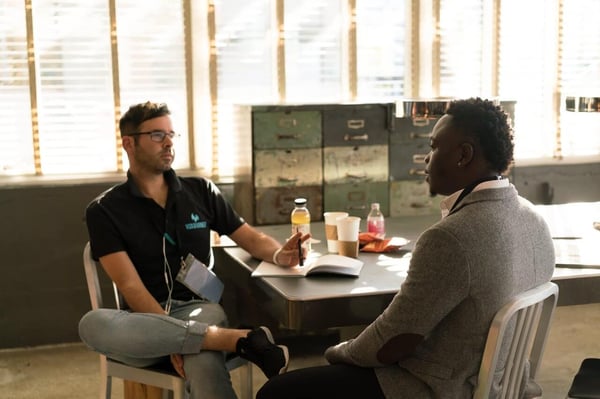 How Video-Based Training Boosts the Effectiveness of Your Onboarding Program
Company leaders searching for simple ways to improve onboarding may be surprised to find that adding video to an onboarding strategy can make a big difference in the quality of a new hire's learning experience.
Here are three reasons why including video-based training in your onboarding initiative delivers exceptional results:
Video is highly engaging and increases retention -- As discussed earlier, the best learning experiences are the most engaging. Because it simultaneously delivers auditory and visual stimulation, video is perhaps the most engaging of all types of training content.
"Your brain is wired to remember visual content...studies have shown that the average viewer retains 95 percent of a message when they watch it, as opposed to a mere 10 percent retention rate when reading it," stated Sheffield Audio Video Productions.7
Video is memorable, compelling and entertaining, which is why it belongs in your company's onboarding program.
Video is suited to microlearning -- Microlearning isn't a popular method of delivering corporate training for nothing. It is engaging, helps new hires retain training information, promotes transfer of new concepts to one's job and is quicker for companies to develop and implement.8
No type of content lends itself to microlearning better than video. Administrators can break long videos into small chunks and deliver them to new hires as they are needed. They can then be combined with other types of learning content to drive home the objective of the onboarding segment.
Video appeals to many people -- Most people really enjoy watching short videos and spend hours each day doing so. "Video is the most popular content consumed globally," according to eLearning Industry.9
It is good business to craft an onboarding program that appeals to the majority of your new hires. Since many people love to consume video, it makes sense to align your onboarding strategy with their preferred method of learning.
Promote Video-Based Training with an LMS
Using video in an onboarding program is a good way to prevent turnover, decrease costs and boost productivity. Since it engages learners, helps them retain information, lends itself to microlearning and accommodates the learning preferences of most people, video-based training should be an aspect of your company's onboarding program.
Looking for an eLearning tool to:
Promote video-based learning during onboarding?

Combine video with other training formats to increase program effectiveness?

Modernize an onboarding strategy?
If so, a learning management system (LMS) may be what your company needs.
Video-based training is just one of the top corporate eLearning trends of 2018. Read our white paper that looks at the trends you need to implement into your corporate training programs.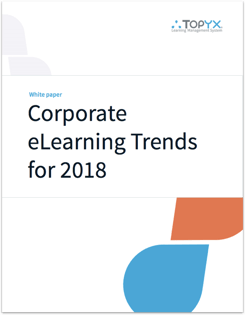 ---
References:
WalkMe. 5 tips to reduce turnover and boost new hire onboarding. https://medium.com/walkme/5-tips-to-reduce-turnover-and-reduce-new-hire-onboarding-5c216382b1dd.
SHRM. Onboarding new employees: maximizing success. https://www.shrm.org/foundation/ourwork/initiatives/resources-from-past-initiatives/Documents/Onboarding%20New%20Employees.pdf.
3, 6. HR Onboard. 4 shocking employee onboarding statistics. https://hronboard.me/blog/4-shocking-employee-onboarding-statistics/.
O.C. Tanner Blog. An onboarding checklist for success (infographic). https://blog.octanner.com/editor-picks/an-onboarding-checklist-for-success-infographic.
LinkedIn. 9 employee retention statistics that will make you sit up and pay attention. https://www.linkedin.com/pulse/9-employee-retention-statistics-make-you-sit-up-pay-attention-dodaro.
Sheffield Audio Video Productions. 5 reasons we love video marketing. http://www.sheffieldav.com/production/5-reasons-we-love-video-marketing-and-you-should-too.
eLearning Industry. 5 key benefits of microlearning. https://elearningindustry.com/benefits-of-microlearning-case-studies.

eLearning Industry. Why video is the best medium for microlearning. https://elearningindustry.com/video-best-medium-microlearning.