Deciding to use an online learning platform to train your employees is a big step. Learning platforms are a significant investment and require you to not only create educational material but also to train staff on how to use the system and consistently update online courses for relevancy.
The benefits, however, are well worth the efforts. An online learning platform can help your business:
Improve flexibility

Increase knowledge retention

Increase employee engagement
To set your company up for success with an online learning platform, you need to select the right online learning platform, or learning management system (LMS) for your needs.
Related Read: Employee Training: 4 Benefits of LMS Software for Companies
5 Steps to Select an Online Learning Platform
To find the best online learning platform for your business, take some time to consider who you will be training, their level of comfort with online learning, and what data you're hoping to extract from the LMS. With clear goals and expectations, you're more likely to find the right LMS and have better results as you train your workforce. Follow these five steps to get started.
1. Set Your Goals
Look at the reasons you want to get the LMS set up and what you are hoping to achieve through the system. Is your primary goal to lower training costs? Increase employee engagement? Improve productivity?
Your goals will be the primary driver behind which system you purchase. No matter what the system offers, if it doesn't have the features and functionality you need to meet your goals, it won't be effective for your business.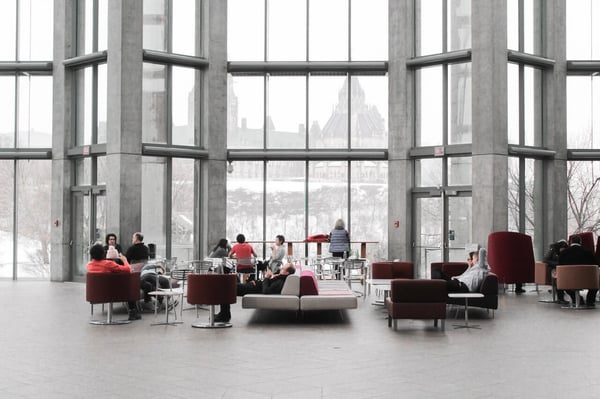 2. Define Your User Base
Many online learning platforms and LMS systems charge based on the number of users. For large businesses with hundreds or thousands of employees, per-user fees can quickly cause costs to escalate to a point where they're unsustainable.
Define your user base in terms of size and who will be logging into the system regularly. Find a platform that can accommodate the number of users you have, as well as different audiences, if applicable. For instance, some businesses offer employee training through an online learning platform, but also need extended LMS capabilities to help train their customers in the most efficient way to use their products and services.
3. Understand Your Administrative Needs
The right LMS platform should offer you everything you need to administrate and teach new skills, including:
An easy way to upload and present new course materials

An e-content library where you can store reference materials for students to consult

Reporting to show you which students have completed lessons and important data about the time they spent in the module
Determine how your administrative and training staff will be using the platform and look for LMS features that will support their needs.
4. Understand the Needs of Your Users
An online learning platform is only effective if your users learn from the courses. That means that to ensure your platform is effective, you need to evaluate the needs of your users and how they learn best.
Many employees learn best when given a variety of content types, such as written, video, and audio content. The most effective system, then, will allow support multimedia content and allow you to combine material in different formats into a single course.
5. Research and Evaluate Available Platforms
Once you have a better idea of your goals, your administrative needs, and the needs of your users, it's time to see what is out there and how each LMS might work for you. Do some research and identify top options that are within your budget, then do an LMS comparison to determine which systems have the features, functionality, and pricing models that fit your business.
Most importantly, take the time to evaluate how each platform will help you reach the goals you set earlier on in your search. These goals will be the primary way you determine how successful your online learning platform is.
Selecting the Right Platform is the First Step in a Successful Online Training Program
No matter how advanced your learning and development program is, it won't be successful if you don't have the right online learning platform to support it. Use these five steps to start your transition off right, taking the time to fully evaluate your needs and the needs of your users. During your due diligence before selecting and implementing a new platform will greatly increase your chances of success.