Employee training isn't always the simple process business leaders want it to be. Some companies struggle with engaging employees in training, don't regularly offer professional learning and development programs, or fail to meet the needs of individual learners. Any of these training mistakes can result in lower productivity. They can be prevented by using LMS software to manage corporate training."40 percent of employees with poor training leave their jobs within the first year." -- Guthrie Jensen¹
An LMS Is Made to Train Employees
A learning management system has many functions. It can:
Connect remote employees through web conferencing tools.

Track and manage the skills and abilities of a workforce and compare them against a company's business goals.

Establish a better corporate culture by promoting collaboration.
Related Reading: 4 LMS Features That Help Companies Track Employee Training
While an LMS is capable of all this and more, it is first and foremost an eLearning tool created to train people, whether they are members, volunteers, students or employees. Through various features like mobile learning and social learning tools, an LMS puts training at the fingertips of a company's workforce, which is right where it belongs.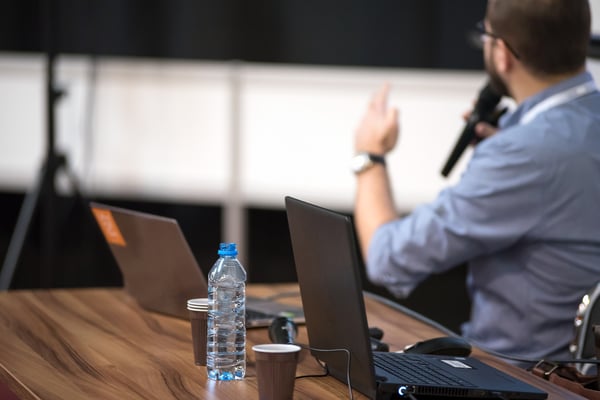 4 Benefits of LMS Software for Employee Training
Using a learning management system can benefit an organization in a myriad of ways. Here are four benefits LMS software offers companies in the area of learning and development:
Ready-made training content -- An exciting and convenient feature of some learning management systems is ready-made eLearning content stored in a virtual library. It can quickly and easily be integrated into an eLearning course and can be reused in multiple courses. This saves companies the hassle of hiring instructional designers.

Customized learning -- Customized learning helps ensure information is retained long-term. Company decision makers that are investing a lot of money into L&D but not getting good results may want to ask if their business' corporate training programs are meeting both the collective and individual needs of learners.

All employees need training that is engaging and effective, and customized training is more effective than one-size-fits-all material. For example, a standard eLearning course is easily customized to help employees comprehend training by the addition of a video plus a written document. By including multiple content types in one course, learners can use the material that suits their learning style, which improves knowledge retention.
Learn more about this in 4 Online Learning Trends Impacting Corporate Learning.
Standardized training -- There are many good things about in-person training. It is often interactive and allows instructors to immediately respond to a learner's questions. However, live training will always vary depending upon who is teaching the course and what method of delivery he or she uses. This can be a problem for companies that need to make sure all employees perform their job the same way.
For example, organizations in the healthcare industry often need to provide standardized compliance and certification training. LMS software can ensure that all materials get the same materials at the same time, while still providing different learning options - such as different types of content - to help learners best retain material.
Effective Employee Onboarding -- Employee onboarding often dictates whether or not a worker stays at a workplace. "New employees who go through a structured onboarding program are 58% more likely to be with an organization after three years," according to Click Boarding.²

Because its ready-made training content can be used in employee onboarding, an LMS makes it easy for companies to create a successful program quickly.
"22% of companies have no formal onboarding program." -- Harvard Business Review³
Use LMS Software to Meet Your Employees' Training Needs
Whether you're onboarding new employees or helping loyal staff with professional development, the tools in LMS software help you create and distribute effective content. They can also help you track your employees' training performance, so you know just how well your material is working and where to improve.
---
References:
Guthrie Jensen. Statistics prove the value of employee training. https://guthriejensen.com/blog/statistics-employee-training/.

Click Boarding. 18 jaw-dropping onboarding stats you need to know. http://blog.clickboarding.com/18-jaw-dropping-onboarding-stats-you-need-to-know.

Harvard Business Review. Technology can save onboarding from itself. https://hbr.org/2015/03/technology-can-save-onboarding-from-itself.