Online learning isn't new. It's been around for years, and chances are your business, association, or nonprofit has already jumped on the bandwagon eLearning bandwagon to reduce costs and improve training.
But like other enterprise tools and techniques, eLearning is constantly evolving. It's changing not only with technology, but with the demands of users. In the beginning, an eLearning program could be simple, made up largely of text documents and other static elements. Now, employees, members, and contractors want greater flexibility, microlearning, and multimedia elements to better engage themselves and learn.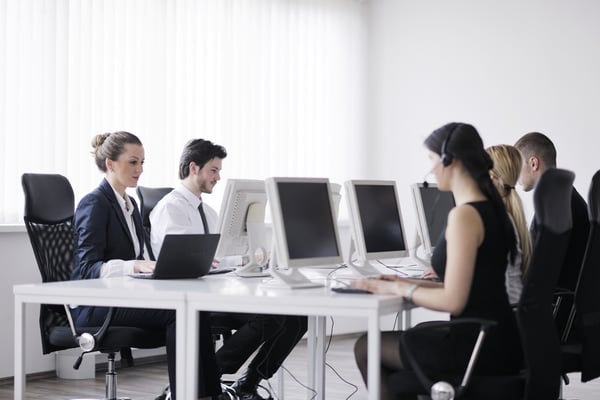 That can quickly make older online learning programs ineffective. How much are your users really getting from your program if it hasn't been updated? How is that affecting your business results?
Modernizing your online learning program is essential to success. But where do you start? TOPYX has worked with many organizations to modernize their online learning programs through both LMS software and content or formatting support. We used that experience, and one very successful modernization example, to put together three key tips that will help you update your own program.
How Beef. It's What's for Dinner. Modernized Their Online Learning Program
Beef. It's What's For Dinner. is a popular program that is managed by the National Cattlemen's Beef Association (NCBA), which represents the largest segment of the U.S.'s food and fiber industry. Beef. It's What's For Dinner. has used an online learning program to educate cattlemen, operates various conventions, trade shows, and conferences, and works on behalf of the beef community.

Beef. It's What's for Dinner. offers their educational program to supply chain operators such as restaurants, grocery retailers, and foodservice manufacturers. The program ensures operators are properly educated about beef, including where products come from and the environmental impact - all topics that the supply chain and end consumers are becoming more interested in.

While very successful, their educational program hadn't been modernized in years and needed to be updated to better meet the needs of end users.

"We needed a classroom setting that's more interactive, where people can just sit down and take a lesson," said Becca Seymour, Associate Director, Program Planning & Tracking at NCBA. She stressed the importance of staying within budget while revising the educational program, saying, "We have to make the most of every dollar."
Modernizing Online Learning on a Small Budget
Because Beef. It's What's For Dinner. Needed a cost-effective way to modernize their educational program, they searched for a learning management system (LMS) that was cost-effective, and eventually settled on TOPYX LMS, a flat-rate eLearning platform.

After partnering with TOPYX, they began modernizing their educational program to better meet the needs of clients. First, administrators went to work creating an interactive website that represented the brand well. Next, an updated educational program for supply chain operators was crafted. It provided them with a thorough education about the beef industry.

The educational program, called Beef University, was launched in 2017 after being tested to ensure its effectiveness. Beef University was quickly embraced by users, resulting in extended reach among supply chain partners and state organizations, as well as a more flexible, modern, and interactive educational program format that could be customized for users.
Three Takeaways on How to Modernize an Online Educational Program for Large Audiences
The elements that made Beef University appeal to learners can help make other online education programs successful. These elements include:

1. Interactive courses that engage learners -- Interactivity in an online training program is very important. Online courses need to be engaging and interactive to meet learner expectations today, and one of those expectations is having control over the learning experience. Because most people are constantly interacting with content on their phones, televisions, etc., they are used to being in control. An interactive course gives learners some control over the learning process and requires participation, which drives engagement.¹

2. Mobile access to training -- At least 5 billion people own mobile devices, and over half of the devices are smartphones.² Also, 60 percent of people prefer to consume training content on a mobile device (mobile learning) as opposed to on a computer.³ This supports the need for mobile access to online educational programs. Mobile access is especially critical when educating large audiences with variable work environments. For example, field workers, restaurant managers, and foodservice manufacturing employees may need to access online courses from very different environments. Mobile learning enables this.

3. Flexibility to accommodate highly varying schedules -- One of the keys to creating a successful online educational program for large audiences is ensuring training fits into any learner's schedule. For example, restaurant workers, retail managers, and state organization employees all have different schedules. A flexible, on-demand program can educate each type of professional at their own pace, as their schedule permits.
Beef University Incorporated Key Elements to Modernize a Dated Program and Better Engage Learners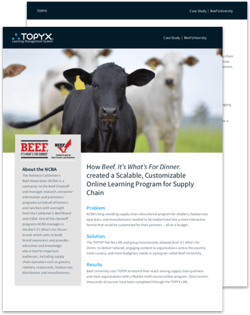 Beef. It's What's for Dinner. needed to provide supply chain clients with an interactive, flexible training program that was fully accessible via mobile device. A full-featured, flat-rate learning management system helped to create the solution: Beef University. "We heard things like 'it's so much easier' and 'it makes more sense' as people started using the program. It was all very positive," said Becca.

Read the full Beef. It's What's for Dinner. case study.
---
References:

1. Training Industry. 6 benefits of interactivity in corporate training. https://trainingindustry.com/articles/content-development/6-benefits-of-interactivity-in-corporate-training/.

2. Pew Research Center. Smartphone ownership is growing rapidly around the world, but not always equally. https://www.pewglobal.org/2019/02/05/smartphone-ownership-is-growing-rapidly-around-the-world-but-not-always-equally/.

3. Shift eLearning. Mobile learning stats that will make you rethink your training strategy. https://www.shiftelearning.com/blog/bid/331987/mobile-learning-stats-that-will-make-you-rethink-your-training-strategy.