By the end of the year, the eLearning market will reach a staggering $31 billion, according to an infographic by eLearning Industry.1 The infographic also stated that 72 percent of global organizations see learning management systems as a competitive advantage. These statistics indicate that an increasing number of companies are investing in learning management systems and other eLearning tools. However, a survey revealed that 26 percent of organizations are dissatisfied with their current LMS.2 In cases like these, it's probable that a company's eLearning system is not meeting its core organizational needs and is likely not user-friendly.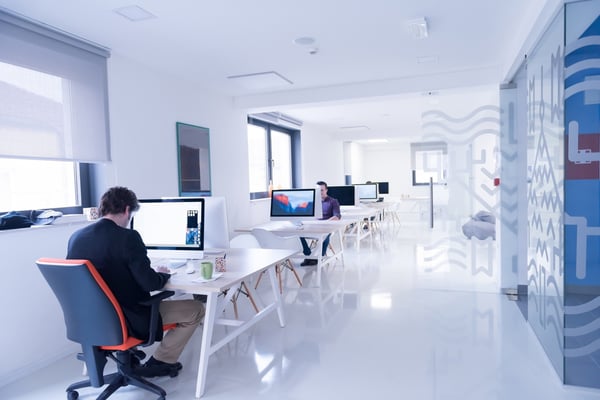 Is your current learning management
system meeting these organizational needs?
When an LMS is meeting your company's needs, you'll know it. While every company has unique objectives for an eLearning platform, there are a few key organizational needs that all companies share and that a learning management system should meet after it is launched. Here are some examples:


1. Effective employee training
Most organizations prioritize employee training because it boosts job satisfaction, attracts better candidates, improves retention, and enables companies to promote from within.3 And according to Indeed.com,4 online employee training:
Improves skills and knowledge
Satisfies the recommendations of performance appraisals
Prepares employees for higher responsibilities
Proves to workers that they are valued
Improves IT and computer skills
An LMS's primary function is to train employees. It allows administrators to create, distribute, track, and report on training. Features such as content management, mobile learning, learning paths, certifications, and LMS reporting make training your workforce simpler and streamlines the general training process.


2. Cost savings and increased revenue
A healthy bottom line is critical to the success and longevity of a company. That said, one of the most obvious needs organizations have is to save money. Corporate training can prevent this by putting a strain on the company budget. Training Magazine's 2019 Industry Report stated, "Overall, on average, companies spent $1,286 per learner this year compared with $986 per learner in 2018. Nonprofits spent the most per learner this year ($1,889), followed by manufacturers/distributors ($1,781). Midsize companies spent less ($829) than large ($1,544) and small ($1,511) companies."5
An LMS can cut down on training costs considerably by eliminating the need for organizations to rent physical classroom spaces and pay for training-related travel and in-person instructor salaries. In fact, Nortel saved $7.7 million between 2005 and 2006 after implementing online training and Dow Chemical cut training costs from $87 per employee to $11 after launching an online training model. Overall, the company saved $34 million.6
In addition to saving companies money on training, "eLearning is increasing the income of 42 percent of US organizations," per eLearning Industry.7 This increase in revenue is likely directly linked to staff upskilling and increased productivity and efficiency.


3. Better corporate communication
COVID-19 has changed corporate communication. More people than ever before in history are working from home, making the need for clear communication vital. The right LMS makes communication easier, not harder, by enabling companies to keep employees in the know about return-to-work plans, remote training opportunities, company-wide announcements, and personal messages.
Related Reading: How to Support Remote Training as Working from Home Becomes the New Normal
Also, an LMS that is well-suited to your organization will facilitate communication between both administrators and learners/employees. It will have social learning tools designed to help you manage communication, such as email, chat, forums, web conferencing, and online communities. An eLearning system allows you to keep all pertinent information in one secure, online location that workers can easily access from their personal mobile devices. Additionally, an LMS enables users to interact with peers and training in their native language through language localization features. These tools deploy a social learning management system in whatever language users understand best, breaking down communication barriers.
Related Reading: What exactly is an LMS?

How to know when it's time to migrate to a new LMS
When can you know with certainty that it's time to migrate to an entirely new learning management system? The answer is simple: When it's obvious that your current LMS doesn't have the features necessary to meet your company's needs, including training your workforce, saving money and boosting revenue, and promoting corporate collaboration and communication.
Ready to switch to a full-featured LMS that is easy to deploy? TOPYX is for you. Our Quick Start Program allows you to launch TOPYX in a matter of days, not weeks. Request an LMS demo of TOPYX to discover how effectively the right LMS can meet your company's core organizational needs.
---
Sources:
1. https://elearningindustry.com/top-learning-management-system-lms-statistics-for-2020-infographic
2. https://www.capterra.com/learning-management-system-software/user-research
3. https://www.educationandcareernews.com/business-and-tech-education/5-benefits-of-investing-in-employee-training-and-development/#
4. https://www.indeed.com/career-advice/career-development/importance-of-training
5. https://trainingmag.com/trgmag-article/2019-training-industry-report/
6. https://www.topyx.com/lms-blog/how-an-lms-can-save-your-company-money-in-2018
7. https://elearningindustry.com/top-learning-management-system-lms-statistics-for-2020-infographic