Effective onboarding results in a high-performing sales and customer service team with a low rate of attrition, according to Upwork.1 But for years, the sales industry has struggled to improve performance and retention. Onboarding and even ongoing training was time and labor intensive, not to mention difficult to measure.
Technology is helping to alleviate some of those challenges, and to improve onboarding and other types of training, many sales departments are investing in sales L&D technology.
In 2018, 43 percent of sales companies made a "moderate-to-high investment in sales learning and development technology," per BrainShark. "More than two-thirds of companies that invested in sales learning and development technology realized a positive ROI."2
Technology plays a key role in onboarding in the sales industry. One of the most results-oriented learning and development technologies commonly used by sales companies is a learning management system (LMS).
3 Ways an LMS Optimizes Onboarding for Sales Professionals
An LMS provides key training tools and capabilities that can make learning about your business, its offerings, and customer-facing roles easier. Here are three ways an LMS improves sales and customer service training and onboarding programs.
1. An LMS gives employees mobile access to training -- Just 35 percent of salespeople have full access to training content on mobile devices, stated ClearSlide and CSO Insights.3 An LMS can help bridge the skills and accessibility gap by giving all workers mobile access to onboarding content.
Mobile access to training is critical to the success of sales and customer service employees, especially as they begin to get out onto the sales floor, test their knowledge, and participate in hands-on learning. According to eLearning Industry3,
"On-the-job, or hands-on, learning is invaluable to new hires, as it allows them to learn by experience. This type of learning sticks with new hires longer."
Mobile learning also gives employees constant access to their onboarding program, increasing consumption of training.
3. An LMS provides new hires with on-the-spot answers -- One of the most nerve-wracking aspects of working in customer service and sales is having to quickly produce answers to a wide variety of customer questions. Take some of the pressure off your employees by ensuring they have access to the answers they need.
"By providing the support team with answers to frequently (and not so frequently) asked questions, they can address customer questions more quickly and take the guesswork out of their responses (via a searchable, in-house knowledge base for reps to reference)," stated a contributor to Upwork.4
An LMS can serve as this knowledge base, providing answers that can be retrieved in a timely manner. This not only benefits employees, but also customers interacting with new hires.
The best LMS software also provides communities where employees can interact with one another. If a question comes up that hasn't already been answered, new hires can post their inquiry and receive responses from peers and managers. The new question and its answers become part of a rapidly-growing knowledge base that will benefit current employees as well as future hires.
3. An LMS lowers the cost of onboarding -- The customer service and sales industry is notorious for having high rates of turnover. A study by DePaul University, noted in 6 Must-See Statistics for Sales Enablement5, indicated that it costs $97,960 to replace the average sales rep, 60 percent of sales forces are inefficiently staffed, and 48 percent of sales forces experience rates of turnover that are "too high."
Onboarding for sales and customer service reps is resource-intensive party because it is constantly taking place, which explains why it can become so expensive. Companies can control the cost of onboarding and decrease time to productivity with an LMS.6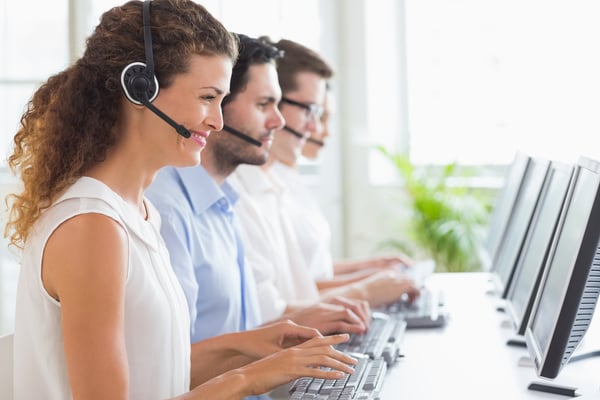 An LMS helps reduce expenses in several ways:
Reducing in-person training and travel expenses.
Improving content re-use and update processes to decrease course creation costs.
Providing on-demand resources for new hires that upskills them for more effective job performance.
Onboarding delivered with an LMS (i.e., a cost-effective onboarding program), benefits employees by freeing up funds that can be invested in ongoing L&D initiatives that contribute to their long-term success. Also, new hires will appreciate catching up to their peers and becoming productive (and earning commissions) as quickly as possible.
An eLearning System Can Be Used Throughout Your Company
An LMS not only optimizes onboarding for sales and customer service, but for departments throughout your business. Many businesses start by implementing an LMS to train one department, such as sales, then expand its use to make wider employee onboarding optimizations. Find additional ways to improve onboarding in 3 Ways to Optimize Onboarding with Your LMS Program.
---
References:
1, 4. Upwork. Customer service onboarding: how to onboard your customer service reps. https://www.upwork.com/i/customer-service-guide/onboarding-your-team/.
2, 5. BrainShark. 6 must-see statistics for sales enablement leaders. https://www.brainshark.com/ideas-blog/2018/september/sales-enablement-statistics.
3. eLearning Industry. Why you need to use your learning management system for onboarding. https://elearningindustry.com/use-learning-management-system-for-onboarding.
6. Training Magazine. Effectively using an LMS for employee training and onboarding. https://trainingmag.com/effectively-using-lms-employee-training-and-onboarding/.