Five years ago, LMS software was the dominant corporate learning solution for enterprises, associations, and nonprofits. If a company wanted to implement online training, a learning management system (LMS) was needed.
As new corporate learning solutions are developed, such as the learning experience platform (LXP), it's reasonable to question the relevance of the LMS as it is an older platform. The COVID-19 pandemic has also changed organizations' training needs and is influencing business leaders' decisions about what training tools to implement. Organizational leaders need to know whether or not an LMS can meet their companies' corporate learning needs post-pandemic.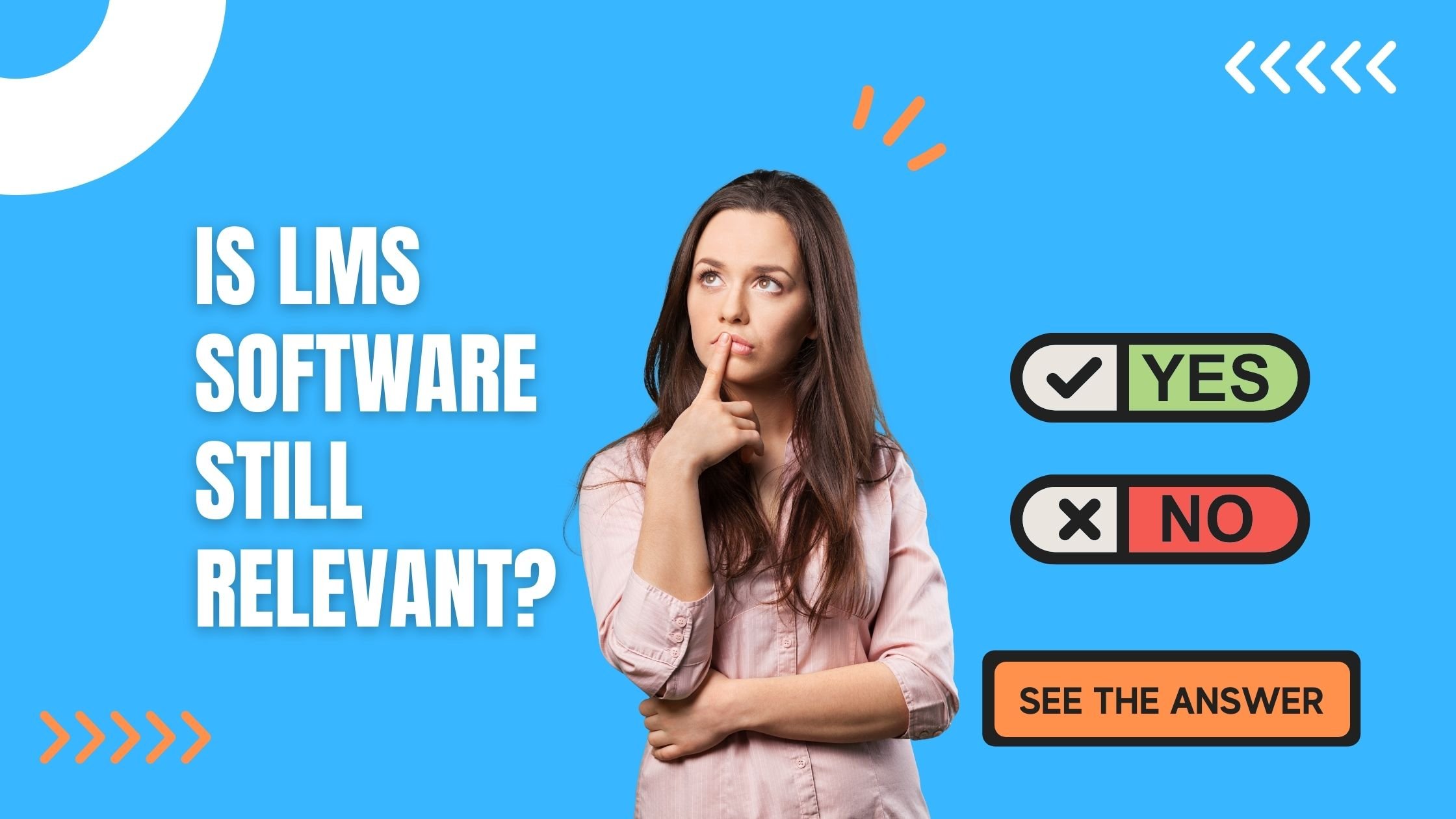 Should your company stick with LMS software when there are newer corporate learning solutions out there? The answer depends on your company's needs and the LMS or other training technology currently being used. But don't opt for a non-LMS training solution simply because others may say the LMS is dead. Learning management systems are still relevant and their value shouldn't be underestimated.
Why the Learning Management System (LMS) is Still Relevant
Despite new corporate learning solutions on the market, like microlearning platforms and learning analytics tools, the LMS is nowhere near obsolete. It's still relevant and popular. Here's why:
The majority of companies use an LMS - In 2019, the Association for Talent Development cited a report that indicated 83% of organizations use an LMS.¹ "...the report found that respondents rely on many core capabilities their LMS offers," stated ATD. "The top capability, identified by about three-quarters of respondents (76 percent) was to deliver e-learning. A majority of respondents also reported using their LMS to manage enrollments (71 percent) or track learner activities (66 percent)."
According to the report cited by ATD, 70% of respondents used their LMS for on-demand access to training content. "Another popular enhanced capability was the ability to group courses or activities around topics and competencies," the article explained. Per ATD, microlearning delivery and learning paths were also popular LMS capabilities.
The current global LMS market reflects the popularity of eLearning systems. According to Globe Newswire, the LMS market will likely grow from $15.8 billion (USD) in 2021 to $37.9 billion by 2026, with a CAGR of 19.1%.2 This indicates the LMS is growing in popularity globally.
As new corporate learning solutions are developed, such as the LXP, LMS software will be continually optimized to better meet the training needs of companies. This will further increase the popularity and relevance of the LMS.
An LMS is distinct in its core capabilities - Companies that need a reliable solution for delivering, tracking, and reporting on employee training rarely go wrong with an LMS. But since newer learning solutions, such as the learning content management system (LCMS), for example, also deliver training, does that mean the LMS is dead? No. Here are a few reasons why:
The LMS's intended user base is corporate learners, whereas an LCMS's intended user base is eLearning professionals.
The LMS can develop and deploy learning content, but it is also focused heavily on user management. An LCMS, on the other hand, is primarily focused on content design and management.
Compared to the LCMS, the LMS tends to have more

robust tracking and reporting capabilities

.
Neither an LMS or LCMS is better than the other; they have different functions and meet different organizational needs. They can complement one another when used in tandem. The same holds true for learning management systems and other corporate learning solutions, like microlearning platforms and LXPs.
The development of other corporate learning solutions shouldn't be seen as a threat to the LMS. New corporate learning solutions should be viewed as corporate training enhancements that can work with an LMS to provide a better administrative and user experience.
An LMS can help pay for itself - One of the primary benefits of an LMS is that it can help pay for itself. LMS software accomplishes this by enabling companies to sell their training content to internal or external users, such employees, partners, customers, or contractors. This increases an LMS's ROI and gives companies an additional revenue stream. Furthermore, an eLearning system makes selling content convenient.
"The capability to charge users for the courses that you made is increasingly becoming a standard feature in LMS software," stated the article Why is LMS Software Useful?³ "Companies can even use an LMS to extend training and educational offerings to customers, suppliers, partners, etc."
Organizations can sell their training content through an eLearning content marketplace or an eCommerce engine. As the source above points out, both are facilitated by an LMS. Companies that sell this type of content are usually paid through the LMS, which makes the process easier.
Many companies lost money during the pandemic and continue to struggle financially as COVID-19 plays out. These organizations can benefit tremendously from having another income stream and an online training platform that has the ability to pay for itself, at least partially.
Keep Learning: 3 Problems COVID-19 Created for Corporations (and How eLearning Helps)
How an LMS Helped a Small Business Successfully Navigate the Pandemic
The pandemic has affected thousands of businesses negatively. However, the use of an LMS has been beneficial to many organizations. Just one, mentioned in an article by Training Industry,4 is Philz, a coffee shop based in San Francisco.
According to Training Industry, Philz launched an LMS in 2018 for the purpose of integrating communications and helping employees learn new protocols. When the pandemic hit, the business used the LMS to implement COVID-19 safety training. This helped Philz keep staff members up-to-date with shifting regulatory requirements. The LMS also functioned/functions as a hub for workers to learn, grow professionally, and stay connected to their peers and to the business.
"Philz's LMS ensured their new operating service standards were clearly communicated and routinely updated," stated the Training Industry article mentioned earlier. "In addition to central communication and training, Philz enrolled nearly 400 employees through a series of diversity, equity and inclusion (DEI) workshops through its LMS. The platform's scale, flexibility and data tracking made this task a breeze."
In part because it utilized an LMS, Philz thrived during the pandemic, when many similar businesses did not fare as well.
Can You Use Your LMS in Conjunction with Other Corporate Learning Solutions?
LMS software can definitely be used alone. With only an LMS, an organization can deliver, track, and report on user training effectively. However, that doesn't mean other corporate learning solutions are not worthwhile. An LMS can be used in conjunction with other tech tools (such as adaptive learning technologies or a Knowledge Cloud) to help your organization meet its strategic goals.
Don't feel the need to limit your company to just one corporate learning solution. Instead, evaluate your priorities and put together a corporate learning solution bundle that provides all the functionality you need to meet your goals. But remember, many organizations easily meet their training needs with an LMS alone.
Related Reading: 3 Ways to Empower Corporate Learners in Uncertain Times
Why TOPYX is the Perfect LMS for Your Organization Post-Pandemic
Employee training post-pandemic isn't easy for all organizations. Most workforces are dispersed, and that has changed training. An LMS can add tremendous value to your organization first and foremost by enabling you to train workers effectively, regardless of whether they are learning at work or at home.
The shift to virtual work and training has created an urgent need for better remote training. Informing and engaging virtual employees is especially challenging if you're losing time and resources to manual processes and cobbled-together software solutions.
A learning management system (LMS) makes remote training more efficient and effective. Whether you're educating employees, members, contractors, or customers, the right tool is key to engaging learners where they are. With TOPYX LMS:
Administrators or managers can create, organize, implement, and track online training sessions, assessments, courses, and tracks.
Learners and trainees can access tailored training content at their own pace, on any device.
Businesses can save time and resources by setting up training sessions or learning paths and assigning them to as many people or groups as desired.
Are you interested in improving your remote training program and seeking an LMS that will easily integrate with other corporate learning solutions? If so, TOPYX LMS may be right for your organization. Request a free LMS demo of TOPYX to learn more.
Find out exactly how to navigate remote training during the pandemic in How to Deliver Mobile Learning for Remote Employees During COVID-19.
References: