Participating in remote training isn't as simple as most people believe it to be. Employees may imagine that training remotely won't differ from training from the office, but they might find they run into unexpected obstacles, such as poor time management. Also, some employees may see that logging onto the company learning management system (LMS) is easier to do from work where desktop computers abound.
At home, they will likely have personal devices, such as a PC and smartphone, to learn on. Companies can promote the training success of remote employees by offering mobile learning if they aren't already, or leveling up their existing mobile learning program.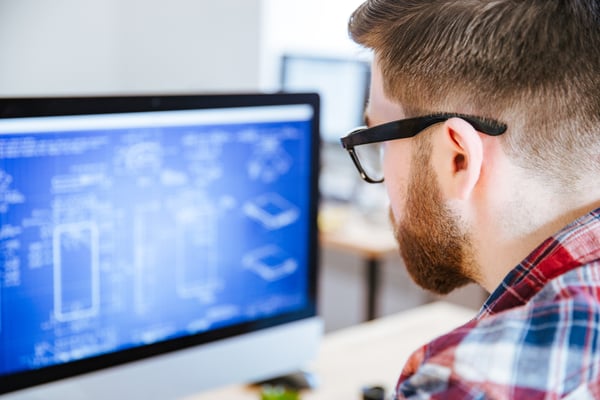 3 Ways Your Company Can Implement
Mobile Learning for Remote Employees
Due to COVID-19, more employees than ever are working from home. With mobile learning, you can help your entire workforce consistently engage in corporate training throughout the pandemic. Best of all, implementing mobile learning doesn't have to be complicated. Here are a few ways your company can implement mobile learning:
1. Break down eLearning courses into small training segments
Mobile learning is most effective when offered in small chunks as opposed to larger learning segments. This is also referred to as 'microlearning,' and it is highly beneficial for learners.
"Employees receive information outside of work in little chunks and snippets," Training Industry explained. "We need to reach learners in a way that is most comfortable and natural for them – with short snippets of information, available through apps and mobile devices, that are ready and accessible when and where the user needs or wants it."1
Related Reading: How to Design Engaging eLearning Content

Additionally, many mobile devices are more compatible with shorter learning segments. To deliver microlearning through a mobile device, create 2-5 minute learning segments and add them to your employees' online learning paths. The shorter the learning module, the more likely it is that workers will engage with it. Use your LMS's mobile learning feature to create and distribute microlearning.
2. Provide remote employees with mobile devices
To set remote workers up for training success, they must have the mobile devices they need. Surprisingly, about 12 percent of U.S. employees don't own a smartphone2. And keep in mind that while most workers own a PC, not all do.
Find out which employees need mobile devices by taking surveys and letting remote employees know via email to contact their manager if they don't have a reliable mobile learning device. Take special care that all remote workers can access a laptop since a complete eLearning experience shouldn't be delivered solely on a smartphone or tablet.

Related Reading: How eLearning Tools Enable Remote Training During the COVID19 Pandemic


3. Launch an LMS that emphasizes mobile learning
A learning management system with a mobile learning feature makes distributing mobile learning to remote workers much easier. It gives administrators the tools they need to create, deliver, track, and report on mobile learning, or any eLearning program. TOPYX LMS, for example, supports all mobile devices, and users can access training and collaboration materials from desktops or mobile devices.
With TOPYX, there are no added costs associated with mobile learning, data is stored on secure servers, and servers deliver reliable uptime with significant bandwidth. Discover how easy it is to offer mobile learning to your remote workers by requesting an LMS demo of the TOPYX platform.
"Studies indicate that eLearning has the potential to reduce overall training time by 40% to 60%," stated eLearningIndustry.com. "This helps businesses cut down on various expenses and also increase productivity, which in turn leads to greater profitability." By reducing training time for healthcare workers, an LMS simultaneously increases productivity and company revenue. Just about every healthcare company can benefit from this in the age of COVID-19.
Related Reading: How to Support Remote Training as Working from Home Becomes the New Normal
Start Offering Your Employees Mobile Learning Within Days
Companies that want to begin offering mobile learning or improve the mobile learning program they already have will benefit from TOPYX LMS. Launch TOPYX and deliver mobile learning to your workforce in a matter of days with our Quick Start Program.
---
Sources:
1. https://trainingindustry.com/articles/content-development/the-brain-science-of-microlearning-why-it-works/
2.https://redeapp.com/2016/09/30/how-many-employees-have-smartphones/