The COVID-19 pandemic has caused problems for organizations worldwide. Because it came on suddenly and with a vengeance, the global health crisis severely impacted corporations' bottom lines, levels of information security, employees, and more. The good news is that eLearning can be instrumental in helping organizational leaders overcome these issues.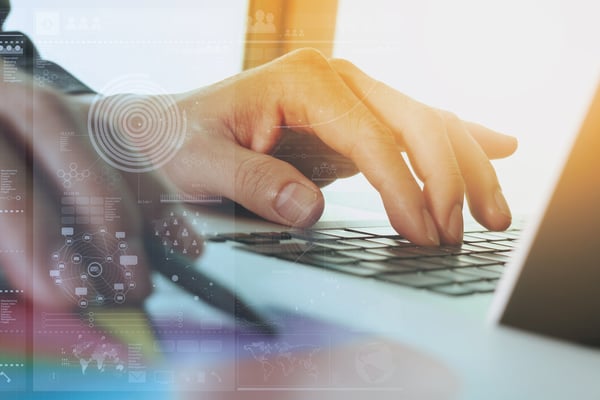 3 Coronavirus-Related Problems
Online Learning Can Help Companies Solve
Here are a few complications COVID-19 has caused for corporations, and how companies can resolve them with eLearning: 3 coronavirus-related problems online learning can help companies solve
1. COVID-19 has made businesses more vulnerable to cybercrime
The coronavirus crisis has put corporations at a greater risk of becoming victims of cybercrime. Burges and Salmon explained, "Particular risks include that: IT arrangements for remote working may not be as secure; employees may be unfamiliar with new IT arrangements for working from home; and employees may otherwise be anxious and stressed about the ongoing pandemic, which could affect their judgment and make them more susceptible to scams and suspicious communications."1 Company leaders must insulate their organizations against cybercrime, and eLearning can help them do this.
eLearning alone cannot prevent cyberattacks, but it can help companies minimize the risk of them through employee education. Info Security Magazine thinks eLearning can improve cybersecurity across the board. By educating workers about security issues, organizations can become less vulnerable to crime.
"Online learning sites offer subscriptions to cybersecurity courses. How-to videos can be watched for those who want to create password protection protocols and the like."2 Using an online learning platform, companies can create, deliver, track, and report on their own online cybersecurity courses.
2. COVID-19 has forced businesses to downsize their workforces
Due to the coronavirus pandemic, millions of Americans have lost their jobs, had their hours reduced, or been furloughed. This has not only been difficult for workers, but also for organizations. "The COVID-19 pandemic is giving rise to enormous HR challenges for most employers," stated Lexology.3 "Many employers are taking steps to reduce operating costs in order to ensure future viability."
With smaller workforces, companies will need to make the most of their existing talent and resources. eLearning can facilitate this as it enables business leaders to cross-train employees and ensure they possess any skills the company is lacking due to a smaller staff base.
When business income returns to a favorable level, eLearning will also help companies onboard both old and new employees by creating online onboarding programs that can be accessed remotely.
Related Content: 3 Improvements Leaders Should Consider When Business is Slow
3. COVID-19 has made it necessary for businesses to observe new health and safety practices
Another problem caused by the coronavirus pandemic is the amount of new health and safety practices companies must observe. Some organizations already have numerous regulatory requirements they must comply with.
Due to COVID-19, now they have even more practices to observe. For example, some of these practices, as noted by the Centers for Disease Control and Prevention, include having employees wear cloth face masks, conducting daily health checks and hazard assessments of the workplace, implementing social distancing, and improving building ventilation systems. This may prove challenging for employers and employees alike.
Related Content: 4 Tips to Make Online Employee Training More Effective for Remote Workers
To make it a little easier for workers to adjust to new regulatory requirements, businesses could use an eLearning system to create and deliver compliance training that explains each requirement, why it is important, and how to implement it. Additionally, an LMS would make it easier for companies to manage compliance training and certifications.
Find the right online learning platform
for your company
There has never been a better time than now to invest in eLearning. It can help your company overcome many of the obstacles COVID-19 has caused, as well as ensure employees, remote or not, have access to remote training at all times. Request a demo of TOPYX learning management system to find out how your company can deploy online learning in a matter of days.
---
Sources:
1. https://www.burges-salmon.com/news-and-insight/legal-updates/covid-19/cybercrime-risk-and-covid19/
2. https://www.infosecurity-magazine.com/opinions/elearning-cybersecurity-board/
3. https://www.lexology.com/library/detail.aspx?g=3cdaafc4-668f-4bb1-8a2d-bdc36473bff0