The learning experience platform (LXP) market has exceeded $350 million, and it's doubling yearly, according to Josh Bersin, a leading corporate learning analyst.1

Why is it growing so quickly? Because a learning experience platform is more than an LMS and delivers a better experience for employees. Cornerstone on Demand describes a learning experience platform as "a cloud offering that focuses on delivering a personalized learner experience…"2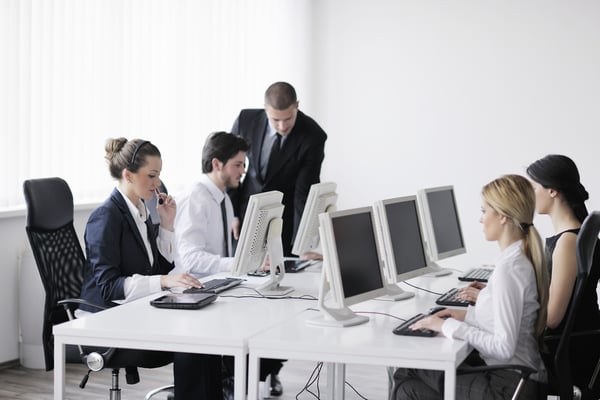 What's the Difference Between a Learning Experience Platform and an LMS?
Learning experience platforms and learning management systems have a few key differences. Here are some examples:
An LXP delivers succinct, targeted content, such as short videos and blog posts. While an LMS has the ability to deliver microlearning, it primarily helps administrators create, distribute, and track longer online courses.
Whereas an LMS assesses a learner's training progress, an LXP prompts self-reflection from learners. "When using the LXP, participants will be encouraged to think about the personal journey they have undertaken, how their thinking and behaviors have changed given their learning experiences," stated findcourses.com.3
Learning that takes place via LMS is overseen solely by administrators. Not so with an LXP. Although administrators can help shape the employee learning experience with an LXP by personalizing training recommendations, etc., a learning experience platform generally promotes peer-to-peer learning over facilitated learning.
3 Ways an LXP Can Improve Employee Training for Your Company
By personalizing and digitizing employee learning, an LXP can help companies like yours deliver better training for workers. Here are a few ways a learning experience platform can improve your organization's employee training:
1. An LXP ensures employees receive personalized training recommendations
A learning experience platform is an intuitive training tool. It guides an employee's learning experience by making training recommendations, similar to how Netflix recommends media based on what a customer has watched in the past.
The best LXPs take this one step further by giving companies more control over the training recommendations they offer. They do this by enabling administrators to set recommendations manually. This ensures that learners are presented with high-value training courses that their supervisors feel would best impart the skills and abilities they need most.
Training recommendations are beneficial because they promote continuous learning, which upskills employees. The more skilled a company's workers are, the more productive they will be.
2. An LXP is better equipped to meet the individual needs of learners
The most engaging employee training often includes several forms of media as opposed to just one or two. For example, an online learning path might include articles, podcasts, blog posts, videos, and online courses. Online courses themselves should include multiple types of content.
A learning experience platform can accommodate each of these types of media and gives administrators the ability to further individualize an employee's learning experience by including the most effective forms of training content for them personally.
Including several types of media in an employee training program makes training appeal to a wider variety of learners, whether their learning style is visual, auditory, or kinesthetic. Administrators can use an LXP to include forms of media on a worker's online learning path that best meet the individual needs of that employee. This increases the likelihood that employees will engage with training, consume it regularly, and gain a level of competence that ensures they can contribute to the company fully.
3. An LXP helps employees work training into their normal work flow
The average employee has just 24 minutes a week for formal learning.4 This can be a major hindrance to gaining the skills they need to succeed at work. To solve that problem, Bersin coined the term 'learning in the flow of work' to describe a fast, flexible, and informal type of learning that can be worked into an employee's schedule. "Learning in the flow of work" refers to learning that simply happens in the moment.
A LinkedIn Learning survey indicated that the main challenge for talent development is "convincing employees to find more time for learning."5 An LXP solves this problem by promoting learning in the flow of work. It gives learners quick access to answers and microlearning content that meets them at their point of need and supports learning during the course of their work day. This ongoing, everyday learning can increase productivity and encourage employees to continue growing.6
Do You Need a Learning Experience Platform?
LXPs are a powerful new training tool for companies, and if your employees aren't growing with your current employee training software, it may be time to consider an LXP.
However, that doesn't necessarily mean you need to move away from your current platform. While a learning management system and a learning experience platform are distinct, some LMS systems actually function very similarly to LXPs and benefit employee training in the same ways an LXP would. For example, TOPYX is well-known in the market as an LMS, but supports the same functionality as many of the leading LXPs on the market, giving businesses the advantages a traditional LMS and an LXP in one platform.
Interested in learning more? Get details on the TOPYX learning experience platform.
---
References:

1. Josh Bersin. The learning experience platform (LXP) market expands. https://joshbersin.com/2018/09/the-learning-experience-platform-lxp-market-expands/.
2. Cornerstone on Demand. Learning experience platform. https://www.cornerstoneondemand.com/learning-experience-platform%20%7C%20Cornerstone%20Glossary.
3. Findcourses.com. Defining the differences between and LXP and LMS. https://www.findcourses.com/prof-dev/supplier-spotlight/lxp-vs-lms-15156.
4. Josh Bersin, A new paradigm for corporate training: learning in the flow of work. https://joshbersin.com/2018/06/a-new-paradigm-for-corporate-training-learning-in-the-flow-of-work/.
5. LinkedIn Learning survey. Workplace learning & development report 2018. https://learning.linkedin.com/resources/workplace-learning-report-2018.
6. LOGICEARTH Learning Services. Learning in the flow of work. https://blog.logicearth.com/learning-in-the-flow-of-work.