Eighty-five percent of companies use a learning management system, but not all these organizations are happy with their LMS. "Companies are not particularly satisfied with their systems, and a significant number of organizations are looking to switch platforms," stated LMS Trends 2015.¹
When learning management systems fail, companies often lose a lot of money. eLearning systems are significant financial investments, and employers can protect their eLearning investment by helping employees adopt a new LMS.
"Thirty-eight percent of companies are actively looking to replace their current LMS." -- Brandon Hall Group²
Why Do LMS Implementations Fail?
There are a number of reasons why learning management system implementations flop. The Top 4 Reasons LMS Implementations Fail suggests that the following problems contribute to a faulty system launch:
Hidden fees associated with the LMS

A lack of careful, realistic planning

An absence of input from stakeholders on an LMS purchase

An eLearning system's inability to meet the needs of learners
Another reason learning management system implementations fail is because employees don't fully adopt the new LMS. If employees don't use your system, then it's not worth the money you're paying. So regardless of the system you choose, make sure your employees adopt your new LMS quickly. Here are three tips to help.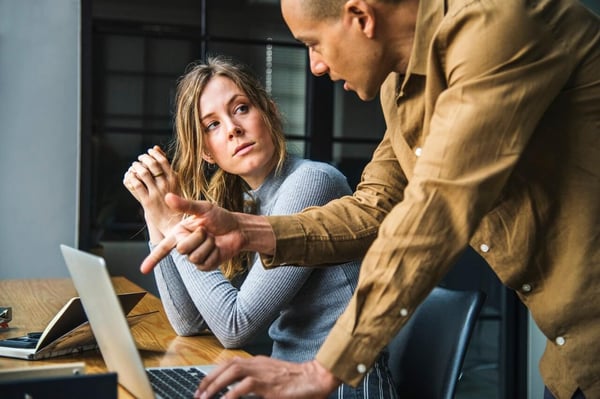 Help Your Employees Adopt a New LMS in 3 Steps
Get their feedback when LMS shopping -- If you are in the market for a new LMS and have begun the research process, remember that employees will be more apt to use an LMS they helped choose. Select a group of influential leaders and employees in your company to help you choose your next system. These employees will function as an internal focus group that can not only give you their feedback, but relay the needs of their coworkers as well.
To gather feedback and keep your employees involved, request demos of learning management systems that look to be a good fit for your company. A live LMS demo provides the perfect opportunity for your employee focus group to interact with an eLearning system and give you direct feedback on what they like and dislike about it. Take their advice to heart when making the final decision on an LMS with your stakeholders and implementation team.
Train LMS administrators in system operation -- Making sure learners can navigate a learning management system's interface is critical to promoting LMS adoption. Do this by first choosing and training individuals to fill the role of LMS administrator.
LMS administrators should be able to add accounts and users, operate the system, upload content and more. They should also be prepared to answer any questions users may have. These individuals will train learners in how to use the system and provide them with ongoing support.
Your eLearning system provider may also offer free LMS end-user support. While it's always a good idea to have at least one LMS administrator on staff, this is a helpful service that makes an administrator's job much easier.
Clarify learning objectives -- Pushing eLearning content onto employees with a new LMS before clarifying training goals may feel overwhelming to learners and discourage system adoption. Communicating with workers about the "why" behind the LMS implementation will support their understanding of how the system can help them as well as the organization.
"Before you begin planning for any learning initiatives, be clear about your goals," wrote a contributor to Talent Management and HR.³ Ensure your employees know not just how to use the new LMS, but also why it was implemented, how it will assist them in fulfilling their roles within the company and what they will be learning starting out.
Make LMS Adoption Easy for Learners
Adopting a new LMS can feel overwhelming. Makes things easier for your employees by giving them a say in which eLearning system the company implements, assigning LMS administrators to train and support users and allowing learners enough time to adapt to such a significant change. This will promote a successful implementation and good ROI for training.
Choosing a learning management system provider that offers free end-user support will make the LMS adoption process quicker and more simple.
If your company is part of the 38 percent of organizations wanting to replace a current LMS, take a look at How to Choose the Best LMS for Your Organization.
---
References:
Brandon Hall Group. Research study: LMS trends 2015. http://go.brandonhall.com/LMS_Trends_Research_Summary_2015.
Brandon Hall Group. LMS trends 2015: Is it time for something different? http://www.wisetail.com/wp-content/uploads/2015/11/BHG_IP_LMS_Trends_2015_102015.pdf.
TMHR. Trainers need to become learning curators. https://www.tlnt.com/trainers-need-to-become-learning-curators/.