Organizations across all industries have been financially hit hard by the COVID-19 pandemic. This is especially true of healthcare companies as they have had to make drastic changes to keep staff and patients safe. Many of the procedures that healthcare providers previously offered were stopped as organizational leaders turned their focus toward dealing with COVID-19. Plenty of these companies are now struggling financially as a result of this necessary move. But that's not the only reason why healthcare companies are in financial trouble.
"Treatment for COVID-19 has created incredible demand for certain medical equipment and supplies as the virus has disrupted supply chains, increasing the costs that hospitals face to treat COVID-19 patients," according to The American Hospital Association. "At the same time, COVID-19 has led to unprecedented job losses, giving way to a rise in the number of uninsured. And while doctors, nurses, and other health care workers have met the COVID-19 challenge with heroic efforts, many hospitals and health systems, especially those located in hotspot areas of the pandemic, are supporting them by providing essentials like child care, transportation, and in some cases, housing."
Healthcare providers need financial relief. A healthcare (LMS) can help to provide it.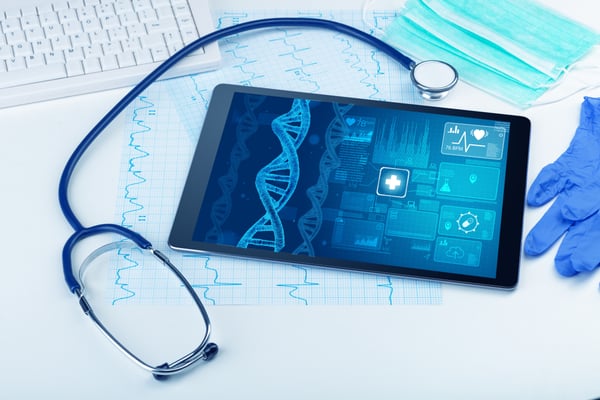 How an LMS provides financial relief for
healthcare organizations
Here are a few ways a learning management system can help healthcare companies gain their financial footing in the midst of COVID-19:
1.Train workers in how to provide telehealth
A primary reason why healthcare companies have financially suffered during COVID-19 is because they have been unable to perform nonessential healthcare procedures. Healthcare providers have also had to seriously cut back on the number of patients they see. Telehealth has been a lifesaver for many healthcare organizations, allowing them to continue to serve patients safely.
Companies that offer telehealth can increase their overall revenue by at least 30 percent. Because of that, getting healthcare providers familiar with telehealth should be at the top of every healthcare company's list of priorities. An LMS can help by providing companies with the tools they need to train workers in how to effectively provide care via telehealth. For example, learning management system administrators and L&D professionals can design content around this topic using LMS content management and utilize LMS learning paths to ensure every healthcare employee who is qualified to provide telehealth visits has access to telehealth training.
2. Save money on training
Between the cost of instructor salaries, training venues, and training-related travel expenditures, healthcare training can be very costly. An LMS can save healthcare companies money by eliminating the need to pay instructor salaries and rent physical training spaces, and by making some travel unnecessary by enabling employees to learn remotely. Additionally, a flat-fee LMS services an unlimited number of learners each year for one stable price.
Companies like Dow Chemical have proved how effective eLearning can be. After launching an online training model, the organization reduced training costs from $87 per employee to $11. Overall, the company saved $34 million.

Related Reading: How an LMS Can Save Your Company Money


3. Reduce training time for healthcare workers
Another way an LMS saves healthcare companies money is by reducing training time for employees. Time spent training is time spent away from work, which can result in considerable financial loss. This is especially true for large healthcare organizations with many employees. Thankfully, an LMS can cut down on the time workers must spend away from their job for the purpose of training.
"Studies indicate that eLearning has the potential to reduce overall training time by 40% to 60%," stated eLearningIndustry.com. "This helps businesses cut down on various expenses and also increase productivity, which in turn leads to greater profitability." By reducing training time for healthcare workers, an LMS simultaneously increases productivity and company revenue. Just about every healthcare company can benefit from this in the age of COVID-19.
Related Reading: How to Support Remote Training as Working from Home Becomes the New Normal
What healthcare LMS is your company using?
Implementing an LMS can help your healthcare company recover financially from the COVID-19 pandemic. Contact TOPYX to request an LMS demo and find out how much of a financial difference a learning management system can make. Or, if your current LMS isn't positively contributing to your company's bottom line, it may be time to switch to a new eLearning system designed specifically for healthcare companies. Implement a full-featured healthcare LMS quickly with our Quick Start Program.
---
Sources:
1. https://elearningindustry.com/top-learning-management-system-lms-statistics-for-2020-infographic
2. https://www.capterra.com/learning-management-system-software/user-research
3. https://www.educationandcareernews.com/business-and-tech-education/5-benefits-of-investing-in-employee-training-and-development/#
4. https://www.indeed.com/career-advice/career-development/importance-of-training
5. https://trainingmag.com/trgmag-article/2019-training-industry-report/
6. https://www.topyx.com/lms-blog/how-an-lms-can-save-your-company-money-in-2018
7. https://elearningindustry.com/top-learning-management-system-lms-statistics-for-2020-infographic