eLearning Industry reported that the average company underestimated its expected cost of an LMS investment during the planning stage by 59 percent.¹ Such an error can cause a company to make a much larger investment in a learning management system than its budget allows for, and most organizations don't have money to spare. This can be avoided by learning about the two different LMS pricing models (per-seat-fee and flat-fee).
"75 percent of companies use learning management systems to manage corporate training programs. Organizational leaders are finding that in addition to delivering, tracking, and reporting training, an LMS can also help keep company expenses down."²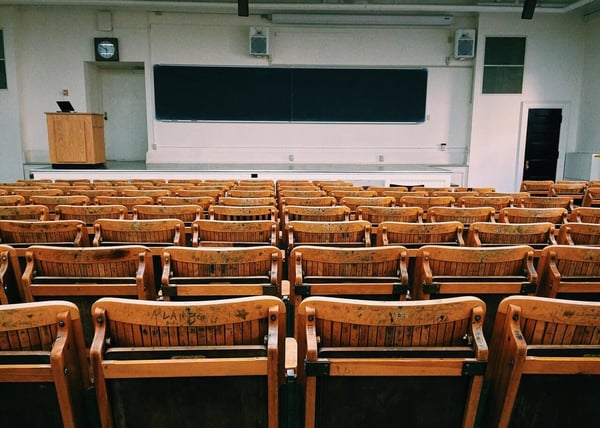 What is a Per-Seat LMS?
Sometimes a company is taken off guard by what an LMS ends up costing after the initial investment is made. In some cases this is because investors were unaware that they purchased a per-seat learning management system.
A per-seat eLearning system is an online learning platform that has a cap on the number of individuals who can use it. Once the cap is exceeded, the LMS service provider charges an additional fee for each and every person who uses the platform. This can cause financial problems for larger companies, especially those that experience rapid growth spurts and need to quickly add a significant number of new users in any given month.
Why a Flat-Fee LMS Is Good for Your Business' Budget
The opposite of a per-seat LMS is a flat-fee learning management system. This type of LMS is good for a company's budget because it involves a one-time investment for a year of unlimited usage. Customers pay for the LMS once each year and never have to worry about additional fees for individuals who exceed a user cap, as there is no cap. However, depending upon the service provider, there may be an additional fee for an add-on feature.
With a per-seat LMS, pricing can fluctuate widely from month to month. This is never the case with a flat-fee LMS. Consumers pay once for the platform, period, and receive unlimited access for 12 months. To ensure a training purchase doesn't cut into a company's budget unexpectedly, organizational decision makers should opt for a flat-rate LMS.
Related Reading: How an LMS Can Save Your Company Money in 2018
An LMS Lowers the Cost of Employee Training
Another reason why a flat-rate LMS may save a company money is because it can reduce the overall cost of employee training. Organizations sink millions into training programs, and not all receive a good ROI. A learning management system is a tool that delivers, tracks, and reports on training, and has the capacity to decrease training costs. Read more about how an LMS helps companies save on employee training specifically in our blog article 3 Practical Ways to Lower the Cost of Employee Training.
Request a Free Demo of TOPYX, an Affordable, Flat-Rate LMS
Looking for a flat-fee LMS that is priced economically and built with the features your company needs to drive training, such as mobile learning, social learning tools, language localization, integrations, and content management? If so, request a free demo of the flat-fee LMS, TOPYX.
---
References
eLearning Industry. The LMS buying guide: How much does a learning management system cost? https://elearningindustry.com/lms-buying-guide-for-lms-pricing. October 23, 2017.
TOPYX Blog. LMS Comparison: 3 Questions to Consider When Choosing an LMS
https://www.topyx.com/lms-blog/3-questions-learning-management-system-lms/. October 18, 2018.