The length of a corporate training course can contribute to its success or to its failure because it can encourage or hinder learner engagement. That's why it's critical for L&D teams to carefully consider how long each online training course should be. In most cases, shortening a course is the best move.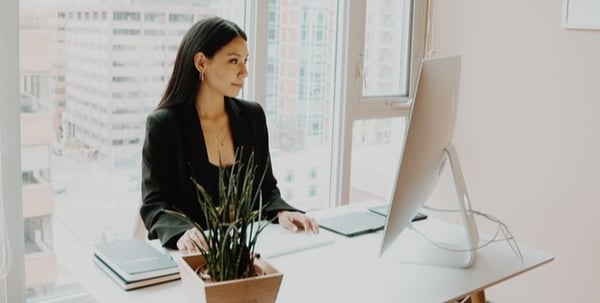 Why you should shorten your
online training courses
Shortening your corporate eLearning courses is almost always a good idea. Here are a few reasons why:


1. Microlearning gets better results than traditional training

Microlearning, which refers to small learning units, usually gets better results than eLearning courses and activities that require a lot of time and attention. eLearningIndustry.com called microlearning, "the more engaging, less time-consuming, and cheaper-to-produce sibling of regular eLearning. While it's not the best solution for every training need, it's a surprisingly effective one for corporate and commercial training."1
KnowledgeForce Consulting reported that microlearning can boost learner engagement to over 50 percent, increase learning transfer by 17 percent, decrease training development costs by half, and speed up training development by 300 percent.2 For these reasons alone, microlearning is superior to extended eLearning courses and should be used in their place whenever it's appropriate to do so.
Related Reading: Why Microlearning Is the Future of Corporate Training
2. Short courses are better suited for the average person's attention span
This may be hard to believe, but the average adult attention span is just eight seconds long, according to Pebble Design.3 The digital marketing company explained that employees typically send and receive about 121 emails a day and receive 247 marketing messages daily. "These are just a few stats that represent how many messages the average adult has to process each day, and this is just in their work life," stated a contributor.
Because employees live in a state of overwhelm, they appreciate shorter online training courses that are created to work with their attention span, not against it.
Related Reading: How to Design Engaging eLearning Content
3. Short eLearning courses save L&D professionals time
L&D team members often spread themselves too thin. This is especially true for a small team that works for a large company. L&D pros can make things easier on themselves by creating concise corporate eLearning courses. They should keep in mind that bigger isn't always better when it comes to online employee training. The statistics mentioned earlier confirm this.
By creating shorter courses, L&D teams can free up time to tackle other tasks. For example, they can use LMS reporting to research how well learners are responding to training. Additionally, the shorter the corporate eLearning course, the cheaper it is, which is why microlearning can decrease training development costs.
While microlearning is highly effective, it is not always the right training solution. In some situations, your employees might benefit more from a full-length live webinar in which they can participate in real-time than from a brief online course. Also, it's possible that some corporate eLearning courses can't be shortened without their content being compromised. In cases like these, sandwich longer courses between short online training courses and microlearning segments on your employees' online learning paths.
Easy ways to break up corporate
eLearning courses
To make corporate training courses more digestible, you'll need to break them down into shorter courses. There are many ways to do this. For example, you could:
Remove all irrelevant or outdated content from courses. Sometimes removing superfluous content is the only step you need to take to properly shorten an online training course.


Break up a long eLearning course into many microlearning segments. If you take this route, the original course would no longer be considered a traditional training course, but a series of microlearning activities.


Split a long course in half, into a Part 1 and a Part 2. This may be the simplest approach to shortening online training courses.
Use LMS software to deliver short
eLearning courses
The best way to deliver short eLearning courses and other types of microlearning is with LMS software. By using a full-featured LMS, you can design corporate eLearning courses and eLearning activities that meet the needs of your workforce perfectly. TOPYX LMS has all the tools you need to create online training that gets the results you want. Request a free LMS demo of the TOPYX platform to learn more.
---
Sources:
[1] https://elearningindustry.com/what-is-microlearning-benefits-best-practices
[2] https://knowledgeforceconsulting.com/statistics-about-microlearning/
[3] https://pebbledesign.com/insights/the-average-adult-attention-span-is-less-than-a-goldfish