In 2020, remote training was essential to the success of many corporations. Soon after the COVID-19 pandemic developed, organizations quickly began moving their employees to a work-from-home environment. As a result, 55 percent of businesses globally offered some capacity for remote work as of November of 2020, according to Review 42.1
Without remote training, businesses wouldn't have been able to offer valuable training, including compliance training, to workers. If your business is one that made remote training a top priority last year, don't let up on your remote training efforts anytime soon. This year will have challenges of its own, and your company will need remote training to get through them.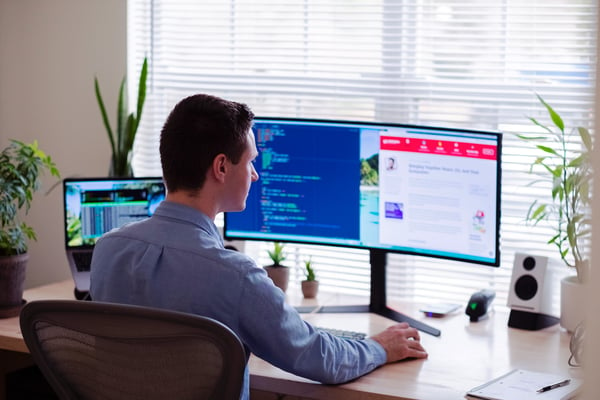 3 reasons to keep remote training
a top priority this year
2021 is the year to persevere in your remote corporate training efforts. Here are a few reasons why:


1. Employees need flexible training options

Last year taught us that crises can happen without warning. When they do happen, companies must offer flexible training options to employees. This prevents staff from going without training while they are working from home. Having the right remote training software installed and infrastructure built will allow you to quickly respond to a situation that necessitates remote work.
There is no telling what 2021 has in store. By pressing on in your remote training efforts, your company can better navigate the pandemic and deliver consistent training to employees, no matter what location they work from.
Related Reading: 3 Ways to Make Remote Training Sessions More Engaging for Teams
2. Remote training will be relevant to businesses indefinitely
Last year, droves of employees began working from home due to the pandemic. Not much will be changing this year. About 27 percent of the U.S. workforce will remain working from home through 2021, and 36.2 million Americans, which translates to 22 percent of the workforce, will be working remotely by 2025, reported Flexjobs.2 This means that the need for remote training won't end anytime soon. Some companies may even choose to make remote work a permanent change.
By continuing to support remote training efforts this year and beyond, you are investing in the future of your company, ensuring that you can meet the training needs of employees and align your organization with key business trends.
Related Reading: How to Design Engaging eLearning Content
3. Continued training efforts will promote a good ROI for remote training software
If you purchased a remote training platform last year, or you upgraded your legacy online employee training or LMS software, you invested in remote training. Continuing your remote training efforts will help your company get a better ROI for its investment, which may have been sizable.
Another way to augment your ROI for remote training is to measure the impact the training is having on both your employees and your company. Are you getting better business results since implementing remote training? Are your employees becoming more competent, confident, and technically skilled? If not, try making online training more interactive to improve your ROI.
Related Reading: Cost-Effective Ways to Make Corporate Online Learning More Interactive and Fun
Now is the time to put remote training first
Remote training has gained so much momentum in the past year. It would be a waste of time and money to ease your remote training efforts now. This is all the more reason to double down on your commitment to remote training this year.
Many businesses would not have survived 2020 without remote training software. It enabled them to deliver, track, and report on online employee training effectively throughout the COVID-19 pandemic. If you didn't make remote training a priority last year, it's never too late to start. Take the first step by requesting a free LMS demo of the TOPYX platform.
---
Sources:
[1] https://review42.com/remote-work-statistics/
[2] https://www.flexjobs.com/blog/post/remote-work-statistics/