Corporate online learning can easily fall into the trap of becoming stale, unengaging, and ineffective. Companies must develop an interactive eLearning strategy so learners get the most value out of the time spent training, and earn the most return on their eLearning technology investment.
"One of the most essential elements of an eLearning course design and development is often overlooked, and that is no other than interactivity," explained a contributor to eLearningIndustry.com.1 "Note that even high-quality eLearning courses are going to fall short of expectations if the learner isn't fully engaged and motivated to learn. Not to mention that learners won't reap the many rewards your eLearning course has to offer, given that they are less likely to actually acquire and retain the information you're providing."
Using a few simple tips, you can make corporate online training more interactive for learners and reap a better ROI for your learning investment.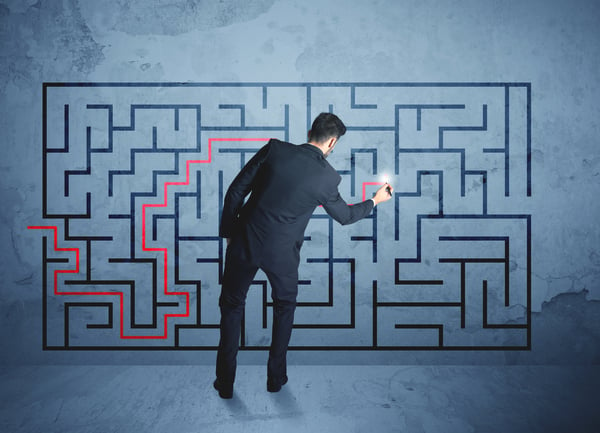 3 tips for engaging your employees with interactive eLearning
Making your corporate eLearning program more interactive and fun doesn't have to be complicated. Here are a few quick ways to create interactive training that your employees will love:
1. Gamify training
A great way to make your corporate training program more interactive is to add gaming elements to your eLearning courses. Learners typically enjoy gamified learning, and gamification boasts benefits beyond increased interactivity, such as better learner engagement and knowledge retention.2 Also, gamified learning is good for learners' wellbeing.
"When we participate in activities that stimulate our bodies or minds, such as exercising, our body releases a hormone known as endorphins. The same effect can be achieved by playing eLearning games that challenge learners or give them the chance to achieve a particular reward, even if that reward is something as simple as moving onto the next level," eLearning Industry stated.3
Related reading: 3 Best Practices for Employee Training Gamification
2. Offer live online training sessions
Most companies offer online learning that is pre-recorded, is available on-demand, and can be fully self-paced. This is the best choice for many companies as it allows employees to determine when and where they want to engage in training. However, employees don't get the opportunity to interact directly with instructors and fellow learners with this approach.
To make corporate online learning more interactive, occasionally offer employees a live online training session that requires their participation. Instructors can ensure learners are present for and engaged in the training session by asking them to share their screens and offer feedback. Social learning tools such as web conferencing make this simple.
3. Encourage peer evaluation
Integrating knowledge sharing into corporate online learning makes eLearning more interactive and fun. One way you can do this is by encouraging peer evaluations. "Enabling learners to review each other's work reinforces their understanding of what they are doing and encourages a culture of sharing..." stated Education First.4
Peer reviews shouldn't carry the same weight as regular reviews conducted by managers, and they shouldn't ask employees to assess the aptitude or skills of their coworkers. Instead, a peer review should ask employees what strengths a specific learner brought to the table, what they learned from that coworker, and what advice they would give that learner to improve their learning process. Peer evaluations are relevant to those who have participated in an online course in which learners worked together in teams.
Related reading: Why A Performance Evaluation Systems Is Vital (Plus How to Create One)
Bring eLearning to life with a learning experience platform (LXP)
If you are struggling to improve learner engagement, you need to bring eLearning to life. A learning experience platform (LXP) can help you do this. An LXP is created to deliver a personalized learning experience and can have a variety of functionalities, including:
Social learning through chat, forums, and online communities
Badging and gamification
Standardized and personalized learning paths
Mobile learning and certifications
Because it makes training more interactive and engaging, an LXP can help you improve onboarding, retention, and productivity. Request an LXP demo of the TOPYX platform to discover firsthand how easy it is to make eLearning more interactive.
---
References:
1. https://elearningindustry.com/7-tips-to-develop-successful-interactive-elearning-strategy
2. https://elearningindustry.com/science-benefits-gamification-elearning
3. https://elearningindustry.com/science-benefits-gamification-elearning
4. https://www.ef.com/wwen/blog/general/5-ways-make-online-learning-interactive/