The manufacturing industry is in the midst of a significant growth spurt that will create 4.6 million new jobs over the next 10 years1. One of the challenges fast-growing manufacturing companies will face in the future is training large numbers of new hires. By creating effective manufacturer training that is easily accessible to employees, companies can ensure their workers remain competent and productive despite major organizational growth.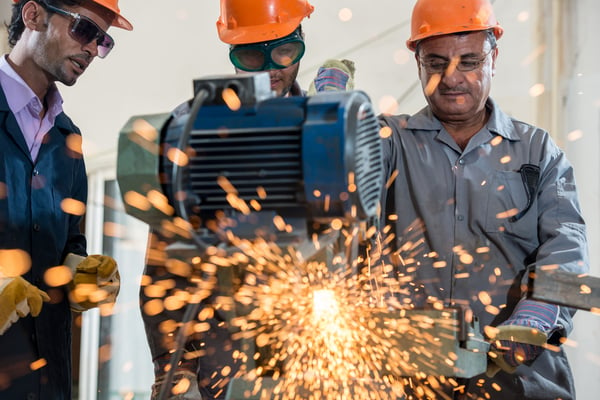 3 Employee Training Fundamentals Manufacturers Should Remember
Here are a few learning fundamentals manufacturers should keep in mind when designing employee training:
1. Put safety first in training
Accidents and injuries are common in the manufacturing sector. Causes of injury for manufacturing employees can include slip-and-fall accidents, being struck by an object or caught in machinery, overextension and repetitive motion, and exposure to harmful chemicals, according to Joye Law Firm.2
To lower the occurrence of accidents, company leaders should frontload an onboarding training program for manufacturing employees with compliance training courses that are directly related to safety. A couple of examples of these courses include "industrial safety" and "best practices for manufacturing." Also, safety, first-aid, and CPR training may be helpful to new hires.
Depending on the size of your company, managing compliance training can be a big task. An online learning platform can help you deliver and track compliance training, as well as distribute certifications.
2. Include online and in-person training
Manufacturing companies often train their employees primarily using eLearning. eLearning is convenient because it can be accessed anywhere, anytime, from nearly any device with an internet connection. Also, online learning allows employees to pace their own training and tends to be cost-effective for companies.
While online learning is the best choice for many manufacturing companies, in-person training can be a great addition to an online manufacturing training program as it creates blended learning. With blended learning, learners get the convenience of online training with the human connection of in-person training. Blended learning also helps workers implement the skills they learn online into their daily workflow.
When designing manufacturer training, it may be best to precede in-person learning with online learning. That way learners get to practice the skills they just learned online in their hands-on training sessions. "Try using your more experienced (manufacturing) employees as on-the-job trainers," suggested a contributor to Ericson.3
3. Be consistent with training delivery
When it comes to employee training, consistency is key. It's important that manufacturing employees aren't just trained during onboarding, but throughout the life of their career with a company. Although the content of training will become more specific the longer an employee is with a manufacturing company, it should be delivered regularly. Ideally, employees should be able to count on training being a routine aspect of their experience with an employer.
An LMS for manufacturers is the perfect tool for promoting consistent training. Learning platforms can automatically send out and track training. Best of all, they let learners know how to practically engage with training, which creates a better ROI for a company's training investment. Even companies that choose not to train their workers via eLearning should prioritize a consistent training schedule.
Creating Manufacturer Training Doesn't Have to Be Complicated
Creating manufacturer training can be simple. If you keep the basics of training in mind when crafting your program, such as putting safety training first, blending online learning with in-person learning, and consistently delivering training, you'll create successful manufacturer training for both new and seasoned employees.
Interested in finding some tips for delivering manufacturer training with an online learning platform? Read our blog post, "4 Tips for Delivering Manufacturer Training with an LMS" or contact TOPYX to request a personalized LMS demo.
---
Sources:
https://www.nam.org/facts-about-manufacturing/
https://www.joyelawfirm.com/2016/02/top-causes-of-manufacturing-accidents/
https://blog.ericson.com/blog/6-tips-for-training-your-manufacturing-employees