By 2028 we could see up to 2.4 million jobs become vacant in the manufacturing industry, according to Operational Solutions.¹ "The lack of qualified talent could cause the U.S. to lose $48 billion in manufacturing GDP (this year), and this is expected to grow to $454 billion by 2028," wrote a contributor in 2018.
Leaving too many positions unfilled due to a lack of qualified talent puts a serious financial strain on the manufacturing industry. In fact, it can result in an 11 percent loss of yearly revenue for U.S. companies.²

To close the manufacturing skills gap and fill open positions, employers must upskill current staff and equip incoming hires with necessary competencies. According to Deloitte³, a few of the major skills manufacturing employees are lacking include:
Programming for robotics and AI
Working with tools and techniques
Critical thinking
Digital skills
Computer and technology skills
This is by no means an exhaustive list of skills many manufacturing workers are deficient in. Only by assessing the skills gap at your company can you determine what competencies to train current and future employees in.

"Fifty percent of manufacturers said they have already adopted automation, and the top skills that must accompany technology are critical thinking, programming, and digital." -- Deloitte4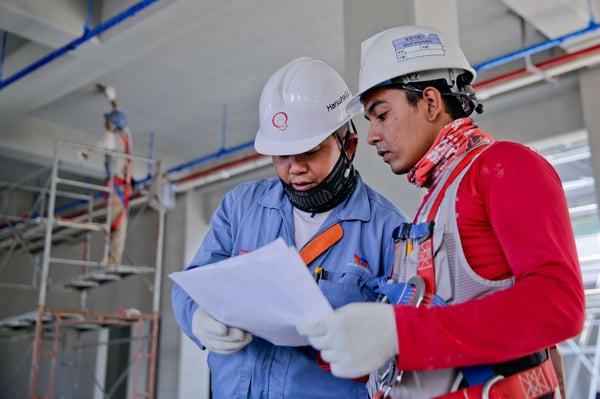 Is Learning Management Software Best for Manufacturer Training?
Traditionally, manufacturing companies primarily trained employees in person because manufacturing necessitates in-person and on-the-job learning on the factory floor, which helps workers identify problems with parts the factory is putting out.
But while in-person manufacturer training will likely always be necessary to some degree, online learning can provide a foundation for improving professional development and specific skills in the manufacturing industry.
"eLearning not only provides a more cost-effective alternative to classroom (manufacturer) training due to reduced travel and trainer costs, it is also much more flexible, enabling study out of working hours and regular updates to course content based on new systems, industry guidelines, or legislation," stated Manufacturing Training and eLearning.5
The right learning management software makes it easy for manufacturing companies to deliver effective manufacturer training in an online format.
4 Ways to Distribute Training to Manufacturing Staff with an LMS
Here are four helpful tips for training manufacturing staff with a learning management system:
1. Promote soft skills -- Modern manufacturing workers need soft skills as seriously as technical skills. "I'm not looking for people with big muscles who can pump aluminum all day," said Evan Stall, the HR manager for Federal-Mogul Powertrain's South Bend, Indiana plant, reported SHRM.6 "I'm looking for people who possess problem-solving skills."
Here are a few ways to promote soft skills with an LMS:
Include decision-making scenarios in online courses.

Create training simulations that put learners in leadership roles.

Make communicating with peers through social learning tools like web conferencing a mandatory aspect of any eLearning course.
These tips will help your staff develop soft skills such as decision-making, leadership, teamwork, and communication.
Another practical way to foster soft skills with learning management software is by thinking about a problem your company has encountered in the past. Incorporate that scenario into an eLearning course and ask employees to draw on their critical thinking skills to solve the problem.
The end of the eLearning course can be designed to offer employees a few potential solutions that include an acceptable, but borderline, solution, a good solution, and the best solution. This will help workers think through many different types of solutions and develop critical thinking skills for themselves.
2. Train workers at the point of need -- Effective training can and does happen off the clock. But it is also important that manufacturing employees are trained during a typical workday, directly at the point of need.
Mobile learning makes it possible for manufacturing workers to be trained on the job. For example, machinists can access training videos that walk them through updated procedures for performing specific tasks as well as teach them to work with a company's unique tools via mobile phone. These videos can be accessed in the flow of work and should supplement a worker's regular learning path.
Related Reading: Interested in finding learning management software that will deliver the training your employees need? Check out How to Find an Effective LMS for the Manufacturing Industry.
3. Deliver critical tech skills -- The manufacturing industry is becoming increasingly technical. An LMS can simultaneously assist new hires in catching up with their peers while keeping seasoned workers updated on new automation, IoT, and AI technology that manufacturers are integrating into their tools.
For example, manufacturers could use an online learning course to teach specific computer-aided design and computer-aided manufacturing skills through video tutorials, process documentation, and exams. Course content would reflect the needs of current employees and be based on what skills they use on a daily basis (and what skills they need). By using learning management software in this way, manufacturers can upskill staff based on what they need at the present time as well as what they will need to be successful in the future.
4. Increase product knowledge -- Product knowledge is crucial for manufacturing employees across all departments. Workers should know the ins and outs of the products they are helping to create and distribute.
For example, sales representatives can better serve customers and be better equipped to make sales if they have deep knowledge of the company's products and how they solve customers' problems. In this case, product knowledge could lead to increased sales and revenue. If an assembler has thorough product knowledge, they could help increase safety and compliance as well as improve product quality.
One way to promote product knowledge is by engaging learners through gamified eLearning content.
"We used gamification to make the content more engaging in (our product training) course," wrote a contributor to EI Design, an eLearning content development company. "We used scenarios, gamification, and simulations to raise the engagement factor and made it available on mobile devices for the learner to access the modules anytime."7
Gamification functionality is a feature of some types of learning management software. You can also use LMS course authoring tools to create gamified product knowledge courses for manufacturing staff, no matter what department they work in.
Related Reading: 3 Ways Companies Can Use LMS Software to Improve Employee Training
Find the Best LMS for the Manufacturing Industry
Learning management software helps employers close the manufacturing skills gap by providing staff training. Quality manufacturer training facilitates the development of soft skills, promotes learning in the flow of work, increases product knowledge, and more.
With hundreds of options, it's hard to find the right LMS platform that fits your business needs. Download LMS Comparison Worksheet to help your company evaluate multiple LMS platforms side-by-side.
---
References:
1 Operational Solutions. 2018 skills gap in manufacturing study. https://operationalsolutions.nam.org/mi-skills-gap-study-18/.
2 Criteria Pre-Employment Testing. Closing the skills gap in the manufacturing industry. https://blog.criteriacorp.com/closing-the-skills-gap-in-the-manufacturing-industry.
3,4 Deloitte. 2018 skills gap in manufacturing study. https://www2.deloitte.com/us/en/pages/manufacturing/articles/future-of-manufacturing-skills-gap-study.html.
5 Learning Light. Manufacturing training and eLearning. https://www.learninglight.com/manufacturing-training-elearning/.
6 Society for Human Resource Management. HR gets creative to hire manufacturing workers. https://www.shrm.org/hr-today/news/hr-magazine/pages/1115-manufacturing-recruitment.aspx.
7 eLearning Industry. 10 awesome ways to use mobile learning for employee training. https://elearningindustry.com/mobile-learning-for-employee-training-10-awesome-ways-use.