For a nonprofit to survive, it must retain its staff, donors, volunteers, employees, and board of directors. Engagement is key to retaining these individuals and ensuring the success of the nonprofit. The organization must also engage the community to gain new supporters. For nonprofits, finding the right engagement strategy is critical.

Has your nonprofit considered driving engagement by using an LMS specifically designed for nonprofit organizations? If not, you may be overlooking an effective strategy for promoting engagement, improving retention of those currently involved in the organization, and expanding the nonprofit's influence in its community.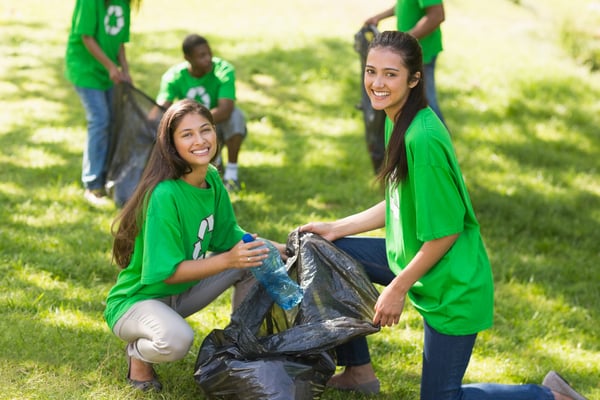 3 Ways to Boost Engagement Using an LMS for Nonprofits
An LMS for nonprofits can help increase engagement inside the organization when administrators use it in the following ways:
1. Connect volunteers and employees via LMS forums
Knowledge sharing can be highly engaging. It optimizes training by allowing people to add valuable personal knowledge concerning a course or topic that can directly benefit others. Using an LMS, you can harness the power of knowledge sharing by encouraging staff and volunteers to connect via LMS forums.
On a forum, an LMS social learning tool, employees and volunteers can network and forge new relationships. This is advantageous to your nonprofit because each group has experience with the nonprofit that the other lacks. For example, employees understand the inner workings of the organization, but volunteers understand a different side of the nonprofit. Each group has something valuable to share with the other.
To connect volunteers and staff and encourage knowledge-sharing, set up a private forum where they can share experiences, stories, and ideas related to your nonprofit and respond to one another. Volunteers could tell employees about the experiences they are having with the public, and employees could share tips for optimizing interactions with the public and recruiting new supporters. This may drive engagement for both parties and even promote up-skilling through informal learning.
2. Create an online introductory mini-course for potential volunteers
Volunteers are often the lifeblood of a nonprofit. Many nonprofits are on strict budgets and rely on the efforts of their volunteers to keep daily operations running smoothly.
To attract new nonprofit volunteers, consider using an LMS for nonprofits to engage the community by creating an online introductory mini-course for potential volunteers. The course should educate people about your organization and stir excitement about getting involved.
If someone doesn't decide to become a volunteer after taking the course, they might become a donor or member, or they may refer someone to the course they feel would be a great fit for the nonprofit.
To make the introductory mini-course even more effective, administrators may want to reward those who participate with a badge that could be shared on social media. This would create a buzz around the nonprofit and encourage others to sign up for the course, furthering the reach of the organization and ramping up engagement.
3. Offer employees and volunteers an eLearning course on community engagement
One of the best things about an eLearning system is that it can be used to create custom online courses. The LMS can also distribute, track and report on eLearning courses. These capabilities can come in handy for a nonprofit that must create unique courses for different user groups.
When working to increase engagement, look outside the walls of your organization. Employees, volunteers, and members aren't the only people who need to be engaged -- the community surrounding your nonprofit should be engaged, as well. That said, use your learning management system to create an online community engagement course for current association members, volunteers, and employees.
The course could include content that coaches learners on how to effectively engage outsiders and introduce them to the nonprofit community. By letting your volunteers and members in on the course and not reserving it for employees only, you'll increase the reach of your organization.
Content for a community engagement course might include tutorials for how to explain the nonprofit's mission and goals to others, recruit new members and volunteers, and generate interest in upcoming events. Once learners have been gone through the course, set goals for them and follow up to ensure training is being implemented.
Leverage Your Nonprofit LMS to Drive Engagement
An LMS's primary function is to provide training, but it is capable of much more, including boosting engagement. Organizational leaders can engage various audiences by using an LMS for nonprofits to set up forums that promote knowledge sharing. They can also create eLearning courses that promote the engagement of members, volunteers, employees, and nearby communities.
Interested in learning more about an LMS for nonprofits? Learn more on our Nonprofit LMS page and fill out the form to receive information on discounted nonprofit pricing.