The primary reason most manufacturers invest in onboarding is to reduce time to productivity for new hires. However, the benefits of an onboarding program for manufacturing employees go beyond promoting productivity.

Not only does an onboarding training program help new hires contribute to a company more quickly, it also reduces future turnover and optimizes engagement.¹ To help optimize your manufacturing training programs - especially onboarding programs - to get the business results you need, follow these three tips.
Tips for Creating a Winning Onboarding Training Program
1. Store important documents alongside online courses -- There is a wide variety of roles and departments within the average manufacturing company. Because of this, administrators must ensure communication about regulatory requirements and best practices is consistent and accessible to all new employees.

When setting up your onboarding program, use LMS authoring tools to create online courses that explain these policies and procedures, but be sure to create an online repository that includes updated documents referenced in the courses as well.

Keeping important documents online for new employees may seem like an obvious step in creating a successful onboarding program, but many manufacturers aren't doing this. In fact, paper documentation is still common in many areas of manufacturing. For example, a study from WorkJam found that "among (manufacturing) employers who allow employees to swap shifts, almost half use paper to communicate requests to trade shifts in a break room or other communal area."²

Don't let your crucial onboarding and compliance documentation fall into the same trap. Use a learning management system (LMS) or other content management tool to store your documents online, in an easily-accessible location. Keeping key documents online where workers can instantly access them after completing related manufacturer training courses will streamline communication and free up time for workers to become productive.

2. Give managers an active role in onboarding -- While some manufacturers still use an in-person onboarding process, others onboard new hires solely online. In these cases, supervisors may not play an active role in onboarding workers, putting new hires and companies at a disadvantage. According to a managing partner for Gallup, "When managers take an active role in onboarding, employees are 2.5 times more likely to feel that the process was successful."³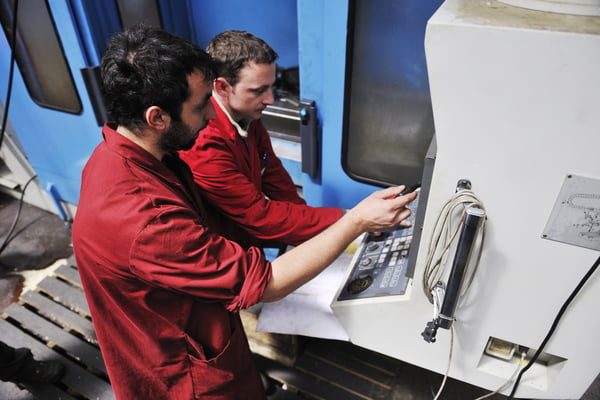 A manufacturing company may onboard new hires digitally, but that doesn't mean supervisors shouldn't have an active role in onboarding. For example, while you might distribute new-employee training courses with an LMS, managers should be readily available to answer any questions new hires have once they arrive at work. Supervisors can also guide workers' learning experiences by studying LMS reports that indicate how well new hires are doing in each online course and then working with them to make helpful changes to their online learning path.

By giving supervisors an active role in the onboarding process, you will more effectively engage both new hires as well as managers, resulting in a better onboarding program.

3. Create an online course that clarifies your company's culture -- Broadcasting company culture is more important to the success of an onboarding training program than you might think. Eighty-one percent of new employees fail due to a cultural misfit, so helping them gel with company culture is a good way to increase engagement along with the success of an onboarding program.4

To help new hires understand and integrate with company culture, include an eLearning course in your onboarding training program that explains the company's core values. You can craft it using LMS authoring tools or by hiring an instructional designer. Also, Hubstaff recommends putting together a FAQ guide related to cultural facts and storing it in your centralized database. They also instruct trainers to "create company social media accounts and share content that encompasses the culture."5
Is Your Manufacturing Company's Onboarding Program Delivering the Right Results?
An effective onboarding training program for manufacturing employees will decrease time to productivity while simultaneously reducing the risk of turnover and engaging new hires. If you aren't seeing these results from your onboarding program, it could be time to either implement an LMS for the manufacturing industry or consider switching to a new eLearning system.

---
References:

1, 3. SHRM. Survey: onboarding programs are too short. https://www.shrm.org/resourcesandtools/hr-topics/talent-acquisition/pages/silkroad-survey-onboarding-programs-too-short.aspx.

2. Topics. Onboarding in the manufacturing boom. https://www.manufacturing.net/blog/2017/12/onboarding-manufacturing-boom.

4, 5. Hubstaff. This is how the top companies onboard new hires (checklist). https://blog.hubstaff.com/employee-onboarding-best-practices/.