Teaching new skills to healthcare staff can be challenging, especially during a global pandemic. Challenges are compounded when organizations approach healthcare training from a traditional, in-person learning perspective. This is because teaching new procedures or techniques to a large group of employees at a healthcare organization can be time-consuming, costly, and stressful. It may not even be possible to provide in-person training if a percentage of your employees are working remotely.
Getting employees together to learn new information can take weeks or months. Today's healthcare organization doesn't have that type of time to burn and must use a different approach to healthcare training. Remote learning/online learning is usually the best training option for healthcare organizations. That's because remote work is so widely used at this time.
"In the current circumstances, this type of remote work is of particular relevance in order to protect staff," stated the Harvard Business Review.1 "Many healthcare functions such as monitoring, diagnosis or therapy can be performed at such a distance, with new technologies playing an important supporting role."
A learning management system (LMS) makes it easy for administrators to deliver effective remote training that keeps healthcare workers compliant and skilled.
Related Reading: "Speed Online Training for Healthcare with an LMS"
An LMS System Enables Remote Training for Healthcare Workers
An LMS system allows organizations to deliver healthcare training remotely. This is good since remote training has never been more important than it is today. According to Jack Steward, contributor to a Findstack article, 16% of companies globally have gone fully remote.2 Here are some other remote work statistics Steward cited: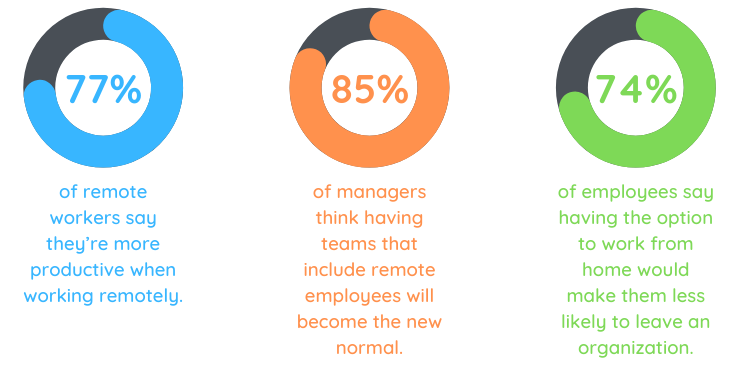 Wondering what to expect from remote work in the healthcare sector moving forward? It's fairly safe to assume that it's here to stay. That's because 32% of healthcare leaders said employee preference was a top priority when developing plans for returning to the office, reported Health Tech.3 According to the source, "employees have responded positively to more flexible work capabilities." This indicates healthcare organizations will likely keep remote work (and remote training) an option in the future.
The Top 3 Benefits of Using an LMS System in a Healthcare Setting
An LMS system (learning management system) makes the process of getting a group of employees trained and ready to implement new procedures simple. Unlike training methods that require workers to learn at the same location and time, a healthcare LMS (i.e., a cloud-based remote training solution) infuses the learning process with flexibility. Modernizing your approach to training with an LMS system will:
Provide flexible remote training options for workers

Enable you to track the progress of learners and manage certifications
Improve safety in the workplace
1. An LMS system promotes flexible remote training options
Working in the healthcare industry can mean long shifts and unusual hours with little time available to devote to training. Trying to gather entire teams into one room for training can be unsafe and also time-consuming to plan. Also, long training sessions can cause your team members to zone out. After all, while certain people can focus on new material for extended periods of time, there are many others who need to take things at their own pace, take breaks, and stop at certain points to digest what they have learned.
Also, some employees cannot work remotely, such as on-site healthcare providers. Remote training is often the best training option for these individuals, as well as remote workers. Remote training gives on-site healthcare workers the opportunity to train according to their own busy schedules. This can increase learner engagement and knowledge retention, which may increase your company's ROI for remote training.
An LMS makes it easy for everyone to participate in training on their own time. Your organization can create training courses and upload them to an LMS system where employees can access them whenever they have free time at work or home. Alternatively, healthcare training courses can be purchased and uploaded to an LMS. This is often the most economical option. You can also create learning paths in an LMS system, which promote onboarding and help administrators provide role-based training.
2. An LMS system

tracks the progress of learners and manages certifications
Tracking learners' remote training progress is a vital task that is tough without an LMS. Without tracking training, administrators won't know how well learners are doing and where to tweak training to make it more effective. This will decrease a company's ROI for L&D initiatives and cause costly remote training to go to waste.
Because it features LMS reporting, an LMS system allows administrators to see which employees have finished what training modules. Using insights provided by LMS reporting features, administrators can make changes to training that will ensure learners get the maximum benefit from it. For example, LMS reporting may lead you to determine certain learners are not progressing fast enough in their remote training courses and need some extra help. These insights can make the difference between a healthcare worker benefitting from training or disengaging from it.
Also, an LMS helps administrators manage compliance training and certifications. Healthcare workers often have a lot of compliance training to keep up with. An LMS system is ideal for them, as well as for LMS administrators and HR departments.
Are your employees required to complete certain courses or certifications as part of their on-the-job training? If so, streamline compliance management by tracking certificate completion directly in TOPYX LMS. With TOPYX, you can:
Manage employee compliance with training requirements, such as HIPAA training.
See at a glance which employees are compliant and which are not.
Generate unique numbering for each certificate and automatically associate expiry information based on your settings.
Track units of continuing education completed by each team member and count them towards organizational requirements.
Tailor the appearance of your custom certificates using your organizational branding and create unique designs for each course.
Interested in learning more about TOPYX LMS system and how it can benefit your healthcare organization? Request a free LMS demo of TOPYX.
An LMS system improves safety for healthcare organizations by enabling remote training
An LMS system makes remote training possible. This can improve safety for healthcare organizations. The Harvard Business Review referred to improved workplace safety as the most direct benefit of remote work.4 A contributor wrote,
"Whether an employee is working from an adjacent room or from an off-site location, risks and dangers can be significantly reduced. The danger of infection from a virus is an obvious example; but other risks can also be minimized, for example the risks associated with exposure to radiation during cardiovascular treatments."
The contributor pointed out that with remote work, hygiene protocols can be reduced or even eliminated, saving companies money. An LMS system allows workers to train remotely, which keeps them out of the office just as remote work does. This improves workplace safety.
An LMS System

Keeps All Information Secure and HIPAA-Compliant
Sometimes HIPAA can be unintentionally violated during training processes. Training with hard-copy content makes organizations more susceptible to this. Paper packets and handouts can end up in unsecure locations once instruction is over. If an instructor teaches from a white board or from PowerPoint, learners may innocently take down sensitive information in their notes and not secure it later, putting an organization at risk.
With a LMS that requires secure login from all users, sensitive company data is kept private. The best healthcare LMS systems, such as TOPYX, include features or add-ons that ensure their software is HIPAA-compliant.
TOPYX LMS System Improves Patient Care
An LMS can help healthcare organizations update their training methods and ensure their staff is equipped to deliver the best possible care to patients, residents, and individuals. TOPYX LMS system promotes better patient care by:
Enabling remote training
Improving workplace safety
Making certification management easy
Promoting flexible learning schedules
Allowing administrators to track learner progress
Keeping training secure
Upgrade your healthcare organization's training by launching TOPYX. If you need a quick remote training solution, TOPYX is for you. It can be launched in a matter of days, not weeks. Check out the TOPYX Quick Start Program to learn more.
References:
1, 4. The Harvard Business Review. https://hbr.org/sponsored/2020/09/the-case-for-remote-work-in-health-care.
Findstack.

https://findstack.com/remote-work-statistics/

.