There are a lot of tips on the Web about how to make online training for healthcare more engaging, but what about making it speedier? Faster online training not only reduces time to productivity, which can increase revenue for healthcare organizations, but it can also boost employee satisfaction.
Faster online training for healthcare employees has never been more important. The coronavirus crisis is nowhere near over and there is a tremendous amount of demand for healthcare services, such as telehealth appointments, as well as medical equipment. The American Hospital Association stated,
"Treatment for COVID-19 has created incredible demand for certain medical equipment and supplies as the virus has disrupted supply chains…"
Healthcare organizations of all types are faced with the task of quickly onboarding employees to meet increasing demands. They must also work to ensure their seasoned employees remain compliant and properly skilled. The faster that new healthcare employees can be onboarded and established employees can complete compliance and role-based training, the better.
A learning management system (LMS) can help speed online training for healthcare in a variety of ways.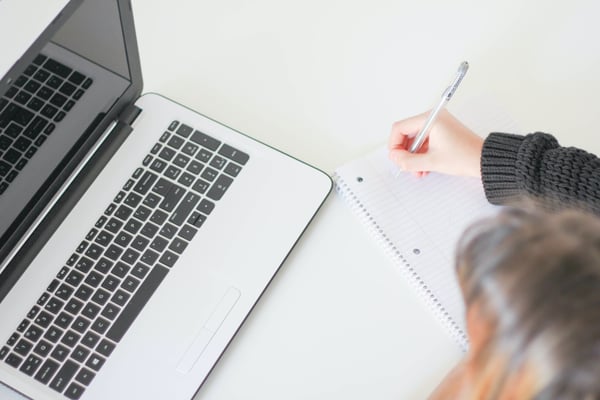 Organized content means faster
online training for healthcare
One of the primary reasons why organizations implement online learning is because they want to speed up the training process. Without a tool for content organization and training delivery, tracking, and reporting, online training for healthcare will not happen as quickly as it could. This is because online learning content can be tough for healthcare companies to assemble, and keep organized.
eLearning content can easily get out of control and be difficult for healthcare workers to access and companies to manage. An LMS is the remedy to this. Some LMS providers offer real-life help for companies that need assistance organizing their online training content. Once training content has been organized, it can be uploaded into the LMS for safekeeping and easy access.
A learning management system like TOPYX LMS has dedicated customer support teams that provide guidance about best practices for content organization. Organizing online learning content is one of the most challenging aspects of implementing eLearning across an organization. This service addresses that challenge directly.
TOPYX customer support teams also perform administrative tasks for healthcare clients if those clients wish, such as uploading learning content and managing groups and users. This can free up a lot of time that HR and L&D workers can commit to creating or purchasing online training for healthcare and assembling new training programs for employees.
Ultimately, how online learning is set up and organized is up to the healthcare company, but it doesn't hurt to have input from professionals. If your LMS doesn't offer help at no extra cost with organizing content, it may be time to consider new LMS Solutions.
Related Reading: The Top 3 Benefits of an LMS for Healthcare Organizations
Mobilize eLearning healthcare content
If you want to optimize online learning and speed it up, make it mobile. Mobile courses get completed more quickly than courses on a laptop or desktop. A Lynda.com Whitepaper said that smartphone users complete courses 45 percent more quickly than those using other tech tools. Also, mobile learning tends to be more motivating to learners than other types of learning. Mobile online learners usually participate in training for 40 minutes longer than learners who use a desktop or tablet for training.
Healthcare companies that want to hasten online training must acknowledge that mobile learning is quicker than other forms of eLearning and take action to make their online training for healthcare mobile. They can do this using an LMS.
Moving all your online healthcare training to a mobile format is easier with an LMS. LMSs feature mobile learning tools that make this feat simpler than it would otherwise be. Most learning management systems' mobile learning features are designed to:
Ensure training content is compatible with all smartphones and tablets.
Protect data and information through secure servers.
Facilitate quick user interactions with reliable uptime and sizable server bandwidth.
Even with an LMS, you may find it necessary to hire an instructional designer to facilitate the process of making online training for healthcare mobile. This type of L&D professional can help your HR department and L&D team successfully convert training to a mobile format.
Many different online learning content mediums can be used in mobile learning. To speed eLearning, use audio in mobile learning.
"By turning text to audio, employees can listen to courses as they drive in their car or perform other tasks," Simon Cooper, CEO, Interactyx (the company that develops TOPYX LMS) explained. "This can really save time."
It's not possible for every healthcare course to be adapted to a fully mobile format. Still, a good portion of healthcare eLearning can and should go mobile for companies that want to speed online employee training and cater to employees' training needs.
An LMS streamlines compliance training and certifications
Most healthcare employees must complete certain courses or certifications to remain compliant with regulatory requirements. Managing certifications for healthcare employees can become very time-consuming for large healthcare companies that have hundreds or thousands of workers. It's also costly.
"The onerous process of managing huge volumes of physician and service agreements, along with regulatory compliance standards is time-consuming and expensive," stated Healthcare Insights. "In fact, according to a recent study by Black Book Market Research, nearly $157 billion per year is spent by healthcare providers on manual contract management."
When LMS administrators, HR departments, and L&D teams spend too much time managing compliance training and certifications. This not only costs money but can also slow online training by tying up their time in compliance management. When compliance is managed in less time, healthcare training administrators can devote more time to creating and updating L&D programs for healthcare employees.
An LMS can help healthcare companies with compliance and certifications management. Some LMSs automate delivery and tracking of compliance training and certifications. This takes a huge burden off of those who usually manage compliance training and certifications manually. For example, TOPYX LMS:
Shows you which employees are compliant and which are not.
Generates unique numbering for each certificate and automatically associates expiry information based on your company's settings.
Tracks units of Continuing Education (CE) completed by each team member and counts them towards organizational requirements.
Tailors the appearance of your custom certificates using your organizational branding.
Creates unique designs for each course.
If your healthcare organization is still manually dealing with compliance training and certifications management, you are losing money. You are also losing time that could be spent organizing and planning training initiatives that would upskill employees more quickly. An LMS is the best compliance management solution for your organization.
Interested in speeding online training for healthcare and effectively managing compliance? Request a free LMS demo of TOPYX.
Related Reading: How to Support a Successful Healthcare LMS Implementation
Streamline onboarding and help learners stay the course
One of the most important aspects of healthcare training is onboarding. Onboarding is vital to the success and safety of healthcare employees and volunteers. Smartsheet stated,
"'Operating without targeted onboarding compliance strategy and tactics exposes healthcare organizations to significant legal and financial risks.' In 2018, violations by multiple insurance or health provider organizations resulted in multi-million-dollar fines — in fact, Anthem, Inc. paid a record-breaking $16 million for violating patient privacy rules."
Although it's important that most online training for healthcare happens as quickly as possible, faster isn't always better when it comes to onboarding. Longer onboarding times have been linked to lower rates of turnover. For example, Smartsheet reported that a hospital in Washington, DC took turnover from 39.1 percent to 18.4 percent for RN and hospital staff in one year by implementing an onboarding process. "...research suggests companies can increase employee retention by extending onboarding throughout an employee's entire first year," Bamboo HR explained.
While onboarding shouldn't be rushed, it should be streamlined. It should also be user-friendly, engaging, and easy-to-track for both learners and administrators. The more streamlined onboarding is, the more likely it is that employees will regularly participate in it. And since onboarding is a long-term commitment, it's key that employees complete their onboarding training modules in a timely manner. This will ensure that they approach other important training courses with a clear head and complete them as quickly as possible.
Convey Health Solutions is a specialized healthcare technology and services company that provides clients with healthcare-specific, compliant member support solutions utilizing technology, engagement, and analytics. Like many other healthcare companies, Convey wanted to see improvement in their online healthcare training processes. Convey Health Solutions implemented TOPYX LMS for this purpose and experienced outstanding results.
Learn about how TOPYX helped Convey speed online training for healthcare and solve other training issues - and how it can help your organization do the same - by downloading the Convey Health Solutions Case Study.