Interested in switching to a new learning management system? If so, you're not alone. Twenty-six percent of companies aren't happy with their current LMS. Poor UX, sub-par reporting features, and a lack of integrations and mobile capabilities are just a few driving factors behind many new LMS purchases.

But is investing in a new system the right decision? While problems with your existing LMS can be frustrating, jumping the gun and purchasing a new system can be even most problematic, creating a significant expense for your business.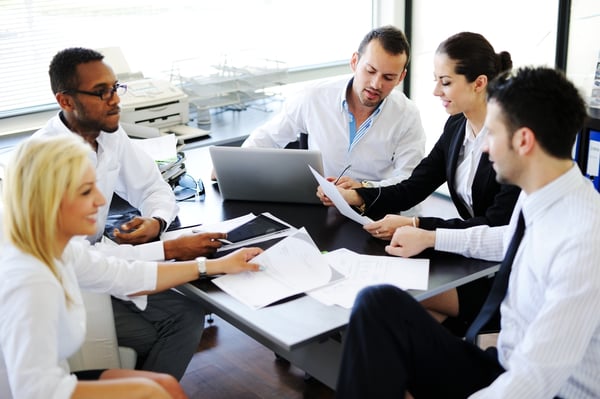 How to Tell If You're Making a Mistake Investing in a New LMS
If your LMS isn't delivering a solid ROI, purchasing a new learning management system might be your best course of action. But before you make that new LMS purchase, beware of some red flags that indicate you are about to make a buying mistake:
1. The primary reason you're buying the new learning management system is because it's low-cost.
Every company has a training budget. Organizations with stringent budgets may be tempted to invest in a learning management system primarily because it is cheaper than others. While a lower-cost eLearning system could end up hitting the mark, it might end up doing the exact opposite. The article Six LMS Buying Mistakes You're Making stated,

"If something has a low price but isn't used or turns into a money sink, it has a low value. Go for a program that has a higher price if you feel that every feature will be used for maximum impact. Don't be afraid to spend a little more now to create savings in the long run."¹

There are plenty of cost-effective learning management systems that can meet your company's training needs, but they may not be the cheapest on the market. You can stay within your LMS budget and still get a top-notch system by investing in a full-featured, flat-rate LMS with no user cap. The upfront investment may be larger than you want, but companies with larger learner bases will spend less in the long run by avoiding expensive per-user fees.
2. You can't put your finger on why your current LMS is failing.
Migrating to a new learning management system is only a smart move when you understand why your current LMS isn't successful - and it's a system problem, not an internal business or process issue. For example, perhaps your eLearning system was never adopted well by employees due to a poor UX design. Whatever the reason for failure, you should be aware of it before committing to a different LMS.

Discovering the reason why your LMS isn't doing as well as you'd like will help you avoid making a poor purchase with the next eLearning system. Here are a few of the top reasons why learning management systems fail:
The LMS is helpful for administrators but not learners.
Not all stakeholders were involved in the LMS purchasing process.
The LMS wasn't launched correctly.
The LMS has hidden fees.
Do any of these reasons for LMS failure apply to your company? If not, survey learners as well as system administrators to find out what's wrong with your current system.
3. You aren't certain the new LMS will meet the needs of your organization in the future.
Determining what your organization's future needs are is just as important as pinpointing current needs. The right LMS will have the ability to meet your company's training needs now and for the next 2-5 years at least.

"Your staff size, evolving online training needs, and technological advancements all play a key role in LMS scalability," wrote a contributor to eLearning Industry.² "For example, (an) LMS that charges per user may be ideal for your small company today. But will it be the best option for your organization a year from now? Or should you opt for a license-based LMS?"

eLearning Industry also stressed that while your company might not need certain LMS features at this time, it could in the future. "For instance, opting for limited reporting capabilities may cut costs now. The downside is that you won't be able to track online learner proficiency later on," the source stated. If an LMS doesn't have the features your organization will need down the road, chances are purchasing it is a mistake.
Find the Best Learning Management System for Your Company's Current and Future Goals
Recognizing the signs of an impending buying mistake is the first step to avoiding sinking cash into the wrong eLearning system. Take your strategy for investing in the right LMS one step further by learning how to find the best online learning platform for your business.
---
References:

1. Capterra. 6 LMS buying mistakes you're making (and how to fix them). https://blog.capterra.com/6-lms-buying-mistakes-youre-making-and-how-to-fix-them/.
2. eLearning Industry. Top 5 LMS mistakes to avoid when selecting a new learning management system. https://elearningindustry.com/lms-mistakes-avoid-when-selecting-new-learning-management-system.