Most companies are heavily utilizing remote training as the coronavirus pandemic plays out. With the recent approval of COVID-19 vaccines by various public health organizations around the world, the end of the pandemic is in sight. In the meantime, many companies will continue delivering remote training to staff. Once things start returning to normal, some companies will stick to a work-and-learn-from-home model, at least to an extent.
Chief Learning Officer stated, "One survey by Gartner found that 74 percent of chief financial officers expect at least some workers to work remotely on a permanent basis, even after the pandemic passes. As such, the shift to leadership development through digital platforms is a critical element of successfully making the new remote work environment work while continuing to focus on…leadership initiatives."1
During this transitional time, companies must keep an eye on remote learning for senior leaders and ensure they receive the training they need.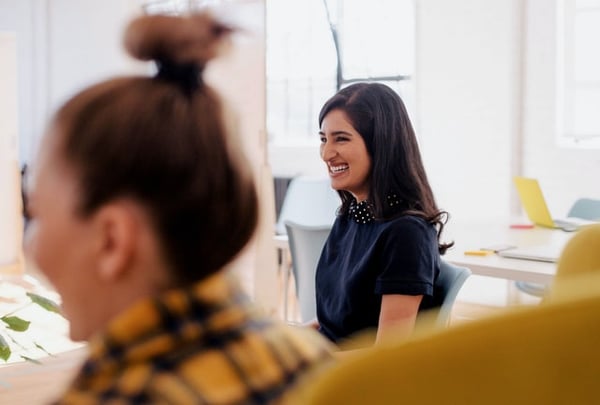 3 tips for refining your remote training
strategy for executives


Organizations offering remote training in any capacity should focus some of their L&D efforts in 2021 on optimizing their remote training strategy for senior leaders. According to eLearningIndustry.com, training those in leadership positions yields "big benefits," such as increased employee engagement and productivity, as well as lower attrition.2 A contributor wrote, "75% of people voluntarily leaving jobs don't quit their jobs, they quit their bosses… By investing in leadership training, you can retain your people and reduce costly recruitment expenses."
Here are some ideas for improving your remote training strategy for executives in the coming months:
1. Be aware of why online training fails

To create a remote training strategy that gets good results, you must know why remote training sometimes fails so you can sidestep common mistakes. "Almost everybody could probably mention at least a few benefits of eLearning, but a very small number of people have an insight into why these projects actually fail," stated the article "Top 5 Reasons Why eLearning Projects Fail.3 The article named several reasons for online learning failure, such as:
Not setting goals for the course before launching it
Not understanding the target audience/learner
Not defining instructional strategy at the beginning of course development
Also, don't make the mistake of ignoring the big picture (i.e., longer-term, broader goals) surrounding online employee training. Craft a better remote training strategy for senior leaders by paying attention to details as well as to the big picture.
Related Reading: How to Transform In-Person Training Into Remote Training Content
2. Teach executives how to lead during a crisis
Leading employees throughout a pandemic is not easy. Most senior leaders will benefit from targeted training that imparts the skills they need to lead effectively during turbulent times. This type of specialized training should supply executives with the soft skills they need to lead in the middle of a crisis, such as empathy and remaining calm under pressure. Senior leaders should be encouraged to keep leading, even when their instinct is to freeze.
A contributor to Harvard Business Publishing wrote, "...a potentially manageable crisis left unresolved will turn into a full-blown disaster. Leaders must be able to act quickly... To tackle a crisis, leaders must be able to create flexible plans, communicate clearly, lead with compassion, and manage the post-crisis 'new normal.'"4
3. Offer complex course content
The remote courses you offer your organizational leaders should differ from the eLearning courses other employees have access to. Their content should be more complex. The article 5 Ways to Train Executives stated, "Content needs to be sophisticated, provocative, fresh, and very relevant to your business and industry. Executives need to see how what they are being asked to consider will help them accomplish their business objectives. While there may be some that might have a natural sense of intellectual curiosity, most will need to (see) the immediate business relevance or they will tune out."5
Interactive course content should reflect the complexity of executives' course subject matter. For example, an interactive simulation in a course designed for an employee not in a managerial role might be related to customer interactions. But a scenario in a senior leader's remote course may have more to do with the operations of the company or overseeing of employees.
Related Reading: Cost-Effective Ways to Make Corporate Online Learning More Interactive and Fun
Launch a remote training program for senior leaders now
Refining your remote training strategy and delivering top-notch training to executives is easier with an online learning platform that makes the process of creating, delivering, tracking, and reporting on eLearning simple. Launch TOPYX LMS in a matter of days with our Quick Start Program, which enables you to get started remotely training up to 500 learners through a flat-rate pricing model. Learn more about TOPYX by requesting a LMS demo.
---
Sources:
[1] https://www.chieflearningofficer.com/2020/04/30/how-to-make-remote-leadership-development-work-for-your-business/
[2] https://elearningindustry.com/6-big-benefits-of-leadership-training
[3] https://elearningindustry.com/elearning-projects-fail-top-5-reasons
[4] https://www.harvardbusiness.org/leading-your-team-through-a-crisis/
[5] https://www.greatleadershipbydan.com/2010/05/5-ways-to-train-executives.html