To say the coronavirus pandemic has disrupted workplace learning is an understatement. Referring to COVID-19, McKinsey & Company said, "...workplace learning is emerging as one of the earliest and hardest-hit business activities. Based on our observations as of early March, roughly one-half of in-person programs through June 30, 2020, have been postponed or canceled in North America…"1
This means around half of all organizations still have yet to move training online. Some of these organizations have maintained in-person training, and some may have simply put training on the back burner as they dealt with the coronavirus pandemic. Companies can easily turn in-person training into remote training using a few simple tips.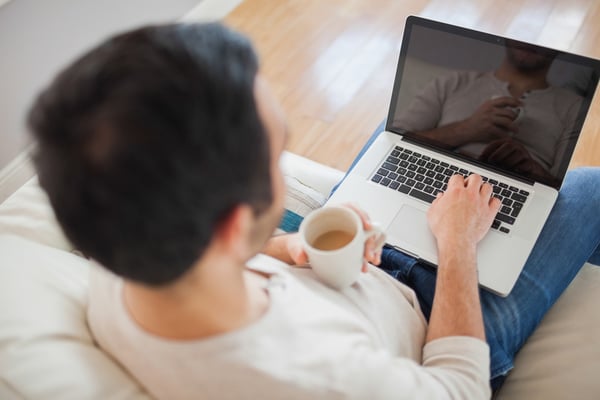 3 tips for turning in-person employee
training into virtual/remote training
Ready to give your staff the option to complete remote training? By implementing these tips, you'll enable them to participate in virtual training from the safety of their homes:
1. Prepare your in-person training content to be moved online
Before you can move your training content online, the content must be prepared in a specific way. "One of the biggest misconceptions about converting ILT materials to eLearning courses is that these materials can be published online, as they are," explained eLearningIndustry.com.2 "However, this could result in online learning of poor quality." The publication explained that L&D teams can take the following actions before putting content online:
Organize training by dividing learning content into topics and subtopics.
Fill in content gaps. "ILT resources contain only 50% of what is actually taught to the learners. So, you must arrange to cover the remaining 50%, to give a logical flow to the content, before publishing the resources online."
Add assessments to the content. Most in-person learning content doesn't include assessments, but they will come in handy when you are measuring the progress and participation of learners.
Once you've prepared your content, which is usually the most time and energy-consuming aspect of turning in-person training into remote training, you are ready to move the content to an eLearning platform.
2. Choose a learning experience platform (LXP) to host your converted training
When it comes to eLearning platforms, you have a sea of options to choose from. There are many different types of platforms and dozens of brands within each classification. Companies moving their in-person content online may find that a learning experience platform (LXP) is the best choice to host converted training.
A learning experience platform is a software tool used to create and manage customized virtual learning experiences. LXPs are highly engaging because they have built-in social learning tools, enable badging and certification, offer standardized and personalized learning paths, and feature mobile learning, which is key to a successful remote learning strategy. An LXP is also intuitive and user-friendly, offering training suggestions to learners using a "Netflix-like interface," in the words of Josh Bersin.3 Learning experience platforms are ideal for hosting any form of content that has been converted from in-person training to remote training and making it more engaging for learners.
Related reading: Create Learner Buy-In with an LXP During the COVID-19 Pandemic
3. Make online training content interactive
In-person learning can sometimes be more engaging than remote learning because learners can directly communicate with one another, ask questions, and have discussions. In other words, in-person training is interactive. To ensure online training is as engaging and successful as in-person training, it's vital that you add elements of interactivity to your converted training. For example, you could use narration, gamification, interactive videos, and knowledge checks liberally.
eLearningIndustry.com4 suggested company administrators use forums, exams, and questions to make learning more interactive. "Using questions, sometimes in original formats and point systems, fit perfectly into the logic of gamification. This system gives a playful aspect to course material. During online training courses, do not be afraid to regularly add questions between work documents and modules."
The contributor also encouraged the use of open-ended questions in training. "Students feel that they are truly being listened to and engage more with course material when they know a real person will be correcting their answers."
Related Reading: 3 Reasons Companies Need Mobile Learning
Find the right LXP for your company
Handling the COVID-19 crisis while continuing to offer employee training, whether in-person or online, is a challenge. The right learning experience platform makes managing training much easier for companies. TOPYX is a full-featured LXP that allows company administrators to seamlessly create, distribute, track, and report on employee training. Request an LXP demo of TOPYX to learn more.
If you want to launch TOPYX learning experience platform rapidly, check out our Quick Start Program.
---
Sources:
[1] https://www.mckinsey.com/business-functions/mckinsey-accelerate/our-insights/adapting-workplace-learning-in-the-time-of-coronavirus
[2] https://elearningindustry.com/convert-classroom-training-to-online-training-4-best-practices
[3] https://joshbersin.com/2018/09/the-learning-experience-platform-lxp-market-expands/
[4] https://elearningindustry.com/interactive-online-training-3-ways