Workplaces that make it a priority to nurture cultural diversity reap benefits such as better productivity and employee performance, as well as incredible opportunities for professional and personal development.1 And selecting candidates from a culturally diverse talent pool helps companies to attract and retain the best talent.
One way to infuse organizational culture with the value of cultural diversity is to use a learning management system (LMS) when creating eLearning courses for employees. Leaders can assemble online courses in an LMS that teach workers to become more culturally responsive and sensitive.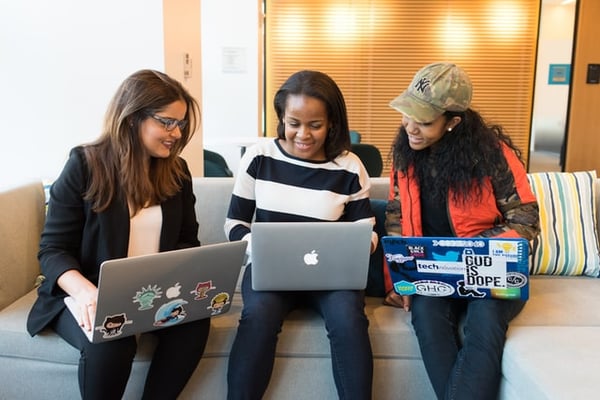 Use an LMS to create diversity-promoting
eLearning courses for employees


A diverse staff base that is sensitive to various cultures can't be created overnight. But with intentionality and patience, you can build an organization where diversity thrives. Here are a few ways to craft culturally responsive online courses using an LMS:
1. Ensure that remote courses foster peer interactions

One of the best ways to instill cultural responsiveness in employees is creating opportunities for them to interact with one another. In doing so, they will encounter and befriend individuals from cultures other than their own. The challenge with getting employees to interact in the age of COVID-19 is that many workers are stationed at home. That's where an LMS comes in handy.
A learning management system features social learning tools that enable employee interactions during or after participation in an online course through web conferencing, real-time chat, forums, and online communities. By continuously encouraging virtual peer interactions around remote training courses, you can foster a culturally responsive workforce in the midst of the current global health crisis.
Related Reading: How to Transform In-Person Training Into Remote Training Content
2. Teach workers how the "new normal" caused by COVID-19 is affecting their peers
People are often unempathetic not because they are uncaring, but because they are unaware of others' experiences. Nevertheless, empathy is perhaps the most critical characteristic of a workforce that welcomes diversity and is responsive to various cultures. In fact, Forbes stated that empathy is the key to a diverse and inclusive workplace. 2
You can't make employees feel empathetic toward their peers. However, you can facilitate empathy by educating workers via online training courses about how the "new normal" of working and training from home during a pandemic may be affecting individuals from various backgrounds and cultures. LMS content management can help you create courses that address topics like this.
3. Make learners feel included in training by carefully designing courses
It is an isolating experience to participate in an online course that doesn't represent you. This is why individuals of different cultures must be represented visually in the games and simulations online courses include. Additionally, strive to always use culturally inclusive language in your eLearning courses for employees.
A contributor to Penn State College of Earth and Mineral Sciences said, "When using American idioms, explain them. Not everyone in your class is an American and will understand typically American phrases."3
The same should be assumed of your staff members. Being clear and not making learners read between the lines is not an insult to their intelligence, but an acknowledgment of a multicultural workforce. When using your LMS to put together courses, keep these diversity-promoting principles in mind.
Related Reading: Does an Online LMS Increase Employees Engagement?
An eLearning platform is an effective tool
for fostering a culturally responsive workforce
From senior leaders to new hires, you can nurture a workforce that embraces many different cultures. An LMS can make this task easier. An LMS enables you to keep remote employees interacting and to create courses that foster diversity. These simple steps toward creating a more diversity-honoring workplace can make a major difference over time. TOPYX LMS has all the tools you need to get started.
Launch TOPYX within a few days with our Quick Start Program, or request an LMS demo to see the platform in action for yourself.
---
Sources:
[1] https://www.hult.edu/blog/benefits-challenges-cultural-diversity-workplace/
[2] https://www.forbes.com/sites/janicegassam/2018/09/25/empathy-the-key-to-a-diverse-and-inclusive-workplace/?sh=6a8f3f417097
[3] https://facdev.e-education.psu.edu/node/443