What many nonprofits need more than anything is money. In 2013, over half of all nonprofits in the U.S. were unable to meet demand, per Stanford Social Innovation Review.1 A contributor wrote,
"Many nonprofits barely break even—even in the good years. Few have the resources they need to adapt to new economic realities. Instead, they keep trying to do more with less and maintain services for those in need."
What is the answer for nonprofits that need additional income? Those that use a nonprofit LMS can leverage online and mobile learning platforms to increase revenue.
3 Tips for Improving Revenue with a Nonprofit LMS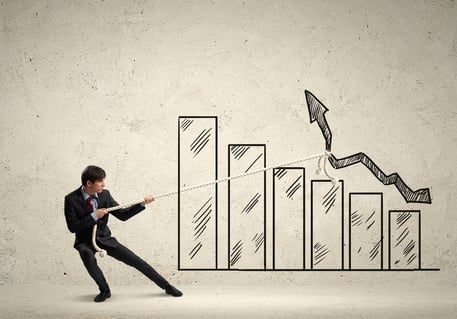 Here are a few ways you can use your nonprofit LMS to boost revenue:
1. Create for-purchase training
Have you started leveraging your nonprofit LMS to increase non-dues income? If not, you are missing out on an effective way to make money. Non-dues income is especially important to smaller nonprofits. The Community Brands 2019 Benchmark Report indicated that 70 percent of small associations are making non-dues revenue a strategic priority over the next 12 months.2
To boost revenue that is not related to dues, use your LMS to create training courses that you can promote to a public audience. Forward Together reported that just 9 percent of nonprofits use their LMS to offer continued education, which can be a viable way to increase non-dues income.3
By creating online continued education courses and webinar events and making them available for purchase to nonprofit members as well as other organizations, nonprofits can earn more money and improve their bottom line.
2. Offer fundraising training for staff and board members
Fundraising is critical to income generation for nonprofits. Despite this, a survey reported by the Huffington Post revealed that 23 percent of nonprofit participants did not have a plan for fundraising, and that, "75 percent of executive directors characterize board member engagement in fundraising as insufficient."4
A nonprofit LMS platform can be an excellent tool to promote fundraising since an organization can use it to deliver fundraising training for staff and board members. Asking people for money can be intimidating, so it is helpful to create eLearning courses that include scripts and impart customer service and sales skills. To raise even more income, consider selling your fundraising training courses to other nonprofits.
3. Improve communications with donors
Without regular donations, nonprofits can't survive, which is why maintaining a healthy relationship with donors should be a top priority for organizational leaders. Nonprofits can improve rapport with donors by facilitating excellent communication via a nonprofit learning platform.
One way to promote more effective communication with donors is by personalizing emails. Higher Logic reported that personalized email delivers transaction rates that are six times higher than regular email, that there is a 760 percent increase in revenue from segmented campaigns, and that targeted emails generate 58 percent of all revenue.5
To gather some of the information you need to create targeted emails, use your LMS to create online communities where donors can interact with one another on discussion forums, and share resources and knowledge. By paying particular attention to what donors are discussing, what they seem to be most passionate about, and what training they are participating in, you can create personalized emails that get better results. Engagement software can help you glean additional information for targeted communication.
Save Money on Training with a Nonprofit Learning Platform
An LMS not only helps nonprofits make money, but it also helps them save money by lowering the cost of training. With an online learning platform, associations can reduce the need for training-related travel, recycle training courses, and cut instructor salaries from the budget. Some learning management system providers even offer reduced LMS pricing for nonprofits.
Want to learn more about how organizations can benefit from a nonprofit LMS? Request a personalized demo of our learning management system from one of our experts.
---
References:
https://ssir.org/articles/entry/what_nonprofits_need
https://www.communitybrands.com/resource-library/whitepapers/benchmark-report-small-staff-associations/
http://blog.abila.com/leveraging-learning-increase-non-dues-revenue/
https://www.huffpost.com/entry/what-nonprofits-need-most_b_3737870
https://blog.higherlogic.com/5-tips-for-increasing-donations-to-your-nonprofit