COVID-19 has wreaked havoc on the healthcare industry. A contributor to HealthLeaders said the American Hospital Association estimated that health systems and hospitals lost $202.6 billion between March and June of 2020, the healthcare workforce plummeted by 9.5% between February and April, and 1.5 million healthcare workers lost their jobs.1 HealthLeaders also stated:
64% of unemployed healthcare workers lost their jobs as a result of the impact COVID-19 had on their workplace.
88% of healthcare organization owners are worried about the future of their physician practice.
52% of clinicians have experienced higher stress levels and increased rates of burnout and mental health issues due to the coronavirus pandemic.
Healthcare companies need help to recover quickly from some of the problems COVID-19 has caused. An online learning platform designed for healthcare organizations can help.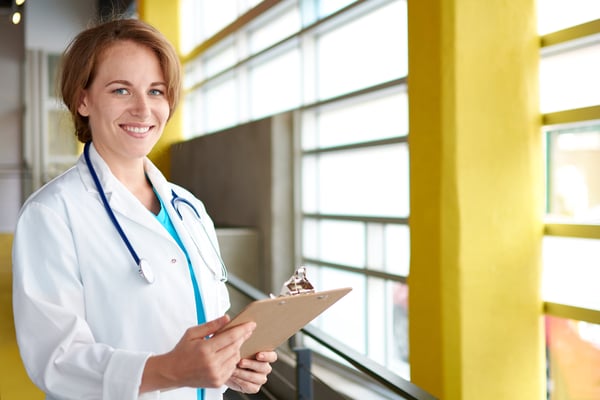 Why an LMS will help your healthcare
company, and how to choose one
An online learning platform, such as a learning management system (LMS), can be of help to your company during the coronavirus pandemic in a variety of ways. For example, a healthcare LMS can decrease the overall cost of healthcare training and improve employee productivity and engagement. It can also be used to offer eLearning courses that teach workers how to deliver telehealth services.
Choosing an LMS can be tricky as there are thousands on the market. Here are a few tips to help you choose the right online learning platform for your organization:
Related Reading: An LMS Can Enhance Healthcare Training
1. Choose an LMS that can be deployed quickly

Due to the rapidly evolving nature of the COVID-19 pandemic, healthcare organizations must choose an online learning platform that can be launched quickly. These companies have a lot to lose if effective training isn't delivered to their staff ASAP. Choosing a healthcare LMS that can be deployed in just a few days ensures that your workers will have access to the training they need to provide the best possible care to patients or customers as the coronavirus pandemic continues to impact the world. Check out our Quick Start Program to discover how easy and fast it can be to launch a healthcare LMS.
Related Reading: LMS Comparison: 3 Questions to Consider When Choosing an LMS

2. Choose an LMS that enables self-paced learning
Many healthcare workers prefer self-paced eLearning over learning that follows a strict training schedule. Due to staff shortages and an abundance of new patients and customers, healthcare professionals are having to work more quickly than ever and should be given the option to choose where and when they complete mandatory training, such as compliance training.
With this in mind, choose an LMS that allows workers to pace their own learning according to their erratic schedules. Online learning platforms featuring on-demand eLearning courses and mobile learning functionality tend to give healthcare workers more control over their learning experiences.
3. Choose an LMS that can lower stress
According to the ACS, COVID-19 has taken a "crushing mental health toll on healthcare workers… Beyond its devastating physical effects, the pandemic has unleashed a mental health crisis marked by anxiety, depression, posttraumatic stress disorder, and even suicide," wrote a contributor.2
While it is by no means the total solution to the mental health crisis caused by the pandemic, just one antidote to stress can be increased connection with coworkers. This is something that has been sorely lacking for healthcare workers in 2020. Many have had to work from home or have been forced to work at such a quick pace that socializing was impossible. To promote connection and attempt to lower employees' stress levels, look for an LMS that creates a greater sense of community among employees, both remote and on-site, through a robust set of social learning features like forums, online communities, user profiles, real-time chat, and web conferencing.
Related Reading: How to Choose the Best LMS for Healthcare Training
Look for an LMS featuring COVID-related eLearning resources
It's critical to look for an LMS with COVID-19-related eLearning resources. TOPYX features an eLearning quick-start guide for healthcare companies needing to implement online employee training quickly, as well as blog posts and training courses related to the coronavirus pandemic. Learn more about TOPYX's eLearning resources designed to help healthcare companies thrive in the face of COVID-19 here.
TOPYX LMS can help your company overcome common healthcare training challenges and navigate the COVID-19 crisis successfully. Launch TOPYX in a matter of days with our Quick Start Program.
---
Sources:
1. https://www.healthleadersmedia.com/clinical-care/covid-19-has-turned-healthcare-industry-upside-down-survey-finds
2. https://acsjournals.onlinelibrary.wiley.com/doi/10.1002/cncy.22347