An LMS helps healthcare facilities improve patient care by keeping staff updated on medical best practices and equipping them with vital skills. Today, approximately 60 percent of hospitals use a learning management system.1
Advantages of an LMS for Healthcare Organizations
Many healthcare organizations rely on learning management systems to help them run smoothly. LMSs assist medical facilities in:
Providing quick, mobile training for busy staff.

Allowing employees to share information online with one another easily.

Giving staff 24/7 access to training materials.
LMS features such as social learning and mobile learning enable these functions by helping employees interact and access training on any device, at any time.
But while the advantages mentioned above are helpful, they are not all that a healthcare organization needs from an LMS. If you want to find the best LMS for healthcare training, there are three other essential elements you should consider.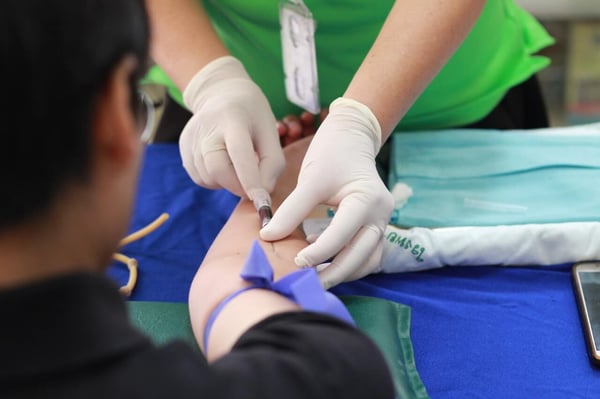 What to Consider When Choosing a Healthcare LMS
The ideal healthcare LMS does much more than provide training for staff. Look for these three functions to help your facility improve patient care and operate more efficiently.
1. Training Auditing -- The training requirements for medical facilities are very strict. Healthcare organizations are often legally required to keep current and historical records of employee training. LMS reporting features make it easier for administrators to audit training and provide records of it when needed.
"A good LMS helps an organization create better audit trails and reports that may help reduce auditing costs, respond more quickly and effectively to opportunities and challenges, and avoid potentially expensive legal and other liabilities," stated NetDimensions.2
A healthcare LMS should have reporting features that track training to prove the accuracy of certifications. The more robust an eLearning system's reporting tools are, the better. LMS reporting should track learning progress in a course, certifications, and courses that your staff haven't yet completed. If your staff are falling short in any way, your reports should highlight the problem early so you can correct the issue quickly.
2. Compliance Management -- The healthcare industry must comply with numerous laws that ensure quality care for patients. To adhere to these laws, healthcare facilities provide compliance training and certify staff routinely.
"Compliance is absolutely vital for every organization, as failure to follow certain rules, laws and regulations that concern your company could lead to severe penalties," stated eLearning Industry.3
Compliance training is especially vital to healthcare training, where patient well-being depends on the competency of staff members. Without an LMS, administering and tracking compliance training can overwhelming. The best LMS for healthcare facilities will effectively manage compliance training so your team can focus less on bureaucratic needs and more on delivering quality care.
3. Patient Training -- A great healthcare LMS trains patients as well as staff. For example, a patient may need to take an online diabetes management course or a post-surgery-care course. With LMS content creation tools, a healthcare LMS can craft courses like these that equip patients to care for themselves. Giving patients online access to medical records is another advantage of a learning management system.
The best LMS for healthcare training will provide ways for you to segment what material is available to each user, so patients see only training that's essential for their needs. Learning paths and security levels are just a few tools that can help your facility ensure that both patients and staff see the appropriate material for their needs.
Ask These Questions to Find the Best LMS for Healthcare Training
Depending on your organization's needs, you may want to look for all of the features above, or tailor your list to a few vital capabilities. Regardless of what functionality you're looking for, however, you should develop a list of key capabilities and stick to it. Always ask questions related to your list when evaluating healthcare LMS platform. For the list above, you could ask potential providers three key questions during the demo:
"Does this system have tracking and reporting tools that allow for auditing of training?"

"Does this LMS manage compliance training for large volumes of people?"

"Can the software provide training to patients as well as staff?"
If the answer to each question on your list is "yes," you've likely found the best LMS for your healthcare organization.
Learn more about how to choose the right eLearning platform for a medical facility in The Top 5 Things to Look for in a Healthcare LMS Solution.
---
Sources:
1. Lambda Solutions Blog. Healthcare learning management system survey results. https://blog.lambdasolutions.net/healthcare-learning-management-system-survey-results.
2. NetDimensions. 5 main benefits of using your LMS for regulatory compliance training. http://www.elearninglearning.com/taurus/media/elearning/whitepapers/NetDimensions-five-benefits-using-lms-for-compliance.pdf.
3. eLearning Industry. 7 tips for effective online compliance training. https://elearningindustry.com/7-tips-for-effective-online-compliance-training.