COVID-19 has made it clear that the only thing consistent in the business world is change. Having an agile mindset concerning business practices helps organizations become more confident in the face of uncertainty, which can lead to better business outcomes. According to HelpNetSecurity.com,1 other organizational benefits of business agility include:
A greater competitive advantage
Higher rates of customer satisfaction and retention
Improved worker productivity and retention
Reduced costs
Because most companies are suffering financially due to the COVID-19 outbreak, now is the perfect time to focus on making your business more agile. A learning management system can help accelerate an organization's path to increased agility.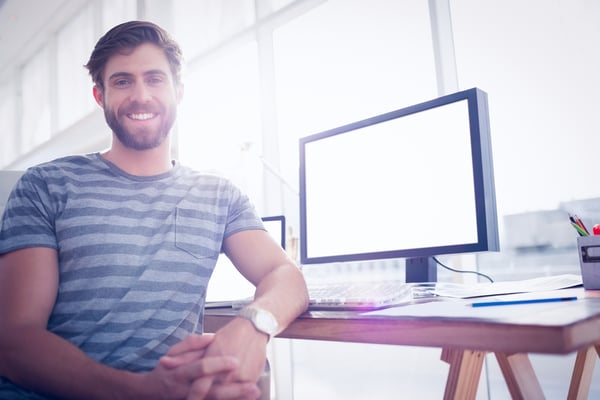 3 Ways an eLearning System Can Foster
Business Agility During the Coronavirus Pandemic
Increasing business agility is no small task, but organizational leaders can simplify it by leveraging a learning management system (LMS). Here are a few ways an LMS promotes business agility:
1. An LMS allows companies to create new training quickly
These days it is necessary for companies to create and update online employee training courses rapidly. This is because health and safety standards for the workplace are changing quickly, sometimes on a daily basis, and companies must ensure workers have the information and skills they need to remain compliant with new regulations. What's more, quickly creating content is one way a business can become more agile.
"Business Agility is the ability to compete and thrive in the digital age by quickly responding to market changes and emerging opportunities with innovative business solutions," stated Scaled Agile.2 Using LMS content management features, companies can speedily create and deliver employee training that promotes an agile mindset. These courses will upskill workers to respond well to the changes happening in their industry, especially in turbulent economic times.

Related Reading: 4 Easy Ways to Train a Diverse Workforce
2. An LMS enables companies to train employees in agile practices
Agile practices are becoming more relevant as technology becomes increasingly sophisticated and the economy becomes more consumer-driven. This is because agile practices help companies respond effectively to crises while delivering exactly what their customers want. Scaled Agile explained, "Business Agility requires that everyone involved in delivering solutions—business and technology leaders, development, IT operations, legal, marketing, finance, support, compliance, security, and others—use Lean and Agile practices to continually deliver innovative, high-quality products and services faster than the competition."3
Just as an LMS enables businesses to create and update compliance training rapidly, it also allows them to create and manage remote training courses centered on agile practices. With LMS features like mobile learning, these courses can be accessed remotely, which is especially valuable as the current global health crisis continues to develop.
3. An LMS promotes remote work and training
COVID-19 has made it necessary for the majority of U.S. companies to have some or all employees work from home, with many employees still working remotely for the foreseeable future. As a result, businesses have experienced firsthand the benefits of a remote (or partially remote) workforce. The companies that have performed best throughout the height of the COVID-19 crisis are those that are agile enough to make quick changes concerning where staff worked.
An LMS can help businesses become more agile by giving them some of the tools they need to seamlessly move their employees to work from home, then back to the office as needed. LMS social learning tools such as web conferencing, online communities, and forums facilitate remote work and training and promote business agility.


Boost Business Agility with an LMS in a Matter of Days
Becoming more agile isn't an overnight process for businesses, but implementing a learning management system speeds things up. This is especially true of an LMS that can be launched quickly. Companies can boost their agility by rapidly creating the online courses workers need most, training workers in Lean and Agile practices, and fostering remote work and training. An LMS provides the tools companies need to accomplish all this and more.
Interested in making your organization more agile in a matter of days? Check out our LMS Quick Start Program.
---
Sources:
1. https://www.helpnetsecurity.com/2017/08/08/benefits-business-agility/
2. https://www.scaledagileframework.com/business-agility/
3. https://www.scaledagileframework.com/business-agility/