Did you know that 75 percent of long-term job success is dependent upon soft skills?¹ This indicates that soft skills training should be prioritized in any workplace that values growth. Soft skills training doesn't merely set employees up for long-term success, though; it also increases a company's ROI on eLearning and decreases turnover.6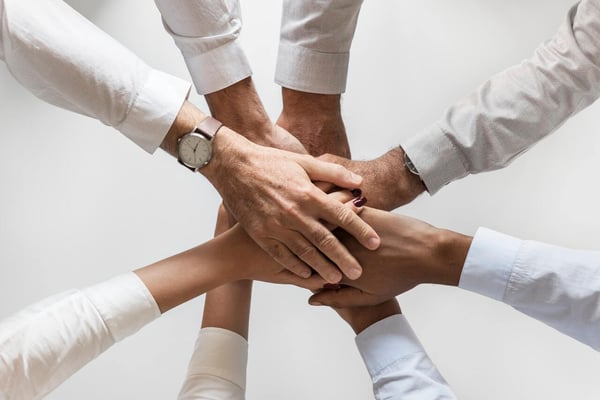 What Are Soft Skills?
According to Strayer University, "soft skills are your personal capabilities that determine how well you work with others."² A soft skill is a skill that's often difficult to quantify because it can't be measured in the same ways a hard skill can. (Hard skills are technical skills such as coding, editing, etc.) Soft skills usually enhance hard skills. Some employers place a higher value on soft skills than those that are of a technical nature.
Soft skills include but aren't limited to…
Problem solving

Emotional intelligence
Time management
Business etiquette
Communication
Adaptability
Conflict resolution
Organization
These types of skills are extremely important to employee and company success but can be difficult to teach. A learning management system (LMS) makes soft skills training easier.
"...as employees advance into leadership, soft skills take on more importance to their success than technical skills alone. It is proficiency in skills such as collaboration, conflict management, and prioritization that distinguish between an effective employee and one causing the company damage." -- SmartBrief³
Boost Your eLearning ROI and Decrease Turnover Rates by 80% with Soft Skills Training
If your company has invested in eLearning technology such as an LMS, increase your ROI by offering online soft skills training. Since virtual soft skills training (or any type of virtual training) tends to be more engaging than traditional soft skills training, it can offer you a better ROI on eLearning technology.
Soft skills training also has the capacity to drastically reduce turnover. the article Organizations Combat Lack of 'Soft Skills' to Increase Job Retention, Reduce Turnover stated, "soft skills training has been known to drop turnover rates at a company by as much as 80 percent."4 Furthermore, in our blog article How to Get the Greatest ROI from eLearning we wrote, "eLearning has the incredible ability to increase employee retention, first and foremost by facilitating training."
When eLearning is combined with soft skills training, there is no limit to how effectively an organization can retain its employees.
Related Reading: How Learning Management Systems Increase ROI
3 Reasons an LMS Helps Companies to Deliver Soft Skills Training
An LMS is the perfect tool to promote soft skills training. Here are three reasons a learning management system makes it easy for organizations to deliver soft skills training to employees:
1. An LMS delivers on-demand soft skills training. On-demand training is convenient and easy to access. Such training may result in a better participation rate than traditional training.
2. An LMS delivers virtual soft skills training. This means employees can access training 24/7, increasing the frequency with which they interact with soft skills training.
3. An LMS delivers personalized soft skills training. It does away with the one-size-fits-all approach to training, ensuring individuals learn in ways that are most natural for them. eLearning scenarios can also be individualized for maximum effect.
"eLearning scenarios are one of the most powerful tools you have at your disposal when developing soft skills online training experiences. They are interactive, engaging, and give your learners the opportunity to explore real world consequences without the risk." -- eLearning Industry5
If you're interested in delivering powerful soft skills training through a learning management system, request a free demo of TOPYX LMS.
---
References
1. Biz Library. Soft skills training. https://www.bizlibrary.com/soft-skills-training/.
2. Strayer University. 9 ways to enhance your soft skills. https://buzz.strayer.edu/latest-posts/9-ways-enhance-soft-skills/.
3. SmartBrief. The hidden costs of a soft-skills deficit in middle management. http://www.smartbrief.com/original/2017/11/hidden-costs-soft-skills-deficit-middle-management. November 29, 2017.
4, 6. Dothan Eagle. Organizations combat lack of 'soft skills' training to increase job retention, reduce turnover. http://www.dothaneagle.com/news/business/organizations-combat-lack-of-soft-skills-to-increase-job-retention/article_1478d998-00ec-11e5-a136-f7d201ac13cf.html. May 23, 2015.
5. eLearning Industry. 4 tips to develop soft skill courses for corporate eLearning. https://elearningindustry.com/4-tips-develop-soft-skill-courses-for-corporate-elearning. February 12, 2016.