It's safe to say that no intelligent individual has ever spent a significant amount of time and money on an investment that did not promise to yield a good return. Whether it's an investment in oneself, a business, another person, or a product, a quality return is always desired. While the majority of promising investments do not live up to what is hoped of them, they are at least good ideas in the beginning.
Most business owners have financial perimeters they must work within, which explains why they tend to weigh investments more carefully than almost any other type of investor. Such individuals are caught in the tension between risk-taking for the growth of a company and making stable decisions for the good of employees, customers, clients, and themselves. These movers and shakers want the very best for their organizations and personnel but also have budgets to honor. A number of these company leaders are interested in investing in eLearning, or online learning. What holds them back is the unknown about eLearning's return on investment. The good news is that there are clear-cut answers to most questions regarding the confusing subject of ROI of eLearning.
Does eLearning have a good ROI? If so, what does its return on investment look like? Can it be measured in dollar amounts? These are questions that should be explored before a company puts much time and financial resources into eLearning. Thankfully, these questions have non-ambiguous answers that can equip leaders with the information they need to make great investments while avoiding financial disasters.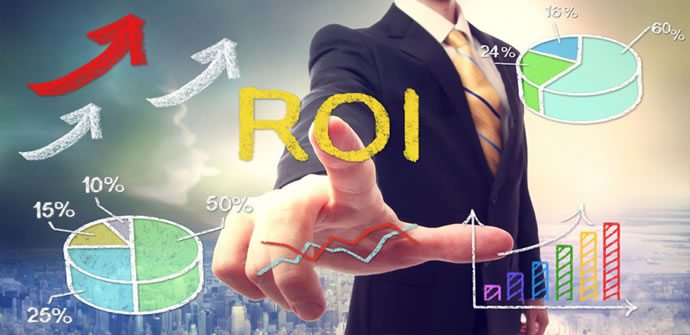 Measuring the Initial Investment of eLearning
Not every type of ROI is measurable. For example, those who invest a lot of money into their health may receive the incredible return on investment of a disease-free body. Many would consider this return to be priceless. It simply cannot be fully financially measured. This is not the case with eLearning. While it may seem ambiguous, it is quantifiable, and its return can be assessed with accuracy and confidence.
The first step in measuring eLearning's ROI is determining what the initial investment will cost. There are numerous factors that go into this estimation, including…
Technology – In order for online learning to take place, eLearning technology must be implemented. This means companies must choose some type of platform that fosters online learning. Most organizations wanting to host eLearning opt to have a social learning management system (LMS), also known as an eLearning system, installed. The price of an LMS is a huge consideration in determining the overall cost of the initial investment into eLearning.In addition to an LMS or eLearning system, organizations may incur costs associated with replacing old technology with new (for example, replacing outdated computers, devices, and networking systems). The article Assessing Return on Investment of eLearning states, "Often, organizations need to tailor newly acquired technology to assimilate it into the company's existing IT infrastructure. While such configuration is normally part of acquisition cost, there may be a sizable cost associated with it that is not covered under the initial acquisition." This, too, should be scrutinized during the investment-assessment step of the ROI equation.
Course content – No eLearning course can be offered unless it has content, and content is not necessarily free. After all, course designers must be paid. Companies that want to avoid having unique content created often purchase pre-packaged eLearning content. Such content may need to be tailored in order to properly integrate into a company's learning environment. This can have a sizeable effect on an ROI.
People – eLearning can't happen without the involvement of specialists who know the ins and outs of installing an eLearning system and establishing an eLearning culture in a corporation. Organizations wanting to offer online learning must hire people to do the work of making eLearning possible for their company. The cost of this can be significant and should not be overlooked when estimating the initial investment of eLearning.
Additional costs – As with any type of investment, eLearning sometimes comes with hidden costs that can add up quickly. The article mentioned above suggests that "personnel disruptions, resource reallocations, existing project deferrals, and (short-term) team realignments" are all costs that can be associated with the implementation of eLearning. These costs should be planned for so as not to take business owners off guard when and if they arise.
The combined costs of an LMS or eLearning platform, professionals to install eLearning technology, unique or pre-packaged online-course content, and additional fees equal the total of a company's initial investment into eLearning. The figure that results is only intimidating to those who are unaware of the amazing return eLearning offers. Like its initial investment, its return can also be measured, though not as easily.
What is the ROI of eLearning?
The benefits of eLearning are significant, but their dollar value is not as simply calculated as that of an organization's investment in technology, personnel, content, etc. eLearning's benefits should be inspected fully to get an accurate idea of the return a company might receive from its initial investment into eLearning. These benefits include but are not limited to effective training, employee retention and satisfaction, and cost effectiveness.
eLearning Promotes Effective Training
Training is the secret to a competent, loyal workforce. It ensures that workers are qualified to do their jobs with excellence and that they will stick with a company through good times and bad. Not just any type of training yields these miraculous results, though. Only training that results in learning can bond an employee to his or her workplace and provide all the resources needed for professional success.
Training delivered via eLearning system is perhaps the most effective at creating true learning experiences. Why? Because it can be customized to individual learners. (This is saying a lot for companies that have hundreds or thousands of employees to train.) Different people need different things from their learning experiences. Some individuals are visual learners, whereas others are kinesthetic or auditory learners. Everyone learns best when training materials are presented in the language they are most comfortable with. eLearning can be tailored to meet the learning needs and linguistic needs of employees. Because of this, most individuals walk away from eLearning experiences with practical skills and a renewed sense of loyalty to their employers.
eLearning Prevents Employee Turnover
eLearning has the incredible ability to increase employee retention, first and foremost by facilitating training. Training Magazine's article Training Increases Employee Retention states, "The fear for many companies is that they spend time and money developing people, only to see them take those newly acquired skills to another company. However, training actually can increase employee retention, when the training reinforces the value of the employee. In addition, a well-designed training program plays a critical part in nurturing associates' psyches." Online learning also prevents employee turnover by giving workers what they want and need most: flexibility. Flexibility is something that is inestimably valuable. No one has as many hours in a week as he or she would like. Since time is limited, people are forced to rely on time-management skills and hope for a flexible schedule. Traditional training models are not known for being flexible. Since classroom-style training sessions are restricted to specific physical places and times, they are much more rigid than online courses. The ability to learn anywhere at any time is a gift that only eLearning can give. With online learning, there is a low likelihood that learners will miss out on training, since they can access training videos, audios, and other materials on any mobile device with a Web browser and a connection to the Internet. Last, online learning eradicates the need for training-related travel, which is more expensive than most people assume. In short, flexibility increases employee satisfaction and decreases turnover.
eLearning is Cheaper than Traditional Learning
eLearning is not free. An online learning platform and course content vary in cost from economical to expensive. Still, eLearning is usually cheaper than traditional, classroom-style learning. Calculating the Return on Investment (ROI) of Corporate eLearning, a white paper written in 2011, says, "…it is safe to say that the savings made by implementing Web-based training when compared with classroom-based training are substantial…other traditional costs in delivering training have included Instructional Delivery Costs, Instructional Content Costs and Management Costs. These costs include overhead costs and the cost of equipment. All of these costs can be greatly reduced or eliminated altogether by giving employees access to eLearning at their desks or at shared, centrally-located work stations."
These benefits, which do not comprise a comprehensive list of the benefits of eLearning, combine to create a lowered bottom line for companies. While an online learning culture may be more costly to implement initially than a traditional learning culture, it is ultimately more economical.
Obviously, there is a smorgasbord of benefits that come along with eLearning. There is also a significant financial return on investment that most companies can count on. Calculating the Return on Investment (ROI) of Corporate eLearning says, "For every $1 invested (into eLearning) there is a net benefit of $8 after costs are covered. This figure is usually expressed as annual benefit, even though there may be long-term effects. It is expressed this way because with traditional classroom-based training, the impact of the training usually diminishes after a year. However, with an electronic performance support subsystem as part of an online learning system, skills can be reinforced long after a course is over, so it's a conservative calculation for eLearning modules." A return of $8 for every $1 invested is a figure almost any organizational leader could get excited about. This statistic is not guaranteed or static, but is an average estimation that can grow or diminish over the course of time.
How to Get the Greatest ROI from eLearning
The cheaper an investment is, the greater the return on it will be. Savvy leaders understand this and want to implement eLearning as economically as possible. They may attempt to do this by launching a do-it-yourself LMS, which can be more trouble than it's worth. Howard B. Schrechter, writer for eLearn Magazine, says, "As seductive as low-cost solutions are to frugal managers, there are issues with going that route. The biggest issue is that e-learning programs inevitably tend to grow in the numbers of courses, complexity of interactivity, evolutionary needs (such as the importation of third-party courses), and 'nice to have' needs, such as podcasts, video, blogs, wikis, RSS feeds, standards conformance, linking to a human resources information system, and more. The growth in the scope of the program brings an increase in the cost of the system." He also mentions that well-meaning managers tend to be a little naïve about "'free' do-it-yourself, open-source LMS packages…they may underestimate the amount of time and aggravation it takes to build and launch one…"
The cost of a learning management system will deeply impact a company's ROI from eLearning. As alluring as they can be, free or extremely cheap eLearning solutions can be potentially budget-wrecking. But then again, so can many reputable social learning management systems.
The costliest learning management systems are those that charge per-user fees. The more users these systems accrue, the higher their monthly fees climb. The antidote to such systems are cloud-based LMSs that are set up to be an all-you-can-eat deal. These platforms allow companies to totally avoid the financial landmines known as per-user fees. No-per-user fee LMSs are the most budget-friendly on the market and help secure a good return on investment for any company that implements online learning. Launching this type of learning management system is the key to getting the greatest ROI from eLearning.
Investing in anything takes guts. Amateur and experienced investors alike know this. Those who invest in eLearning for the betterment of their business or corporation should receive special accolades. It's a risk, but it can be a risk worth taking.