Factories and other manufacturing companies need learning and development programs to promote quick onboarding, skill-building, best practices, and safety and compliance training. Online learning delivered with a learning management system (LMS) is one of the best training options for the manufacturing industry because it offers convenient access, onboards new hires, and educates staff and customers.
"The online training medium offers perfect solutions to the training needs of (the manufacturing industry)." -- eLearning Industry1
4 Features of an Effective LMS for the Manufacturing Industry
The manufacturing industry is progressive, knowledge-driven, and perfectly suited for online learning. To find an effective LMS for the manufacturing industry, look for these tools and features:
1. Onboarding tools -- There are more manufacturing jobs than there are people to fill them. A contributor to Deloitte wrote, "job openings (in manufacturing) have been growing at double-digit rates since mid-2017."2 This means the manufacturing industry will be ramping up new hires in upcoming years and will need efficient onboarding strategies in place to manage new employee training.
The right LMS for the manufacturing industry is equipped with tools that help create effective onboarding programs. They include collaborative learning tools, social learning tools, learning paths, and mobile learning functionality. Mobile learning is also fitting for training employees both on the field and in the office.
Look for an LMS that provides easy-to-use tools so you can quickly create and distribute new hire training that fits not only your manufacturing company, but the major areas where you're filling seats. The faster your new employees get up to speed, the sooner they'll be able to contribute and ramp up production and efficiency.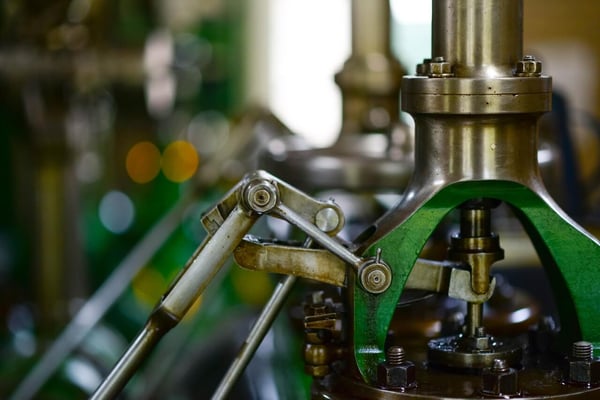 2. Mobile learning functionality -- For factories, mobile learning is a must. It ensures that an LMS is easy for all workers to use, whether on their feet or at their desk.
With mobile learning enabled, it's helpful to create a BYOD policy so that employees can access the LMS and important training through their smartphones, tablets and laptops. This will encourage them to interact with training throughout the day.
Mobile learning and BYOD also makes it easy for employees to brush up on skills they haven't practiced often, or quickly check supportive materials such as compliance documents. Making materials easily available regardless of where and how your employees are working make it more likely that they'll use the resources you invested time and energy in creating to increase productivity.
Related Reading: The Link Between BYOD and Increased Productivity
3. Customer training capabilities -- Educating customers about products and how to use them helps increase brand loyalty and ensure individuals have great experiences with your products. To train both staff and customers, you'll need an extended enterprise LMS.
An extended enterprise learning management system improves the product experience for your consumers and reinforces your brand image. Enhanced customer service and improved customer product knowledge also result from making customer training a priority.
Focus your customer training program on teaching customers to use your product effectively. Tips and tricks that you know from designing and using your product every day can make a big impact on your customers and their businesses. Giving them that extra bit of education demonstrates that you're a partner in their success and are willing to build a long-term mutually beneficial relationship.
4. Content management features-- The manufacturing industry has constantly changing infrastructure, products, technologies, and compliance regulations. That's created a sizable skills gap in this industry. Deloitte stated,
"...the (manufacturing) skills gap may leave an estimated 2.4 million positions unfilled between 2018 and 2028, with a potential economic impact of 2.5 trillion."3
To close this gap, employers must provide consistent training for staff about a variety of topics. An effective LMS for manufacturing companies will have robust content management tools that help administrators design online courses that keep workers educated about the latest changes in the industry and equipped to function within their roles.
Manufacturing LMS technology will also make it easy for you to update your training and provide progressive education levels. By updating your training consistently, you'll help ensure relevance, and by providing progressive training paths, you'll upskill employees to fill their current role as well as grow into new ones that provide more value for your company.
Outcomes of the Right LMS for Manufacturing Companies
A few outcomes of an effective LMS for the manufacturing industry include loyal customers, better onboarding, knowledgeable employees, and a smaller manufacturing skills gap. If you aren't getting these results from your current eLearning system, it may be time to switch to a new LMS.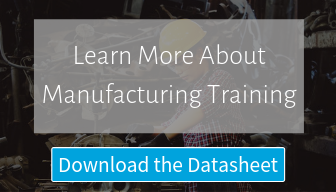 ---
References:
1. eLearning Industry. 5 tips to create suitable online training for manufacturing workforce. https://elearningindustry.com/online-training-for-manufacturing-workforce-5-tips-create-suitable.
2, 3. Deloitte. 2018 skills gap in manufacturing study. https://www2.deloitte.com/us/en/pages/manufacturing/articles/future-of-manufacturing-skills-gap-study.html.