Five years ago, LMS software was the dominant learning platform for enterprises, associations, and nonprofits. If you wanted to implement online training, you used an LMS.

But technology is relentless. The market has expanded and is now crowded with learning experience platforms, learning record stores, and more. (Check out this article for more information on today's learning platform landscape.)

As more and more learning technologies are developed, people are starting to question the relevance of older platforms, such as the LMS. And they're right to. Should you really stick with an older system when there are more modern options?

The answer will always depend on your company and the LMS you're using, as well as your future goals. But while some eLearning professionals belief that the LMS is dead, there are still several reasons to not underestimate the value or longevity of the learning management system.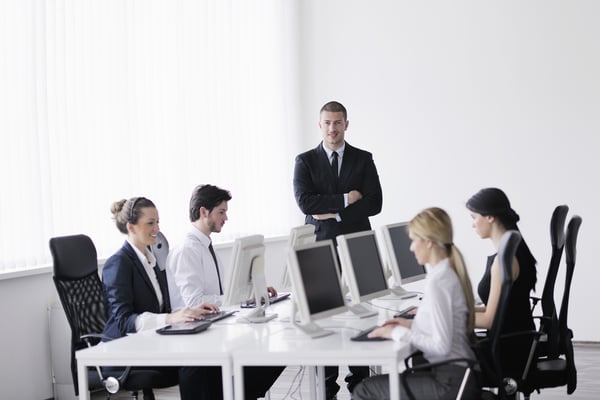 Why the Learning Management System is Not Dead
Despite the new options on the market, learning management systems are nowhere near obsolete. Here's why:

1. The majority of companies use an LMS -- Currently, 83 percent of organizations use an LMS, per the Association for Talent Development.¹ "In addition, a majority of respondents (73 percent) said their LMS use has risen in the past two years, indicating that LMS use is rising rather than remaining stagnant," wrote a contributor to ATD.

The current LMS market reflects the popularity of eLearning systems as it is predicted to grow from $9.2 billion to $22.4 billion by 2023.² That means the LMS is actually becoming more popular, and more relevant, than in the past.

Why? That answer is simple. Just as technology and the use of learning management systems won't remain stagnant, neither will LMS software. As new learning technologies are developed, LMS software will be continually optimized to better meet the training needs of companies, which will further increase its popularity.


2. An LMS is distinct in its core capabilities -- Companies that need a reliable solution for delivering, tracking, and reporting on employee training rarely go wrong with an LMS. But since newer learning solutions, such as the learning content management system (LCMS), for example, also deliver training, does that mean the LMS is dead? The answer is no. Here are a few reasons why:
The LMS's intended user base is corporate learners, whereas an LCMS's intended user base is eLearning professionals.
The LMS can develop and deploy learning content, but it is also focused heavily on user management. An LCMS, on the other hand, is primarily focused on content design and management.
Compared to the LCMS, the LMS tends to have more robust tracking and reporting capabilities.
Neither an LMS or LCMS is better than the other, they have different functions and meet different organizational needs. In fact, they can complement one another. The same holds true for learning management systems and other, newer learning technologies. This means that the development of other learning solutions shouldn't be seen as a threat to the LMS, they should be viewed as necessary updates and enhancements that can work together to provide a better administrative and user experience.

3. An LMS can help pay for itself -- One of the key features of an LMS is that it can help pay for itself. It does this by enabling companies to sell training content to internal or external users, including employees, partners, customers, or contractors. This increases an LMS's ROI and gives companies another revenue stream. Furthermore, an eLearning system makes the sale of content convenient.

"The capability to charge users for the courses that you made is increasingly becoming a standard feature in LMS software," stated Why is LMS Software Useful?³ "Companies can even use an LMS to extend training and educational offerings to customers, suppliers, partners, etc."

Organizations can sell their training content through an eLearning content marketplace or an eCommerce engine. As the source above points out, both are facilitated by an LMS. Companies that sell this type of content are usually paid through the LMS, which makes the process easier.

Related Reading: What Exactly is an LMS?
Should You Use Your LMS in Conjunction with Other Learning Technologies?
While LMS software can add value to a company, that doesn't mean other learning solutions, such as adaptive learning technologies or a Knowledge Cloud, are not worthwhile. An LMS can and should be used in conjunction with these solutions, as well as others, to help your organization meet its strategic goals. Don't feel the need to limit your company to just one. Instead, evaluate your priorities and put together a learning tech stack that provides all the functionality you need to meet your goals.

Want to improve your LMS without purchasing new tools? Read How to Improve the ROI of Your Learning Management System to increase the effectiveness of your company's eLearning platform.


---
References:

1. The Association for Talent Development. Is the LMS dead? https://www.td.org/insights/new-from-atd-research-is-the-lms-dead.

2. Market Watch. The global LMS market is expected to grow from USD 9.2 billion in 2018 to 22.4 billion by 2023, at a compound annual growth rate (CAGR) of 19.6%. https://www.marketwatch.com/press-release/the-global-lms-market-size-is-expected-to-grow-from-usd-92-billion-in-2018-to-usd-224-billion-by-2023-at-a-compound-annual-growth-rate-cagr-of-196-2019-01-14.

3. FinancesOnline. Why is LMS software useful? https://financesonline.com/why-is-lms-software-useful/.